The Made For Love Book Ending Is Far Less Bizarre Than The Rest Of The Novel
Before watching the TV adaptation on HBO Max, revisit the book's wacky plot.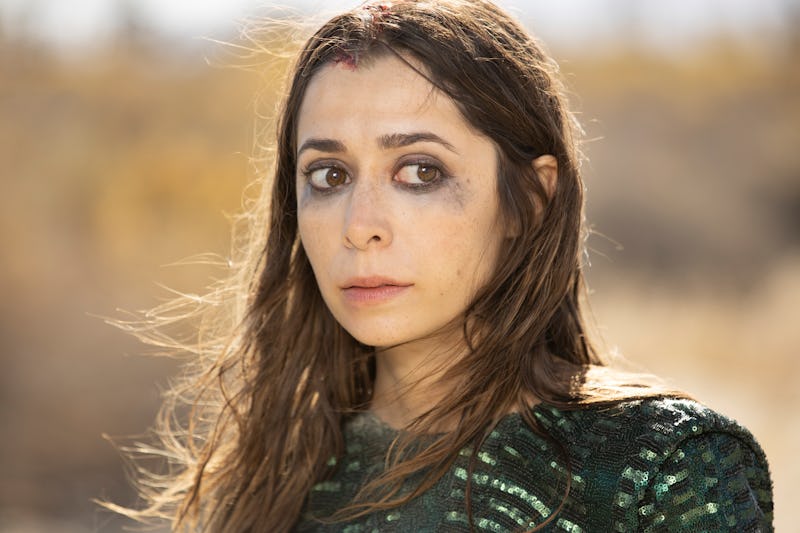 John P. Johnson / HBO Max
HBO Max's new original series brings Alissa Nutting's celebrated 2017 novel, Made for Love, to the small screen. With the first three episodes of the comedy series premiering on April 1, now's the perfect time to revisit the Made for Love book ending, which actually proves to be more grounded than the rest of the madcap novel. Major spoilers for Made for Love follow.
The book centers on Hazel: a young woman running away from Byron Gogol, her tech-mogul husband of 10 years. After spending the last decade cooped up with the Gogol Industries founder, having her every move and bodily function tracked, Hazel makes her escape. Knowing Byron can — and will — find her no matter where she goes, Hazel seeks shelter with her 76-year-old father, Herbert, who lives in a senior-citizen community with his two sex dolls: Diane and Roxy.
But there's no shelter to be found. Not only does Byron know exactly where his wife has gone, but he's also able to download her memories remotely; there's nothing Hazel can hide from him. To make matters worse, Byron reveals that Herbert has terminal cancer — as detected by his Gogol Sleep Helmet — and the only hope of saving him lies at the Gogol compound.
Thankfully, at least for Hazel, Herbert doesn't want to be cured. He's made peace with his diagnosis and has decided to die in his home with his artificial companions.
But Jasper, another key character in the novel, does very much want Gogol Industries' help. Jasper used to live as a fake sugar baby, conning rich old ladies out of their money before breaking their hearts, but his whole life has been derailed by the emergence of a new fetish: dolphins. Pushed to the brink by shame, Jasper turns to Biotech Medical — a division of Gogol Industries — which promises to cure afflictions previously believed to be incurable.
Jasper and Hazel's lives intersect after Herbert's death. Hazel discovers her father's corpse sandwiched between Diane and Roxy, and — in mourning, and convinced that she cannot escape Byron — she attempts to kill herself. Then fate (and Jasper) intervene.
Jasper, living in what he hopes is recovery from his cetacean fetish, is struggling to handle his guilt for his previous misdeeds. When Byron's assistant, Fiffany, gives him the opportunity to save a stranger from manipulative technology, he leaps that the chance, hoping it will help assuage his conscience. Fiffany leads Jasper to Hazel, who's pulled back from certain death by an injection — a medical intervention that also happens to override Byron's implant.
Finally free from Gogol Industries' surveillance, Hazel makes a quiet life for herself. Byron gives up searching for her, and marries Fiffany — but dies unexpectedly when his Gogol Sleep Helmet glitches (a glitch Hazel suspects Fiffany may have caused). Relieved that she no longer has an ex-husband to worry about, Hazel reconnects with her hero, Jasper, and plans to start a new life with him as the novel comes to a close.
Made for Love stars Cristin Milioti (Palm Springs) as Hazel, Billy Magnussen (Into the Woods) as Byron, Ray Romano (Everybody Loves Raymond) as Herbert, and Noma Dumezweni (The Undoing) as Fiffany. The series premieres April 1 on HBO Max.