This New HBO Max Show Is A Fairy Tale With A Black Mirror Twist
"It's like a princess story … [but] it's hell on Earth."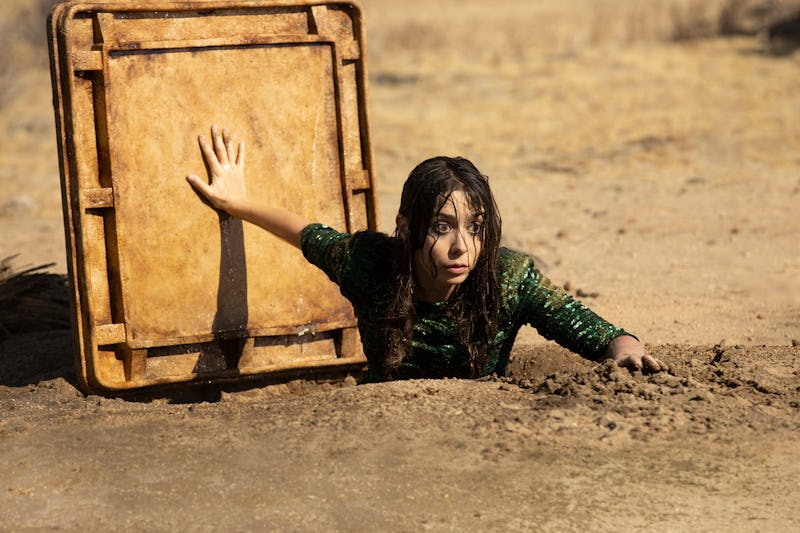 John P. Johnson/HBO Max
No matter how hard rom-coms have tried to convince us, getting a happily ever after is rarely as simple as it's made out to be. It's a lesson HBO Max's new dark comedy Made for Love understands on a cellular level — and one its protagonist Hazel Green (Cristin Milioti) has to learn the hard way.
From the outside, Hazel's life reads like a new age fairy tale: after growing up with humble beginnings, her tech genius husband Byron Gogol (Billy Magnussen) swept her off her feet and into The Hub, a futuristic compound where every day is sunny and orgasms are a recurring event on Hazel's calendar. But when the show picks up, Hazel has grown disillusioned with the picture-perfect reality she's been living in for a decade. And when Byron announces he plans to install chips in both of their brains so that they can merge their thoughts and feelings, she knows it's time to get out.
From there, the plot plays out like an extended episode of Black Mirror, as Hazel goes on the run while Byron keeps trying to reel her back in. There are perilous chase scenes and plenty of sci-fi gadgets, but ultimately it's a story of Hazel — who's equal parts scrappy and eager to please — re-finding her independence after years under her husband's thumb. "One of the things I think this show explores is the performative nature of how women are asked to perform a lot or swallow their feelings and make themselves small," Milioti tells Bustle. "You get to see this feral dirt kid who was so excited to escape this life and take this quick fix with this eccentric billionaire. It's like a princess story … [but] it's hell on Earth."
Through Byron and Hazel, Made for Love underlines again and again that optimizing your life is not a shortcut to happiness. That's just as true for the technology you use as it is for the people you surround yourself with.
"[Byron is] the personification of toxic masculinity — this idea of, 'You've got to have the house, you've got to have the thing, and then she'll love you,'" Magnussen says of his character, who seems more concerned with having a wife than actually putting in the work to maintain their relationship. "The fact that [his marriage to Hazel isn't] working, it's like, 'Well I have to keep her there!' rather than letting her make choices. I think a lot of relationships now die because of this exact thing."
Though Hazel and Billy are each trying to fast-forward their way to a happy ending in their own ways, it's Hazel who decides to take the first leap toward genuine happiness. What that looks like, she doesn't yet know, but after spending 10 years of her life in a gilded cage with every minute of her day planned out, that's kind of the beauty of it.
Made for Love premieres April 1.