Netflix's Maid Is A Heartbreaking True Story That Ends On A Hopeful Note
The limited series is based on Stephanie Land's 2019 memoir.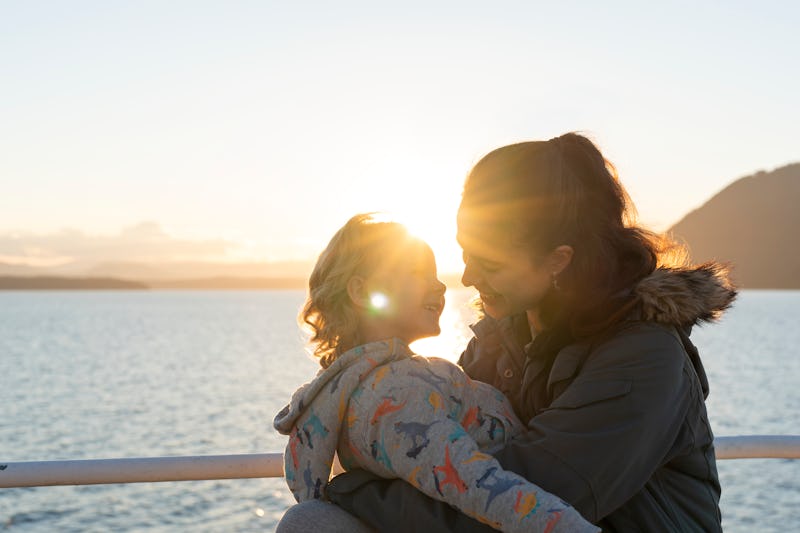 Ricardo Hubbs/Netflix
Based on Stephanie Land's memoir Maid: Hard Work, Low Pay, and a Mother's Will to Survive, Netflix's Maid follows the story of a single mother trying to make ends meet. After leaving an abusive relationship and experiencing homelessness, new mom Alex (Margaret Qualley) gets a job as a house cleaner in Washington. But the hours aren't enough to keep her financially afloat, and Maid documents her various difficulties with childcare, the unaffordable housing market, and more.
"There's no way that you can work full time [at] minimum wage and have a family. It's impossible," Land told NPR in 2019. Similar to what you see in the show, Land said her personal expenses would rack up because she had to pay for her own gas between houses, and "sometimes the travel time between houses would be a half an hour." She also had to wash her own rags, which required "a few loads of laundry" every week. Even finding childcare for her daughter Mia required that she prove she was gainfully employed to get a special "voucher." But then most daycares either wouldn't take the voucher or wouldn't accept a child under two years old. The Netflix series depicts this painstakingly: each time Alex comes close to catching a break, a new problem arises, demonstrating how heartbreakingly improbable it is to escape poverty within the US' broken social system.
Because it's billed as a miniseries, Maid is unlikely to get a Season 2. Much of the story pulls directly from Land's own life and closely follows the details from her memoir. The book ends with Land finally having enough time and money to visit Missoula, Montana, her dream city. This is similar to the show's finale. In the final moments, Alex says goodbye to her mom and sets a driving destination to Missoula. She boards a ferry and narrates that her "happiest day" is about to begin. She and her daughter Maddy are going to drive 566 miles to Missoula, where she'll live for four years as she studies to be a writer. "Most people would bet against a single mom putting herself through college," she says. "But they don't know what it took to get here. 338 toilets cleaned. Seven types of govt. assistance. Nine separate moves. One night on the ferry station floor, and the entire third year of my daughter's life." The last scene is Alex and Maddy hiking up Sentinel Mountain in Montana to enjoy the view.
In real life, Land was eventually able to go to college and get a degree in creative writing due to a Pell Grant. It's this triumphant turn that drew showrunner Molly Smith Metzler (known for her writing on Shameless and Orange Is The New Black) to the story. "It's a very harrowing, but also very inspiring, story because she does get out and she goes to college and she writes this memoir about her experience," Metzler explained to NBC.
As Land told NPR, never giving up on her dreams paid off in the end. "Writers are not notoriously a well-paid bunch, so I didn't think that that was really an option for me," she said. "But then once [I] ... started going to the University of Montana, which was my original plan ... I felt like if I went for the office job or I went for a job I wasn't totally happy with and then I wouldn't be a happy mother — and I wanted to pursue something that I had wanted to do since I was 10 years old. I felt like if I could possibly do that, then it would show Mia that she could do the same."