Malala Yousafzai Had The Ultimate Comeback To Jimmy Kimmel's Gag
The activist was approached by the Oscars host during the ceremony.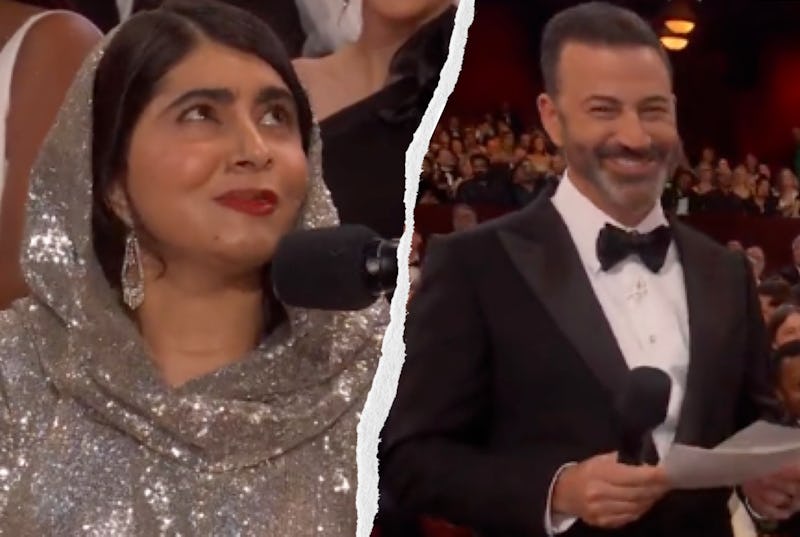 ABC
There were plenty of memorable moments during the 2023 Oscars on Sunday night (March 12), but some viewers on Twitter weren't impressed with host Jimmy Kimmel's antics during the ceremony. This was especially true when he wandered into the audience to chat with some of the stars. While it was hilarious to see Nicole Kidman breath a sigh of relief when Kimmel asked Jessica Chastain a question instead of her, it became a little awkward when he spoke to Malala Yousafzai.
Wearing a breathtaking silver Ralph Lauren gown Yousafzai was in attendance at the 95th Academy Awards for her work as an executive producer of Stranger At The Gate, nominated for Best Documentary Short Film. Directed by Joshua Seftel, the film documents a U.S. Marine veteran who planned on attacking a local mosque in Indiana until its community welcomed him into their lives.
While the stage was being set up for a performance, Kimmel asked the activist a question from a fan. It started out great, with the fan highlighting Yousafzai's accomplishments "on human rights and education for children" and calling them inspirational. That was until they got to the crux of the question: "As the youngest Nobel prize winner in history, do you think Harry Styles spit on Chris Pine?" After an awkward pause, Yousafzai gave the ultimate mic drop moment by simply saying: "I only talk about peace."
Kimmel then called the activist "Malala-land" in response. "You know what, that's why you're Malala and nobody else is," he said. "That's a great answer, Malala. The winner is Malala-land, everybody." It was safe to say that some viewers on Twitter were not happy with the situation. "The way he acted towards her was so extremely disrespectful, from this stupid vapid question to making fun of her NAME," one Twitter user wrote. "Not a good question, but beautifully answered by Malala," another remarked. Yousafzai took to Twitter after the event and retweeted a video of the moment. The activist captioned the post: "Treat people with kindness."