Yes, Marc Anthony Has A Small Role In In The Heights
"That guy will win an Oscar one day," said director Jon M. Chu.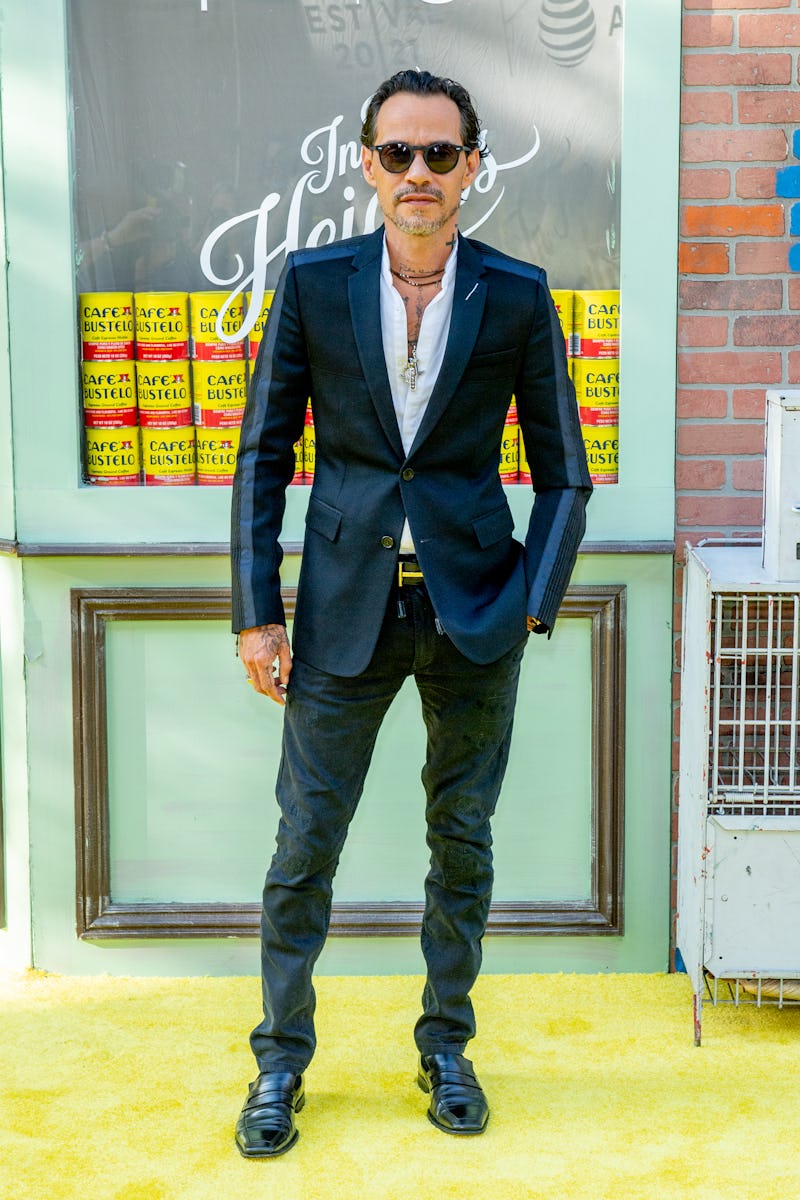 Roy Rochlin/WireImage/Getty Images
Now that the long-awaited adaptation of Lin-Manuel Miranda's In the Heights is in theaters and on HBO Max, fans are finally getting to see the musical on the big screen. And amidst all the singing and dancing, some viewers were surprised to spot legendary singer Marc Anthony in a small part — while others were stuck wondering, wait, where was he?
Anthony has very limited screen time, only speaking in a single scene that wasn't in the original musical. He plays Sonny's father Gapo, who has an alcohol addiction; in his one scene, he shares important information with his nephew, Usnavi. Viewers might not even recognize Anthony, looking haggard and drinking while he watches TV.
This isn't Anthony's only movie role; he's had brief parts in movies like Man on Fire. According to USA Today, the scene came about because Anthony was a fan of the original musical. Miranda texted him directly to ask if he was interested in the recently-written part, and Anthony was apparently immediately on board.
When Anthony first visited set to talk about the scene, a horde of paparazzi and fans followed, according to director Jon M. Chu. "People were banging on the windows, there was security, it was no joke," he remembered. Chu remembers how committed Anthony was to playing the role: "Marc was like, 'I'm coming, not as the Marc Anthony you know, I'm coming in.'" And it was Anthony's decision to leave his belt unbuckled and make his hands shake.
"The guy brought it," Chu explained. "Two seconds in and I don't really know if he was drunk or what's going on. He's out of it. And then right after he's just Marc Anthony again. He was like, 'Was that okay, Jon?' I was like, that was amazing. Do more." The scene was originally longer, but included plot details that Chu decided to reveal later. "Hopefully we get to release that at some point since it's even better than what you saw," Chu said. "That guy will win an Oscar one day if he does more movies. For sure."
Anthony Ramos, who plays Usnavi, spoke about working with the singer to On Demand Entertainment. "Marc is the man," he said. "We hung out all day ... That was such an incredible moment for me. I look up to him, and he's an icon." Ramos also told USA Today that he was impressed by how committed Anthony was when the cameras were rolling. "I was like, 'Hey, I better bring it, because my man is coming for blood.'"
That's not the only place Anthony appears in In the Heights. He also lends his impressive vocal talents to a new song on the soundtrack, called "Home All Summer," written by Miranda and also featuring vocals by Ramos and Leslie Grace (who plays Nina). After all, you can't have Marc Anthony in a musical and not let him sing.