7 Mary-Kate & Ashley Movies Streaming Now, For All Your Twin Comedy Needs
From a dream Paris vacay to that time they tried to convince us they weren't related.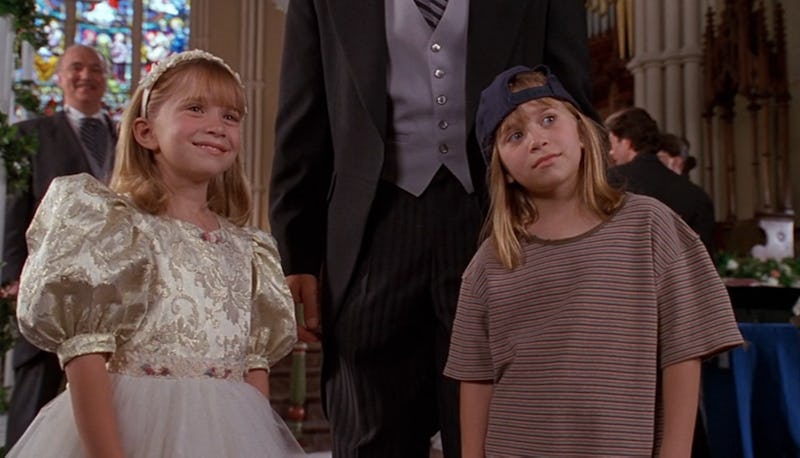 Warner Bros.
Mary-Kate and Ashley Olsen have been out of the film industry for a while now. Mary-Kate's final film, Beastly, came out in 2011, and Ashley last played "Kissing Girl #3" in The Jerk Theory in 2009 (who knew!).
The sisters are now well-respected fashion designers behind two fashion lines — The Row and Elizabeth & James at Kohl's — but their many, many movies still live on. And if you have an undeniable, nostalgia-fueled urge to stream one of Mary-Kate and Ashley's movies, there are a few that are easy to find online.
The Olsen twins were in a ton of flicks over the years, including theatrical releases, straight-to-DVD films, and shorts as part of their The Adventures of Mary-Kate & Ashley and You're Invited to Mary-Kate & Ashley's... series. Some of these short videos can be found cut into clips on YouTube, but as far as the full-length movies go, several of them are available to stream, rent, or buy on popular streaming services, as you'll see below.
Regardless of why you want to watch some old Mary-Kate and Ashley movies — to remember the good old days, to usher in the next generation of fans, or to remind yourself that the twins somehow aren't supposed to be related in It Takes Two — here are seven classics you can check out online right now.
1. Double, Double, Toil And Trouble (1993)
Double, Double, Toil and Trouble is made-for-TV Halloween movie that aired in 1993, following the success of To Grandmother's House We Go. IMDb's interesting description reads: "On Halloween night, two precocious little girls try to save their parents from the greedy clutches of their nasty old Capitalist aunt." Sounds legit!
Rent on YouTube or Prime Video for $2.99.
2. How The West Was Fun (1994)
The Olsen twins visit a dude ranch owned by their late mom's godmother, and the future of the farm hangs in the balance. Because this is a Mary-Kate and Ashley movie, the ranch's fate naturally relies on two children. Somehow, it always works out in their favor.
Rent on YouTube or Prime Video for $2.99.
3. It Takes Two (1995)
Their first film released in theaters, It Takes Two is like The Parent Trap in that it's about two girls who look alike, trying to get two adults who care about them to fall in love. The most notable difference, however, is that the girls aren't supposed to be related ... even though they're literally twins. The movie also stars Steve Guttenberg and Kirstie Alley as the two lovebirds.
Watch on HBO Max starting June 1.
4. Billboard Dad (1998)
Before online dating, there was billboard dating. Billboard Dad is a movie that explains why some of us will never get on back on board with the small sunglasses trend ... wait, just kidding. Billboard Dad is a movie about two girls who try to get their dad to start dating again by putting an ad on a Sunset Avenue billboard.
Rent on Prime Video for $3.99.
5. Passport To Paris (1999)
In Passport to Paris, the American twins go to Paris and do all the things normal teens do, like befriend a famous supermodel or convince the French Foreign Minister to pass a clean water bill. They also meet boys and deliver lines like, "What can I say? We're teenagers." A modern classic.
Rent on YouTube or Prime Video for $3.99.
6. Switching Goals (1999)
In Switching Goals, the twins once again trade places. One sister is athletic and great at soccer, while the other is more feminine and awful at the sport. Apparently, because feminine people can't play soccer well, they decide to switch teams for reasons that make complete and total sense.
Rent on YouTube or Prime Video for $1.99.
7. New York Minute
The Olsens' last film together, New York Minute is pure camp. Again, playing polar opposites, New York Minute is about an overachiever twin (Ashley) trying to get into Oxford, while the other (Mary-Kate) is a school-skipping slacker who wants to meet Simple Plan (did we mention it's from 2004?). Complete with life lessons from "Avril Lavignestein," the film also features a cameo from their Full House dad, Bob Saget, as himself.
Rent on YouTube or Prime Video $2.99.
This article was originally published on