Masked Singer Fans Are Convinced The Russian Dolls Are This '90s Boy Band
Plus two other theories about the multiplying dolls.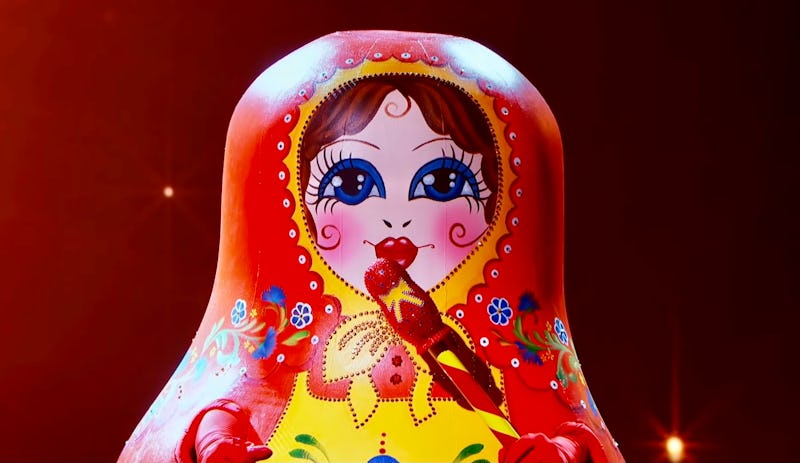 Fox/screenshot
With the Masked Singer Season 5 down to its final five competitors, fans have a lot of theories about who Russian Doll is — or more accurately, who they are. "They multiply!" judge Jenny McCarthy exclaimed in promos for the season when a second, smaller nesting doll appeared. "That means they could multiply even more!"
Ahead of the season, viewers clued in on the Russian Dolls' identity thanks to a video of them performing Lady Gaga and Bradley Cooper's "Shallow" duet from A Star Is Born. The two distinct voices — sometimes joined by a third — led fans to believe that they're a boy band. Now, they just need to narrow it down to which one.
Here are the best theories so far.
Hanson
By far the most popular guess is that the Russian Dolls are Hanson, the popular '90s pop group from Tulsa, Oklahoma. "I've been training my whole life for this moment...I KNOW these voices!!" one longtime Hanson fan tweeted, adding they "will never listen to music again" if they're wrong.
On top of the vocal similarities, another user pointed out that a Matryoshka typically consists of 5 to 10 dolls, which makes sense given that there are seven Hanson siblings (though not all of them are in the band). Taylor is also a father of seven, Zac is about to welcome his fifth child, and Isaac has three kids.
The clues also line up with Hanson. In their first clue package, they said they used to be the "world's hottest toy" but they've "been doing my own thing for quite some time." Visual clues included a "Mizfitz Toyz Store" sign, a boat wheel, and a Garden State Highway sign.
It's likely the "ITZ" in "Mizfitz" stands for Isaac, Taylor, and Zac. They had a "Got Milk?" ad in 1997, and per one fan on YouTube, they first performed "MmmBop" at Paramus Park Mall in New Jersey, aka the Garden State.
Hanson also own their own record label now, 3CG Records, which could be the reference to "doing their own thing."
In the second clue package, the Russian Dolls said that one of them was "rushed to the hospital" after noticing "something was seriously wrong." In 2007, Isaac Hanson had a pulmonary embolism and was taken to the hospital after a performance.
In the third clue package, the Russian Dolls said they once sang for a president, and Hanson has performed "Mmmbop" at the White House.
In the fourth clue package, the Russian Dolls revealed that they sold out one of the "world's most prestigious venues," just around the corner from the Russian Tea Room. Guest judge Rita Wilson realized that mean Carnegie Hall, and Hanson did sell that out in 2003.
In the fifth clue package, the Russian Dolls said they were subjected to "some pretty harsh criticism" during their career, and that they were often laughed at "for the way they looked." The young Hanson members were often intensely criticized for their long blonde hair, and guitarist Ravi Hutheesing told Mental Floss that paparazzi frequently "hurled insulting remarks" at them in airports, even though they were kids.
Dan + Shay
Because some fans heard a "twang of country" in the "Shallow" performance, another guess is Dan Smyers and Shay Mooney, aka Dan + Shay. One fan on Twitter insisted "it sounds exactly like them" when they harmonize.
Harry Styles & Niall Horan
A small handful of people have also convinced themselves that the Masked Singer has somehow pulled off a long-awaited (mini) One Direction reunion by bringing Harry Styles and Niall Horan together as the Russian Dolls. That seems highly unlikely, but stranger things have happened on the show...
This article was originally published on