All The Costumes, Clues & Theories For Masked Singer Season 4 So Far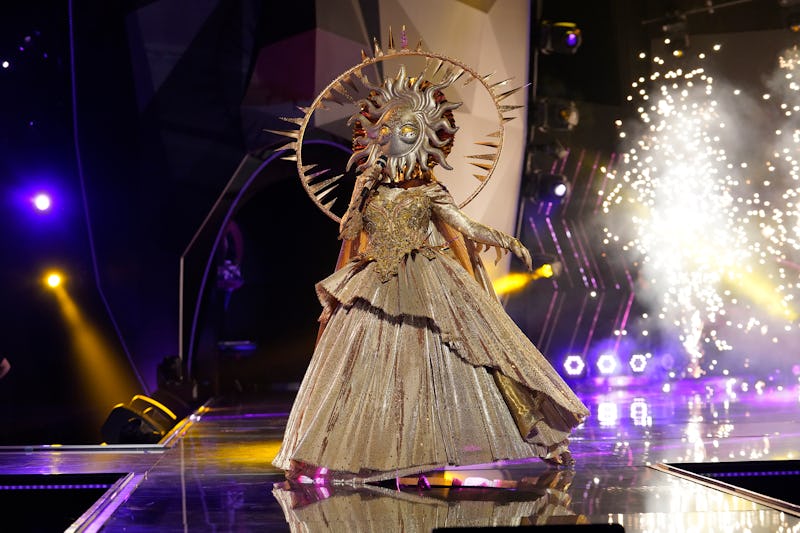 Michael Becker/FOX
We're now several weeks into The Masked Singer Season 4, and the clues, theories, and spoilers are really starting to pile up. Among the celebrities unmasked so far are Busta Rhymes (Dragon), Mickey Rourke (Gremlin), and Brian Austin Green (Giraffe). And as the remaining singers from Groups A, B, and C enter the finals, viewers are racing to figure out who's behind the other masks. If you're having trouble keeping up, here's everything you need to know.
The Season 4 Costumes
There were 16 costumes in total this season, including Mushroom, Crocodile, Sun, Popcorn, Squiggly Monster, Lips, Jellyfish, and Watchamacallit.
The Clues & Theories
Fox previously teased that the contestants have a combined 46 Grammy nominations and 23 platinum records. The network also confirmed that there's an Olympic gold medalist as well as 10 Hall of Famers in the cast, meaning that fans can expect a mix of professional singers and athletes with a few wildcards thrown in. See a breakdown of all the individual clues and theories for each costume below.
The Sun
Clues
"If you're trying to figure out who I am, here's a hint: This sun knows how to shine like a torch, even during the freezing winter."
"I've had some extreme seasons in my life."
"When I sprung into existence, I felt like the center of the universe. At first, stardom was great, but it was ton of pressure. The spotlight was scorching and I got burned out."
"I was frozen, but within the darkness of a quiet place, I transformed into a ray light!"
"I'm the Sun because I love to light up the world around me. We've all had periods of darkness, but my powerful rays have been known to break through the clouds."
"This sun has set quite a few records."
Card reading "Fund Director Gold Member"
Hidden Mickey Mouse
Theories: Christina Aguilera, Demi Lovato, LeAnn Rimes
The Popcorn
Clues
"My voice is like butter."
"Mirror mirror on the wall, what makes me the biggest miracle of all?"
"I'm a real sweet corn with a jumbo sized heart."
Teased her performance would be "in 3-D: dynamic, delightful and diva-licious."
"Straight up, I built a career around love. But that doesn't mean I'm soft. I'm a hard corn husk-ler."
"To get where I am I worked long nights, rushin' from one job to the next."
Mentioned "Jet setting to exotic places with royalty."
A carousel labeled the "Proud Mary-Go-Round."
Tiger on a bed
A photo of a green cow on her dressing room mirror
A gold fish wearing big golden hoop earrings
Plate of meatloaf with an apple and a green snake. There's also a note reading: "Welcome to the hood."
Cutting letters out of a magazine similar to a ransom note.
Theories: Tina Turner, Cyndi Lauper, Mary J. Blige, Macy Gray
The Giraffe
Clues
'If you're looking for a hint to my identity, you should know that I share something in common with a powerful giant."
"Step right up to my glorious carnival. I've had a roller coaster career, full of ups and downs!"
"Music is in my blood, but when I stuck my neck out and took a gigantic risk, I became the butt of everyone's jokes."
"I was in knots" and it "felt like the party was over," while seen on a Ferris wheel.
"With hard work, I drummed up towering success."
"Now I'm in the driver's seat, and I'm off to the races tonight. That's a wrap!"
People throw apples and tomatoes at him
A game reading "Ring The Bell" and a sign with "$3"
Theories: Vanilla Ice, Lin-Manuel Miranda, Kevin Hart, Travis Barker
The Snow Owls
Clues
"We are the Snow Owls, and we're ready to ruffle feathers and show everyone it takes two to make a dream come true."
"We're here because performing on stage with someone else is always twice as nice. We're on our hands and knees hoping for victory. After all, we are birds of 'Pray.'"
"Who is that? You can try and figure out who we are, but as for who is more talented, it's a tie."
"You haven't seen us together in a while. But now it's time for a family reunion."
"He's a prankster, a real wiseguy."
Clam with a white pearl inside
Signs for "Magnolia," "Quarrel Canyon," and "Jam-a-Lot"
Worked in "Hollywood" and the male owl once sang "Let It Snow" to the female owl
Male owl surprised female owl by decorating their home with snow
Theories: Clint Black and Lisa Hartman Black, Derek Hough and Julianne Hough, Trish Yearwood and Garth Brooks, Donny Osmond and Marie Osmond (despite Donny being The Peacock in Season 1)
The Baby Alien
Clues
"I'm a friendly UFO, unless of course, you are my foe. If my competition thinks I look innocent, then, Houston, they've got a problem."
"If you're looking for a hint about this Baby Alien, all you have to do is look to the stars."
"5" glowing in the the stars
"I was in a theater every week, even beamed onto the Tony Awards stage, baby!"
Hot dog in package
Theories: Jeff Dunham, Darci Lynne Farmer
The Broccoli
Clues
"I'm a brocco-lean, mean, heart-pumping machine. After all, it's how I got my six-pack."
Theories: Seth Rogen, Hulk Hogan, Tracy Morgan
The Crocodile
Clues
"My fans are gonna be so excited when they see me on The Masked Singer. Not that I'm all reputation, but I am all reptile."
"A special set of keys reversed my game forever. Tic-Tac-Woah!"
"Welcome to Lover's Lagoon, where soon I'll croon and make you swoon."
"When I was young, I was just a poor nobody with a dream. I remember standing in my backyard performing to each weed and rose petal."
"Tonight, I'm putting the toxic parts of my past behind me, and delivering nothing but love on this stage."
Theories: Gucci Mane, Flavor Flav, Swizz Beatz
The Gremlin
Clues
"I'm the Gremlin because life can be chaotic, so you always have to make time for play. And who's more playful than a gremlin?"
"Check the Gremlin manual and you'll see I can thrive when the temperature is a cool 66.5 degrees."
Loves to cook
Iron in package
"Despite my checkered history, I can actually be quite charming."
Theories: Ice Cube, Ice T, Nick Lachey
Jellyfish
Clues
Wearing 3-inch platform heels
"Burrr! I assure you that even though I may be cold blooded, I have a warm and glowing flow with H20."
"You can search the entire ocean for a notion as to who I am."
Theories: Billie Eilish, Trinity Fatu ( WWE ring name: Naomi)
Lips
Clues
"I hope I don't slip up."
"Trying to infiltrate The Masked Singer stage is like trying to break into a Las Vegas money vault. I can understand why security would be so tight. Who wouldn't love to pucker up to these juicy lips?"
"If you want a hint about me, I own who I am. I know that my voice can go high, but my dishes go deep."
Wants to "lip-sync their teeth into the competition."
Theories: Lisa Rinna, Wendy Williams, RuPaul
Mushroom
Clues
"Mushrooms are resilient and thrive in all circumstances. Being here has made me realize this show is fertile ground to explore another side of yourself."
"If you want to know who's behind my mask, you'll need to figure out who's under... My hats," said while wearing different hats.
Theories: Pharrell Williams, Chevy Chase, Johnny Depp, Martha Stewart
Seahorse
Clues
"Living in the ocean can be dangerous, so it's always good to find a quiet place to hide. America, you'll never figure out who I am, even if you try your sea level best."
"I'm a bit tame in my normal life, but when I step into this costume, my inner diva 'Seahorse Fierce' comes alive."
"I have experienced unimaginable loss and pain. I want my performance to remind us all that no matter how dark the seas get, we just have to keep swimming."
Theories: Cardi B, Emily Blunt, Tori Kelly
Serpent
Clues
"If you want to know how I instantly appeared, here's the prescription number to my identity."
Prescription bottle with the number "#31118."
"I was slithering furiously down a path towards destruction, but my Pops saved me, buying me a one-way ticket away from the wrong crowd and onto a path towards success."
"Starting out, I could barely make rent. To get by, I sold clothes. I did manual labor."
Theories: Leslie Odom Jr., Daveed Diggs, Christopher Jackson
Squiggly Monster
Clues
"The fun part about being a squiggly monster is it's got a soft side and an edgy side. That means I get to be lovable while also being a wild child."
White puppy in front of a birthday cake. Squiggly Monster said, "I bet you are crazy to party with, dog!"
"It's very fitting that I have so many appendages. After all, I'm known for having a lot of hands to latch onto."
Theories: Snoop Dogg, Miley Cyrus, Sam Smith
Whatchamacallit
Clues
"Trust me when I say I'm going to win, win, win by the hairs of my chinny-chin-chin."
"The high level of precautions on this show is unlike anything I've ever seen before. Security has everything here on lockdown. They enter secret codes to get through secret passageways. How am I supposed to meet all of my secret admirers?"
"Some might say that my career had a magical start."
Ace of Spades that burst into smoke
"You see, people think I'm a shy guy, especially because I've let others absorb my spotlight. But as a bright hairball, I can shine alone as this world is wide open."
"It's taken some rough patches to get here, like the time I was at the height of my career, ready to dance like never before. Then I got the Whatchama-call that shook my world. The news was deflating. My mom was in bad shape."
Theories: Neil Patrick Harris, Penn Jillette, Lonzo Ball
Contestants Who've Been Unmasked
The Dragon, aka Busta Rhymes
During the Season 4 premiere, Rhymes was unfortunately the very first contestant to be unmasked, but he still had a blast performing. "I think that we have a duty to make sure that we remind people of how important it is to fight the good fight for what's right, but in the process, still being able to enjoy what living is all about," he told Entertainment Weekly after being eliminated. "Being able to have fun, laugh, love and learn and enjoy yourself is what allows you to be able to continue to recharge when you're being drained by the perils in the world on a day-to-day basis."
The Gremlin, aka Mickey Rourke
In a Masked Singer first, the Gremlin self-eliminated after a performance of "Stand By Me," revealing the man behind the mask: actor Mickey Rourke. He took off his own mask before voting even began because he was too "hot" under his furry costume.
The Giraffe, aka Brian Austin Green
After a cover of Kool and the Gang's "Get Down on It," the Giraffe was eliminated at the end of Episode 3, revealing none other than 90210 star Brian Austin Green.
Baby Alien, aka Mark Sanchez
In a final reveal that none of the panelists saw coming, Baby Alien turned out to be — drumroll, please —retired quarterback Mark Sanchez. The former football player was eliminated after a cover of Imagine Dragons' "It's Time."
Lips, aka Wendy Williams
Lips paid homage to the Big Apple with a rendition of Odyssey's "Native New Yorker," but it wasn't enough to advance. The unmasking unveiled none other than talk show host Wendy Williams, a prominent theory among fans from the start.
Squiggly Monster, aka Bob Saget
Squiggly Monster faced elimination after a cover of "(I Can't Get No) Satisfaction" by The Rolling Stones, then unexpectedly himself to be Full House alum and comedian Bob Saget.
Snow Owls, aka Clint and Lisa Hartman Black
The Snow Owls performed a duet of Andrea Bocelli and Celine Dion's "The Prayer" — and even shared a kiss onstage, further fueling theories that the two are a couple. Once eliminated, the owls were revealed to be country singers Clint and Lisa Hartman Black.
Stay tuned as more clues, theories, and celebrities are revealed.
Additional reporting by Olivia Truffaut-Wong and Allyson Koerner.
This article was originally published on