These Masked Singer Clues Point To A Star Who Faced A Major Scandal
The Sun could be unmasked next.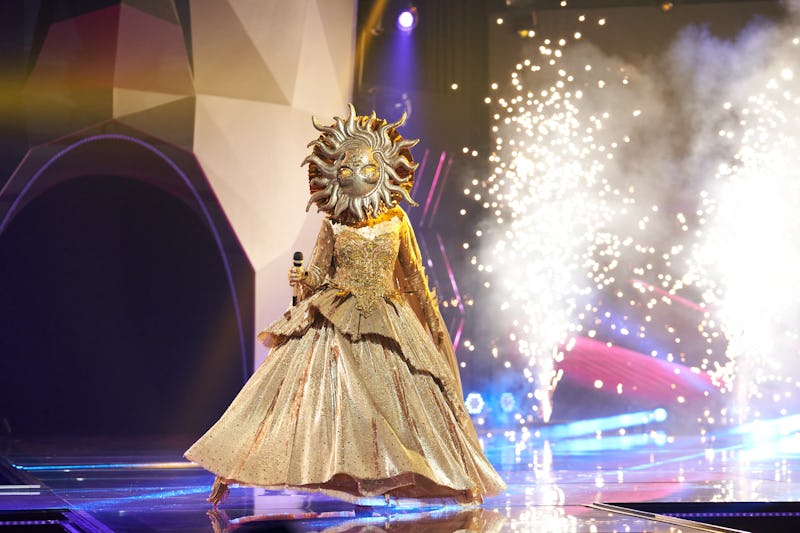 Michael Becker/FOX
Season 4 of the trippiest vocal competition on television is heading into the finals, and there's a favored front-runner who might win it all: the Sun. Kicking off the show with an impressive performance of Lizzo's "Cuz I Love You," the Sun's first Masked Singer performance immediately sparked theories that she could be anyone from Christina Aguilera to Demi Lovato to Madonna. Over the weeks, though, fans have narrowed in on one convincing theory and believe the Sun is actually LeAnn Rimes.
Based on her performance, the one thing we know for sure about the Sun is that she can actually sing. Not only did she hit the runs and the high notes, but she also sang with confidence, convincing the judges and viewers watching at home that she was a professional. Her first clue package hinted she's been through "many extreme seasons," became famous at an early age, and soon felt overwhelmed by it all. "It was a ton of pressure," the Sun said in the animated clip, "The spotlight was scorching, and I got burned out, soaking my fall into a deep depression." Add in allusions to Disney ears and Frozen, and you've got one confusing first set of clues.
But if LeAnn Rimes is under the mask, it would make sense. There's a YouTube video of Rimes singing that exact Lizzo song, she has a history with Disney, and she had a bit of a downturn in her career due to the pressure of being in the spotlight. She was most notably put under a microscope following her divorce from Dean Sheremet and her highly publicized affair with Eddie Cibrian, to whom she is now happily married. Plus, as noted by Good Housekeeping, Rimes performed at the 2002 Winter Olympics, which could tie to the Sun's "shine like a torch during the freezing winter" clue.
In the Oct. 7 package, the clues continued to line up with Rimes. The Sun mentioned that she missed out on a lot of her childhood. Rimes performed on Star Search when she was 8 and won a Grammy by the time she was 14. The package also emphasized the color blue, and her first Grammy-winning album was Blue. Another hint: Sun was brewing a cauldron and cooking up a mysterious "tasty treat." In a candid USA Today Quarantine Diary, Rimes wrote that she always makes a mess while cooking, but she "likes to think I'm creative."
The masked vocal powerhouse even talked about quarantining in the Nov. 11 episode. That package introduced Sun's "sol mate," who sat in front of wind chimes and talked about their RV trips. Rimes and Cibrian live in the Windy City together, and they have taken RV trips in the past.
But the biggest clue that the Sun might be Rimes — besides the vocal chops — is the costume. One of Rimes' most famous hits is "Can't Fight the Moonlight," so dressing up as the Sun would be a fun way to start a new chapter in her career.
While it's likely that Sun is Rimes, there are other guesses out there. Jenny McCarthy guessed Demi Lovato was behind the mask, and fans on Twitter agreed, noting her impressive vocals and Disney ties. Another popular guess on Twitter was Christina Aguilera, an acclaimed singer who rose to fame on The Mickey Mouse Club. Like Lovato, she was a Disney darling but rebelled against that image and went through some rough patches. While these are all compelling theories, it's hard to deny how many clues match up with Rimes.
The Masked Singer finale will air on December 16 at 8 p.m. on Fox.
This article was originally published on