Maya Rudolph's Version Of Her Time On SNL Sounds Pretty Fun
She blended The Breakfast Club with SNL in the best way.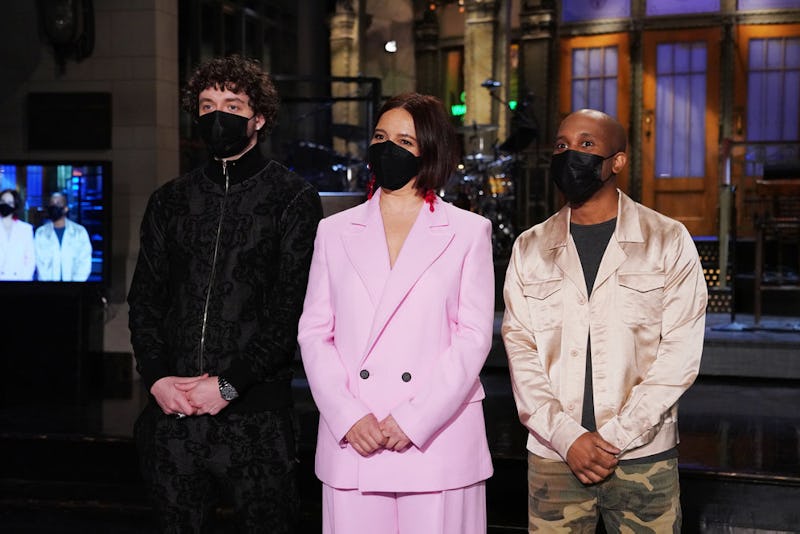 ROSALIND O'CONNOR/NBC
It has been more than 10 years since Maya Rudolph first left Saturday Night Live — but fortunately for us, she never stayed too far away, especially thanks to her recent tenure playing Vice President Kamala Harris. During her hosting gig on March 27, Rudolph reflected on her SNL tenure while welcoming this season's new cast members, Punkie Johnson, Andrew Dismukes, and Lauren Holt.
Rudolph's monologue began on a warm note, celebrating that her parents had been vaccinated and that her children were watching. "Just a heads-up to my kids," she said, "tonight Mommy's going to put on a lot of wigs, OK, and do a lot of weird voices. So it's just going be like a typical day at home. I'll just be wearing a bra."
Having her kids there made Rudolph think about sharing her wisdom with the new cast members, aka "babies," whom she brought out on stage. Despite being around the cast during her recent time as Harris, though, Rudolph didn't quite have their names down, instead referring to Dismukes, Johnson, and Holt as "Chirpy, Little DeeDee, and Calista Vagina." Soon, Rudolph was busy reminiscing about her time on the show... which sounded a lot like the plot of The Breakfast Club.
"I was the shy one... but Rachel Dratch, she was the princess," she said. "She was so perfect with her red hair and all her freckles. And she just did Sixteen Candles so she had a lot of heat."
Rudolph went on to describe Jimmy Fallon as the "bad boy, always strutting around in his jean jacket and his fingerless leather gloves." Lorne Michaels, of course, was the principal who made everyone come in on Saturdays, which actually maybe isn't that different from reality.
Though perhaps not a perfectly accurate history of her time on SNL, Rudolph's reimagining sounds like the place to be.