Meghan Trainor Recalls The "Terrifying" Details Of Her Son's Birth
Things definitely didn't go as planned.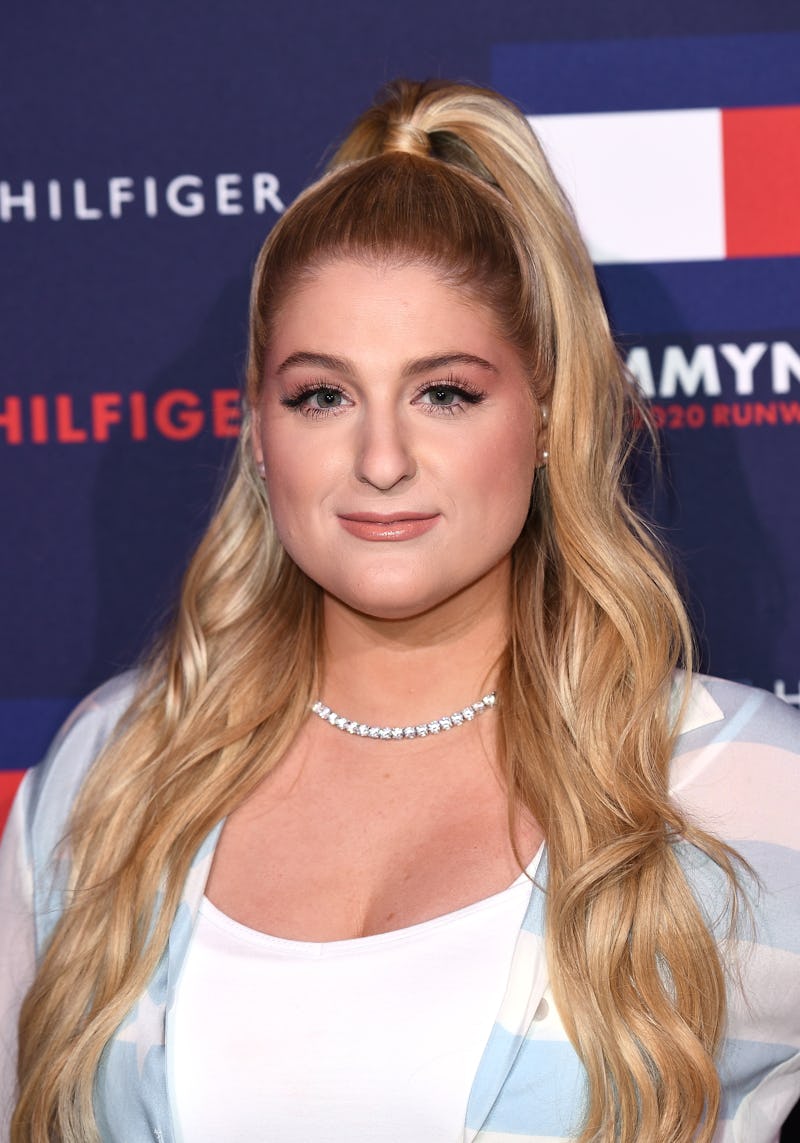 Jeff Spicer/BFC/Getty Images Entertainment/Getty Images
Meghan Trainor has provided more details about her son's birth, which didn't go as smoothly as planned. On Wednesday, June 2, the 27-year-old pop star got candid about the challenges she faced in the hospital roughly three months ago when she welcomed her son, Riley, into the world. "It was one of those horror stories where he didn't cry," the "Dear Future Husband" singer said. "He didn't make noise when he came out. I was like, 'Why isn't he crying?' Then they told me he was having breathing issues. It was terrifying."
Though scary, the complications that she and Riley experienced weren't totally unexpected. In December 2020, Trainor revealed she had been diagnosed with gestational diabetes, a temporary condition that can lead to breathing difficulties in babies, among other problems. "So many women have it," Trainor said during a December 2020 appearance on The Tonight Show Starring Jimmy Fallon. "It was just the unknowing. I didn't know what it was. It's like a genetics thing. My mom had it and she didn't even give me a full warning."
Trainor told Fallon at the time that she was watching her diet and that she was totally "crushing" her pregnancy, despite her diagnosis. "It's like a game for me and I'm winning," she said. "It's nice to know we're both healthy." But once the baby arrived roughly two months later, he was taken to the hospital's NICU and hooked up to a feeding tube. "I got to see him for one second before they took him away. That was probably the worst part," the "Lips Are Movin" singer told Today. "It was definitely a rough start. But we're so lucky we got to bring him home after five days."
On Feb. 14, the musician announced that she and husband Daryl Sabara welcomed their son one week before his due date. "This sweet baby boy's due date was today on Valentine's Day," she wrote on Instagram alongside a photo of the newborn. "We got to meet him Monday, Feb 8th! We are SO IN LOVE. Thank you @darylsabara for the best Valentine's gift ever! Welcome to the world Riley!" Sabara, for his part, shared a carousel of photos from the hospital to his feed and thanked Trainor in the caption. "@meghan_trainor you are my forever Valentine and I'm so beyond grateful for you bringing our son into the world," he wrote.
Trainor and Sabara — who tied the knot in December 2018 — announced that they were expecting their first child together in October of last year. The festive photo featured an image of the pop star's sonogram surrounded by ornaments on a Christmas tree. "You all know how long I've wanted this!!!!" she wrote at the time. "@darylsabara and I are so beyond happy and excited to meet this little cutie early next year! WE'RE PREGNANTTTTT!!!" Sabara echoed Trainor's excitement on his own Instagram, writing, "I love you @meghan_trainor and I can't wait to start a family with you."
The singer has long been vocal about wanting to have kids. "If we could do it how we want to, we'd be, like, totally preggo right now!" Trainor told People in January 2019, explaining that it simply wasn't the time because she had a tour planned for later that year. "We're ready to rumble. I want some children! I want kids! We're both so excited for it. We both constantly watch baby YouTube videos and lessons on YouTube, like, 'How to take care of an infant.' We're just getting prepared every single day."