The Best Memes & Tweets About Beyoncé's New Renaissance Album
"i was gonna buy shoes and clothes but ur tour and album are more important queen <3"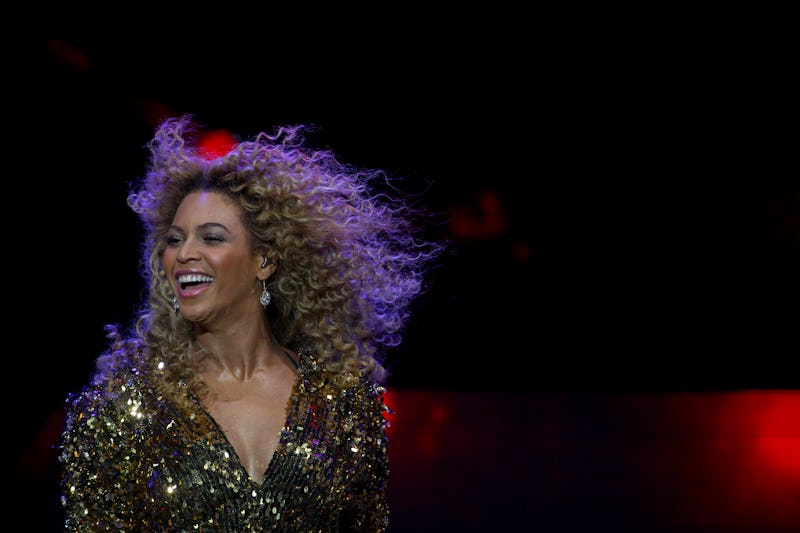 Matt Cardy/Getty Images Entertainment/Getty Images
At 1:22am EST on June 16, Beyoncé's website and the official Tidal Twitter account announced the return of the Queen. "Beyoncé RENAISSANCE July 29," the tweet read with the accompanying subtitle "act i," suggesting this is part one of a larger, perhaps multi-album project. Apple Music and Spotify also tweeted about the album release in the early morning hours, leading fans to believe that this will be available on all streaming music services and not a Tidal-only drop. Four box sets with a collectable Renaissance box, t-shirt, and physical CD are also available for pre-order on the singer's website.
In the British Vogue profile that released simultaneously and splashed Beyoncé's social profiles with arresting new images, writer Edward Enninful confirms as much, saying "new music is coming — a thrilling abundance of it...in what might be her most ambitious musical project to date." The profile goes on to describe the sound of the new album as "music that makes you rise, that turns your mind to cultures and subcultures, to our people past and present, music that will unite so many on the dance floor, music that touches your soul."
Hours after the initial announcement, Variety exclusively revealed that the album will lean on dance and country sounds. The report also notes that Beyoncé has teamed up with OneRepublic frontman Ryan Tedder as a songwriter for Renaissance; Tedder previously wrote her 2008 hit "Halo."
Fans have been prepared for some sort of announcement after Beyoncé social accounts were wiped a few weeks ago. The "Beyhive" has been piecing together every Easter egg and hint leading up to the announcement, and have continued to do so even after the album was confirmed.
This is her first album since the critically acclaimed surprise 2016 drop Lemonade and fans have positively lost their minds about the prospect of new music from Beyoncé — especially since the announcement dropped in the middle of the night in the U.S.
The "act i" subtitle had people most excited, as it almost certainly promises more music is on the way beyond just this 16-track drop.
Some eagle-eyed fans noticed that Beyoncé foreshadowed her album's title last year in an interview with Harper's Bazaar.
Fans joked about how quickly they forked over $39.99 (plus tax and shipping) for the mysterious collectible box sets, despite not knowing exactly what's included in the box.
Others leaned on their history books to prepare for all interpretations of the Renaissance — and laughed about how this album title will finally force them to learn how to spell the word.
One of the biggest points of conversation online was which other artists would be featured on the album, with fans hypothesizing everyone from Nicki Minaj to BLACKPINK appearing as collaborators.
Though an official tour hasn't been announced, fans are anticipating they'll get to see Queen Bey live sometime in 2023 — and their mind, body, and wallets are ready.