Twitter Is Divided Over Chrissy Teigen's Return To The Platform
She's ready "to take the bad with the good."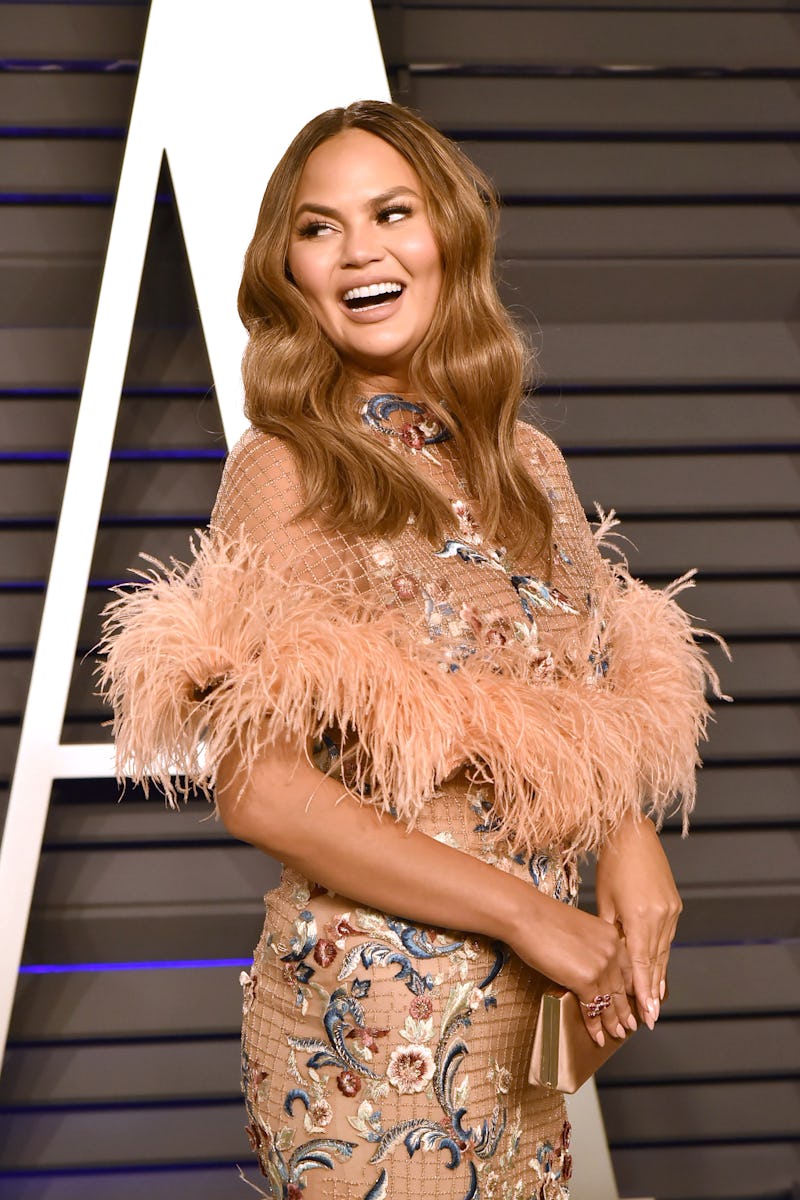 David Crotty/Patrick McMullan/Getty Images
After a decade-plus run on the social media platform, Chrissy Teigen announced she was deleting her Twitter account for good on March 24, noting that her "desire to be liked and fear of pissing people off" was holding her back from expressing herself freely. Well, it turns out she couldn't stay away for very long. Just over three weeks after leaving the platform, Teigen returned with a slew of tweets explaining what drew her back. "Turns out it feels TERRIBLE to silence yourself," tweeted the Lip-Sync Battle co-host. "And also no longer enjoy belly chuckles randomly throughout the day and also lose like 2000 friends at once lol."
Wanting to laugh and interact with online friends is a totally understandable reason to return to Twitter, but will she be able to handle the pressure this time around? In a follow-up tweet, she wrote, "I choose to take the bad with the good!!" Many of Teigen's 1.5 million followers were excited to see her back on the platform, and one Twitter user wondered what she's been up to in the interim. "How have you been what's going on do you have any fun anecdotes I have missed you dearly," rambled the fan in a tweet. "I've spent weeks just saying tweets to shampoo bottles," responded Teigen.
The Cravings mogul's decision to leave the platform was partially sparked by feeling pressured to clap back at trolls when deep down, the online negativity was affecting her. Upon leaving Twitter, she posted a thread of tweets, writing, "It's time for me to say goodbye. This no longer serves me as positively as it serves me negatively, and I think that's the right time to call something." Then, she continued, "My desire to be liked and fear of pissing people off has made me somebody you didn't sign up for, and a different human than I started out here as! Live well, tweeters. Please know all I ever cared about was you!!!"
Teigen's return to Twitter was embraced and celebrated by many of her followers, including celebrities Chelsea Clinton, Rosanna Arquette, and Devon Sawa. In a sweet message to Teigen, one fan wrote, "Twitter has been black and white since you took your color away...and as long as it's healthy for you and yours, please stay and brighten our day, as we try to brighten yours." But many other tweeters poked fun at her quick comeback following such a dramatic exit from the platform. "Most relatable thing Chrissy Teigen has ever done is dramatically quit social media and come back 2 weeks later," wrote one user, though it's important to note that her break actually lasted three weeks.
Below, more fans react to Teigen's return to Twitter.