Twitter Picked A Side In Chrishell & Nicole's Selling Sunset Feud
"She just wanted a storyline."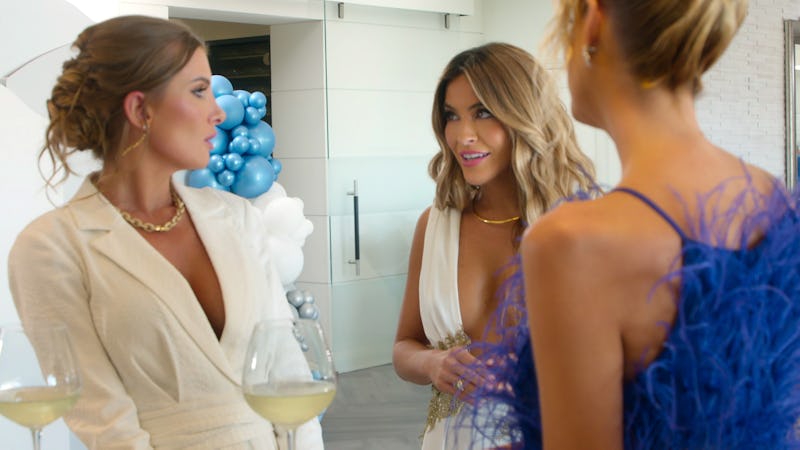 Courtesy of Netflix
When Nicole Young joined Selling Sunset Season 6, she was hardly an Oppenheim Group newcomer. As one of the agency's OGs, she'd been there long enough to already have beef with Chrishell Stause, who started working at O Group in 2018. Nicole's issue with Chrishell apparently dates back to 2019 when she claims the former soap star took credit for a sale she was responsible for making. (Nicole took a commission; Chrishell did not, however.) The two also both dated Jason Oppenheim, and the Season 6 newcomer accused her co-star of previously using her romantic relationship with their boss to "steal" her listings.
"I never got to the root of what her real problem was," Chrishell recently told Entertainment Tonight, revealing that Nicole actually reached out to her for advice before filming the Netflix series. "She kept bringing up how I 'didn't let' [Jason] answer phone calls when we were together, which — they cut this out — but I said that to Jason in front of everyone, 'Have I ever done that?' And he said, 'No, that's ridiculous.' So to me, I think it's very clear that wasn't a point. She came in with the plan. She thought she had this idea to kind of come at me, and I think that I surprised her because I just, you know, I'm in a different place and I wasn't having it."
Indeed, Chrishell went toe-to-toe with Nicole all season, and naturally fans on Twitter had thoughts about the drama. First of all, several viewers also struggled to make sense of why a three-year-old issue was coming up now. Some had theories, though, ranging from jealousy to Nicole simply reviving the beef for a show storyline.
During a Season 6 cast trip to Palm Springs, Chrishell said Nicole was acting "cracked out" and accused her of being on drugs at dinner. Breaking down in tears, Nicole vehemently denied the allegations and took a drug test to prove her point. Though Twitter enjoyed the scene, Nicole certainly wasn't laughing. "When she first said it, I felt like I'd just been hit by a train. I was so shocked," she recalled to People. "I was like a deer in headlights. It took me a moment to even process what she had said, and I was gutted. I was just absolutely gutted."
Ultimately, a majority of viewers crowned Chrishell the feud's winner. Some even said she was filling the Christine Quinn-sized hole in their hearts.
Numerous other tweets illustrated that viewers are so here for the "new Chrishell" and proud of her for standing up for herself.
As for where Chrishell and Nicole stand today, there still seems to be no love lost. "We're to a point where we can just peacefully coexist," Nicole revealed to People in an interview published on May 19. "I think it's very normal in any kind of workplace for not everyone to be friends. So as long as we can just be in the same office, focus on our business — that's the best scenario that we can have." She added that she's "definitely not" trying to fill the "villain" role left following Christine's Selling Sunset exit after Season 5.
However, the same day, Chrishell tweeted, "The day she admits she just wanted a storyline, I would actually respect her. You have no point — so may as well own it." On Instagram, she also posted screenshots of her supportive early DMs with Nicole for "those who love facts."
Though it's unclear where Chrishell and Nicole can go from here, Twitter has chosen a side regardless.