Selling Sunset's Christine Has Finally Addressed Her Oppenheim Group Exit
"Of course there's no place for me."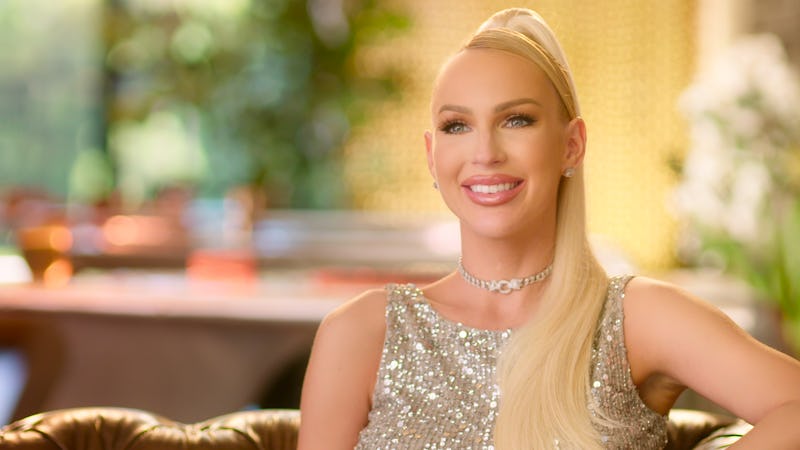 Netflix
After welcoming son Christian last May, Christine Quinn went on maternity leave from The Oppenheim Group. In Selling Sunset Season 5, she made her triumphant return to the office — much to the chagrin and discomfort of the other women. It didn't take long for her to make waves either: After Chrishell Stause and Jason Oppenheim confirmed their workplace romance, Christine made negative comments to the press, including what she called a "joke" about her not getting listing because she wasn't "f*cking the boss." By season's end, Mary Fitzgerald was cryptically asking Jason, "Is this, like, the end for Christine?" During the Selling Sunset Season 5 reunion, Jason finally gave an answer on Christine's future, saying there's no place for her in his brokerage, at least not "right now." Christine has since responded to her one-time boss' remarks.
Though Chrishell wanted Christine fired from the start, Jason had largely let the relationship comments slide. With Mary stepping into a more managerial role this season, she did, however, sit Christine down for a one-on-one to warn her that if she wanted to continue working for The Oppenheim Group, she had to "stop disrespecting the other agents." So Christine recruited an ally in new cast member Chelsea Lazkani, though she ultimately continued finding herself at the center of drama.
"I kind of just feel like it's just, like, becoming really difficult for me to do my job because I'm constantly up against different bullsh*t," she explained to Chelsea in the Season 5 finale. "And I feel like I've gotten to a point where I don't want to be in the office because, you know, it gets to a point where the drama is affecting my business. And I don't want that."
Intimating that she'd been thinking about leaving The Oppenheim Group, Christine was confident she could even open her own successful brokerage: "I want to work for myself, be my own independent boss. ... I'm not meant to be one of 92 people in the office. That's just not for me. I'm one of one." But soon afterward when enemy Emma Hernan revealed to Jason and Mary that Christine had allegedly offered her client $5,000 to not work with her anymore, it didn't seem she'd have the opportunity to leave the company of her own accord.
In a confessional, the How to Be a Boss B*tch author claimed there was "absolutely no truth" to Emma's accusations. When given a chance to explain herself to Jason and Mary, however, Christine was a no-show for their meeting, leaving her employment in more jeopardy than ever. "She clearly has a vindictiveness to her that is seriously concerning," Jason remarked, while Mary added that she doesn't see Christine ever coming back from the "self-destructive path" she was on.
Regardless, Jason said he still cares about Christine, though that might not be enough to save her this time. "I can care about somebody and hope for the best for them, but not sitting in my office," he added. Mary then asked: "What are you going to do? Is this, like, the end for Christine?" At the time, Jason didn't seem to have an answer.
Though the controversial Selling Sunset cast member was missing during the reunion special, which premiered on May 6, her absence didn't keep the rest of the cast from talking about her Season 5 antics. When host Tan France asked whether Christine actually bribed a client, Jason said, "I don't think it's for debate that she did this," explaining that he spoke to Emma's client directly about the offer Christine made to him. But he also revealed they "haven't really addressed" the incident since, and that Christine "hasn't reached out" to talk about it.
When asked where Christine stands with the company, Jason said, "Right now, there's not a place for her at The Oppenheim Group." For so long, Jason has avoided making any definitive statements about Christine, but now it looks like the company may have actually cut ties with her. When Season 5 aired on April 22, Christine was still listed as an agent on the company website. As of May 6, she's no longer on the team roster. (Even Jason and Mary's co-parented dogs are listed on the site.)
Regardless of Christine's fate at The O Group, it seems like there aren't any hard feelings, at least not for Jason. And he isn't completely closing The O Group's doors on her, either. "Now, in the future, if she takes real estate seriously, if I can get an understanding on her perspective on things, if she changes her behavior, brings in a big listing, there's a lot of reasons where I would consider her having a place at The Oppenheim Group," he stipulated. "But right now, there is no place for her."
Christine finally broke her silence on May 11, commenting under a clip of the reunion on TikTok. In response to Jason's comment, she wrote: "Of course there's no place for me. I terminated my contract weeks ago prior to filming [the reunion]. I have my own company now, LOL."
This comes after an April 23 Instagram post where Christine unveiled said company by sharing a screen shot of a Forbes article starring herself and her husband, tech entrepreneur Christian Richard.
"It took over a year of hard work and tenacity to create this platform and patent-pending technology to revolutionize the housing market," she wrote, announcing her new company Real Open, which allows people to buy houses with cryptocurrency. "Why work for someone else when you can be your own CEO?"
We'll likely have to tune in to the Selling Sunset 6 to definitively find out if the O Group's favorite villain will come back in any capacity and stir even more drama with the rest of the agents.
This article was originally published on