Christine Quinn's Selling Sunset Future Is Finally Confirmed
And fans will not be happy.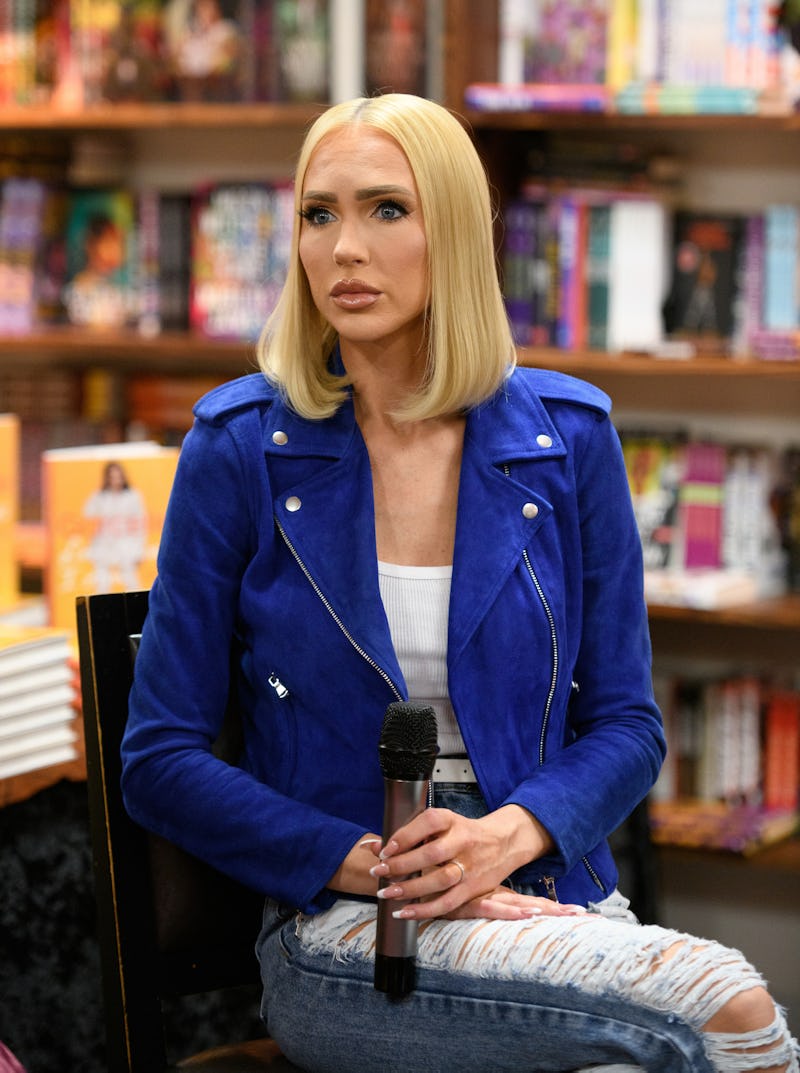 Getty Images
Following the tense Season 5 finale of Selling Sunset, everybody's favourite office villain, Christine Quinn, has officially left The Oppenheim Group. She has launched a real estate platform (Real Open) with her husband, tech entrepreneur Christian Richard. But her company serves real estate with a twist, as it allows buyers to pay with their cryptocurrency fortunes. In an Instagram reveal post on Apr. 23, Quinn wrote, "Why work for someone else when you can be your own CEO?" Naturally, her exit from The Oppenheim Group led fans to speculate about her place on the Netflix reality hit. On August 17, it was confirmed that Quinn would not be returning to Selling Sunset.
As per Variety, the announcement of Quinn's departure arrives amid production of the show's sixth and seventh seasons, which are being filmed back-to-back. For fans of all things Selling Sunset, her exit from both the show and The Oppenheim Group will likely come as no surprise.
Quinn previously hinted at the reasons behind her exit from The Oppenheim Group on social media, alleging fake storylines — Quinn claimed she was once "stuffed with a pillow" to film a scene set in the past after she'd given birth IRL — and that she left the company of her own accord. She officially addressed her exit (and so much more) in an interview with The Observer on May 29, opening up about her stifling childhood, her stint as a sugar baby, and filming whilst experiencing postpartum depression.
The interview details Quinn's waters breaking while she was on the red carpet, and how she and her baby both came close to losing their lives. "I was back filming Selling Sunset a week after an emergency C-section. I was emotionally distraught. On top of being in so much physical pain, I could barely walk," she told The Observer. "But I was getting pressure from production to come back to work. And if I don't film, I don't get paid. That's the way the world works."
Welcoming son Christian in May 2021, Quinn went on maternity leave from The Oppenheim Group. In Selling Sunset Season 5, she made her triumphant return to the office — much to the chagrin and discomfort of the other women. And it didn't take long for her to make waves either. After Chrishell Stause and Jason Oppenheim confirmed their workplace romance, Quinn made negative comments to the press, including what she called a "joke" about her not getting listings because she wasn't "f*cking the boss."
By season's end, Mary Fitzgerald was cryptically asking Jason, "Is this, like, the end for Christine?" During the Selling Sunset S5 reunion, Jason finally gave an answer on Quinn's future, saying there's no place for her in his brokerage, at least not "right now."
Quinn finally broke her silence on May 11, commenting under a clip of the reunion on TikTok. Responding to Jason, she wrote: "Of course there's no place for me. I terminated my contract weeks ago prior to filming [the reunion]. I have my own company now, LOL."
During season five, she recruited an ally in new cast member Chelsea Lazkani, though ultimately continued finding herself at the centre of drama. Implying that she'd been thinking about leaving The O Group, Quinn was confident she could even open her own successful brokerage. "I want to work for myself, be my own independent boss... I'm not meant to be one of 92 people in the office. That's just not for me. I'm one of one."
But soon afterward when enemy Emma Hernan revealed to Jason and Fitzgerald that Quinn had allegedly offered her client $5,000 to not work with her anymore, it didn't seem she'd have the opportunity to leave the company of her own accord. In a confessional, the How To Be A Boss B*tch author claimed there was "absolutely no truth" to Hernan's accusations. When given a chance to explain herself to Jason and Fitzgerald, however, Quinn was a no-show for their meeting.
And she was also a no-show at the Selling Sunset reunion special. But her absence didn't keep the rest of the cast from talking about her season five antics. When host Tan France asked whether Quinn actually bribed a client, Jason said, "I don't think it's for debate that she did this," explaining that he spoke to Hernan's client directly about the offer Quinn made to him.
In her book, Quinn writes: "Women get chastised in the office for speaking up… For a long time, I lived in the blank space of the Christine the show had created". Plus, she alleges she was once fired from the Selling Sunset cast — for going public about fake scenes — and then rehired when the team realised "she was carrying the show."
Commenting on her Selling Sunset journey, which has now come to an end, Quinn previously told The Observer, "I was powerful and they didn't want that narrative". Adding, "They wanted the narrative of me being bullied out and doing something wrong."
This article was originally published on