Selling Sunset's Chrishell Stause & Jason Oppenheim Are Still Supporting Each Other After Their Breakup
Oppenheim had only kind words for Chrishell in light of her new romance with G Flip.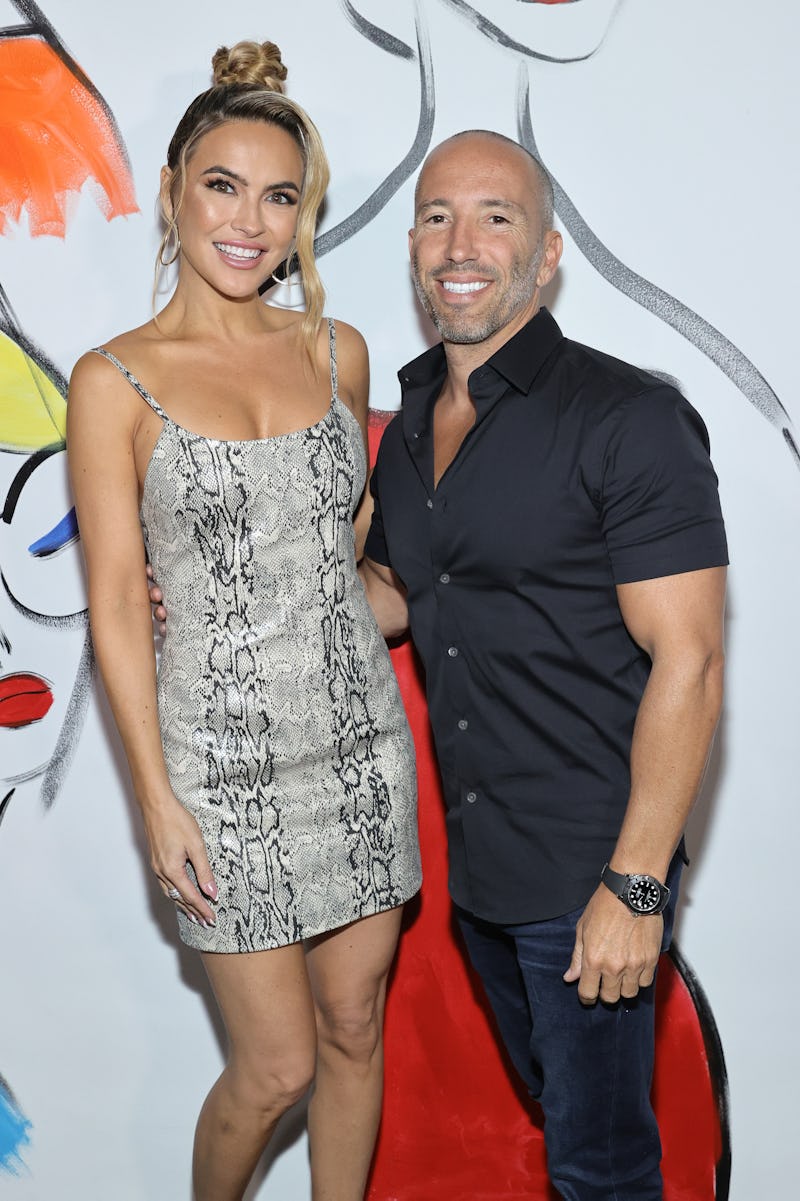 Jamie McCarthy/Getty Images Entertainment/Getty Images
Since the first season of Selling Sunset, the friendships and romances between cast members have made headlines, from Heather Rae Young's relationship with Tarek El Moussa to Chrishell Stause's split from husband Justin Hartley. But the Days of Our Lives actor's subsequent romance with another Selling Sunset star has caused an even bigger stir in the fandom.
Hartley filed for divorce in 2019, and the fallout from Stause's marriage to the This Is Us star played out the following year on Season 3. On the show, Stause was comforted by co-stars, but little did viewers know, one of her co-workers would later become more than just friends. Last July, Stause posted two pictures of her and boss Jason Oppenheim on Instagram that broke the Internet. After the photos were revealed, both publicly confirmed that they were an item. After seven months of dating, the two broke up in December 2021.
In the fifth season of Selling Sunset, Stause and Oppenheim's relationship became a major plot point, and the series chronicled their struggles and eventual split over their differing viewpoints on starting a family (Oppenheim, a proud bachelor, decided he doesn't want to have kids). Below, a complete timeline of Stause and Oppenheim's relationship, from their secret beginning to their romantic trip to Italy, to calling it quits, to supporting each other in new romances.
May 2021
Per an E! News report, Stause confirmed that she began seeing her boss "a full two months" before going public on social media in late July, placing the beginning of their romance around late May.
It sounds about right, especially since Stause was already secretly seeing the broker during Selling Sunset's Season 4 finale. In one scene during the Oppenheim brothers' party, which was likely filmed around June to July 2021, Young asked Stause about her relationship status. "Have you been dating at all?" she inquired. Stause gave a cryptic non-answer, talking about how she finally figured out her type and subtly hinted at her surprising new romance. She said, "I'm at the place where I know anything can happen and sometimes it can come from an unexpected place."
While rewatching the Season 4 finale for a Cosmopolitan UK feature months later, Stause admitted she was already dating their mutual boss when Young asked. "I wanted to tell her right then. I wanted to say it was still really new and really fresh," Stause said, referencing the clip. "I just didn't feel right with everyone there and we hadn't cemented everything so that I felt comfortable sharing yet."
July 2021
Months later, the two finally went Instagram official. Oppenheim revealed they were dating after Stause posted several Instagram photos of the two vacationing in Italy. Other pictures in the same gallery showed the two were on their trip abroad with Sunset co-stars Mary Fitzgerald, Romain Bonnet, and Jason's twin brother, Brett Oppenheim. "Chrishell and I became close friends, and it has developed into an amazing relationship," he told Entertainment Tonight, adding, "I care about her deeply, and we are very happy together."
Stause, who was linked to Dancing with the Stars castmate Keo Motsepe in 2020, told Bustle that she decided to reveal her relationship with Oppenheim on social media as she knew they would be "outed" sooner rather than later. "It was either I post it, or somebody else was about to post it. I just wanted the freedom to be able to hold my boyfriend's hand. I knew it was going to be a thing," she said.
Stause went on to share another heartfelt moment on Instagram, this time to give special thanks to her new boyfriend after he sent her dozens of beautiful birthday flowers. In part, she wrote, "Annnnd now that you guys know... thank you SO much @jasonoppenheim [with three heart face emojis]. Walked into the most special surprise yesterday."
August 2021
The couple's August 2021 trip to Europe was featured in the first episode of Selling Sunset's fifth season. Talking about how their relationship developed, Stause told Fitzgerald that they started as friends before the relationship became something more. "It's so funny. It's so opposite what I would've imagined. Just like the ultimate respect for both sides for each other, that's just something that I've never had before," she says. In a later clip, Oppenheim told their group over dinner, "I'm in love."
Weeks later, on Aug. 17, Stause and Oppenheim made their red carpet debut at the movie premiere of Shang-Chi and The Legend of the Ten Rings in Los Angeles. That same month, the seemingly happy couple dined with Oppenheim's parents and Brett and his girlfriend, Tina Louise, at "upscale Italian restaurant" Pace. According to People, everyone enjoyed their meal while "exchanging laughs and tons of conversation."
September 2021
Stause and Oppenheim made their New York Fashion Week debut as a couple. Per E! News, they sat in the front row at the Bronx and Banco runway show. In light of sharing the spotlight, Stause told E! that Oppenheim was at the event to "support" her. She explained, "He's happy to be like, 'That's your thing. I'm gonna go have fun.'"
October 2021
Stause posted another cute photo of her posing next to Oppenheim on Instagram in October. In the caption, she wrote, "I like my snacks with a little salt and pepper on them." For Halloween, Stause and Oppenheim marked the holiday with him in a construction outfit and her in a bright yellow dress and oversized glasses.
November 2021
Stause opened up about her relationship with Oppenheim for Cosmopolitan UK's cover story. She told the magazine that before their romance, they were "best friends," which she highly recommended readers try. "We know everything about each other and tell each other everything. We're silly and laugh a lot. I love that there's no need to try and pretend to be the best version of yourself."
December 2021
Stause doubled down on how her friendship with Oppenheim led to an "easy transition" from officemates to partners in a Dec. 15 interview with E! News. The Netflix star said, "With Jason, I just feel like the work/relationship dynamic, it's not as complicated as people would think because we were best friends before and we work together all the time."
However, about a week later, People reported that the couple was no longer dating. Late Dec. 21, Jason confirmed the news with a questionable text overlay on a selfie of him and Chrishell. He wrote, "She was the most amazing girlfriend I've ever had, and it was the happiest and most fulfilling relationship of my life," adding that "different wants regarding a family" led to the split.
As for Chrishell's take, she posted a note stating their wants simply did not align. "Men have the luxury of time that women don't and that's just the way it goes," she wrote. She also added, "And thank you Jason for the most incredible relationship and for consistently being honest with me even when it hurts."
While they were somewhat cryptic in their Instagram announcements, the details of their split played out in Season 5 of Selling Sunset. Throughout the season, it was clear Stause really wanted to start a family and was considering IVF after previously having frozen her eggs.
Initially, Oppenheim, who previously prided himself in being a bachelor, was on board with the idea. "When I was first getting with Chrishell, I actually was taking a more emotional and less logical approach to it, and I was actually feeling more inclined to have a family with her," he told Fitzgerald and Amanza Smith, another O Group agent, during the Season 5 finale. Adding that he's "overwhelmed with professional responsibility," especially since they're opening another, he said, "I honestly get overwhelmed with the idea of being a dad and it scares me because I know that if that's my decision, I lose Chrishell." He admitted, "It's the most difficult decision I've ever had to make."
The couple broke up later in the finale. While having a drink with co-star Emma Hernan, Stause revealed that she and Oppenheim just split. "He just told me that he doesn't want to have a kid. So, as much as this hurts me to say, I'd been clear with him what that would mean, so we are done. We broke up." Though in tears, she clarified she didn't have any ill feelings towards him. "I'm not holding this against him. I understand. He genuinely thought, 'This is something that I can do.'"
February 2022
Despite wrapping production on Selling Sunset Season 5 the same week as their split, Stause insisted her relationship to Oppenheim was the real thing, not a stunt for the cameras. During a Feb. 8 interview on Tamron Hall to promote her first memoir, Under Construction, she spoke in detail about fans' perception of the breakup. "I think some people thought this was some kind of PR thing, and of course this is the opposite of how you would handle that if that were the case, because we're no longer together," Stause told the host, explaining she remains "best friends" with Oppenheim to this day. "We are super supportive of each other, so it will be a little bittersweet to watch [Season 5] just because we were in such a different place when we filmed it. But you know, I signed up for a reality show, and I'm sharing my life in real time at times."
Stause also opened up about the process of working through the breakup with Oppenheim while still having to show up to work and film a Netflix series together. "I have to say in the beginning, it takes two people really wanting to put that effort in because it's important to them... At first, it could be really awkward, you know, and it could change a lot of dynamics," she explained. But in the end, they were willing to put in the work. "I think it was such a priority for both of us to try and fight through that and get through that so that we could really be at the place that we are today, which I'm really proud of."
Stause continued, "I feel like he's my biggest supporter. I'm the same for him, and I feel like we'll probably always love each other."
April & May 2022
Prior to filming the first-ever Selling Sunset reunion special taped on April 24, Oppenheim told Entertainment Tonight he was "apprehensive" about the special episode, especially since he was still "processing" his split with Chrishell. "That's a difficult thing that I'm still working through," he said.
When the special finally dropped on May 6, the typically stoic Oppenheim boss got emotional talking about his split with Stause. When host Tan France asked them point-blank if the relationship was a showmance as some have speculated, Oppenheim shut it down. "That's like asking me if the Earth is flat. It's a stupid question to me," he said. As he began to talk about their "very meaningful" relationship, he started tearing up, unable to continue.
Explaining how he was feeling, Oppenheim said, "There's a lot of sadness and loss." Calling it a "very difficult breakup," he said, "It's been a few months but I'm still just going through stuff. I think there was a lot of love between us. There still is. I still care about her very much."
When asked if he had any regrets or if Stause is the one that got away, he said, "I can never think more highly of someone than I do Chrishell. She was an amazing girlfriend. I think that she'd be an amazing mom. It's not that I think that I made the wrong decision, it's just that I had a lot of respect, and still have the utmost respect for Chrishell, and I still have as much love for her today as I did then." For her part, Stause also shared that there are still "feelings" there.
Unaired footage of Oppenheim and Mary Fitzgerald talking about his breakup was also released during the special. "I feel a lot of guilt. 'Cause we were happy and I f*cked something up that was really good. She's in pain and I caused that," he told his other O Group ex. Calling Stause the "love of his life," he told Fitzgerald, "Now I gotta deal with probably watching her be happy with someone else. So it f*cking sucks."
Oppenheim and Stause weren't the only ones who cried about their split in the special. Both Fitzgerald and Oppenheim's twin Brett — who helped the exes keep their relationship secret at first — also got emotional. "When I watched the end of the season, it was tough to watch Chrishell that hurt," Brett said, holding back tears.
The Queer Eye host floated the idea of giving the relationship another shot, especially if the O Group broker changes his mind about having kids, but Stause said she's "not sure," adding, "Because I just know that he's steadfast in his decision, I've not allowed my brain to go there."
Though Oppenheim was clearly still trying to move on, Stause revealed later in the episode that she's seeing someone new. She even shared photos with her new partner G Flip, a non-binary Australian singer, and a clip of the steamy music video they're co-starring in, which features the pair getting handsy and making out. They first fueled the gossip mill when they were spotted at a Los Angeles concert in March, and again at the Bridgerton Season 2 premiere weeks later.
After these revelations, Tan asked for Oppenheim's thoughts on the new relationship. Speaking to Stause directly, Oppenheim said, "They seem like a badass, for one, and two, the smile that's been on your face the last couple minutes makes me very happy. I'm proud of you."
Reporting by Candace Cordelia Smith, Alyssa Lapid, and Jack Irvin.
This article was originally published on