Does Red, White & Royal Blue Do The Book Justice? Twitter Has Thoughts
"My heart feels so full."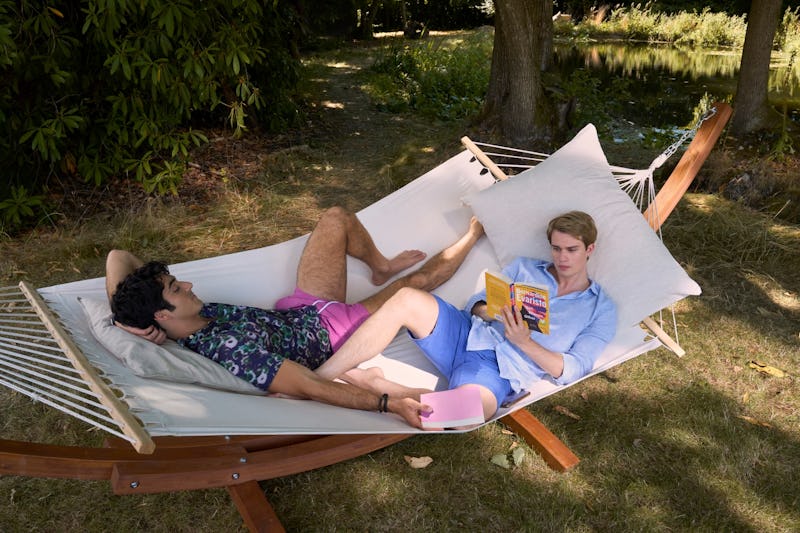 Amazon Prime Video
Fans first fell for Red, White & Royal Blue when the Casey McQuiston romance novel debuted in 2019, and the love story is continuing now that its movie adaptation has arrived on Amazon Prime Video. Starring Taylor Zakhar Perez and Nicholas Galitzine, the rom-com follows the memorable enemies-to-lovers journey of the U.S. president's son and the U.K.'s favorite prince. Expectations were high ahead of the film's premiere, and after watching, countless fans turned to Twitter to share their honest reviews.
Book-to-movie adaptations don't always satisfy fans, so Red, White & Royal Blue director Matthew López, who wrote the screenplay with Ted Malawer, knew any changes he made might prove controversial. As he recently told People, he made Alex and Henry's love story his focus, even though that meant sacrificing other elements fans adored. "I was making decisions that maybe I'd have to explain to the fans later on, but at the end of the day, I knew what I was doing was in the best interest of the film," he said. "I am one of the fans, and I knew the best way to deliver something fans would appreciate is to make sure I delivered a good film."
López's decision-making paid off. The film currently has a 95% audience score on Rotten Tomatoes, and many viewers gushed about it on Twitter after it premiered. Fans described it as "a beautiful watch," "so cute," and their new "hyper fixation."
The praise for Red, White & Royal Blue included its powerful portrayal of a gay romance and its significance for LGBTQ+ representation. "Red, White & Royal Blue was amazing simply for how unapologetically queer it was… so often queer content is only implied but this was loud and proud and so beautiful to watch / experience," one fan wrote.
Numerous book-lovers were thrilled with the movie, despite the changes they saw on screen. One tweeted that it was "so well adapted," with "great choices with which parts to keep in and which parts they had to leave out." Another went so far as to describe it as "probably the best book to movie adaptation i've [sic] ever seen."
For a lot of Red, White & Royal Blue fans, the main problem was simply that there was not nearly enough of it. Numerous fans called for an extended cut, while others wished it had been adapted as a series rather than a movie. "I need a version of Red White and Royal Blue with ALL the deleted scenes, it doesn't matter if it's 20h long, I deserve it," one tweeted.
Red, White & Royal Blue is streaming now on Amazon Prime Video.