Yes, Bailey Really Just Made This Season 1 MerDer Reference On Grey's Anatomy
"Bailey held on to this secret for DECADES!"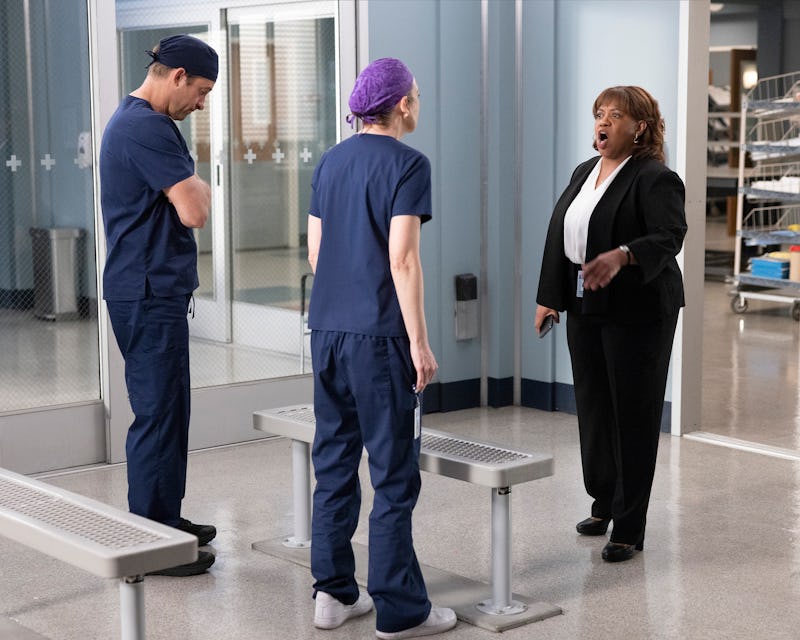 ABC/Liliane Lathan
Spoilers ahead for Grey's Anatomy Season 18, Episode 15. Dr. Miranda Bailey did not come to play after finding out Meredith is accepting the Minnesota job offer on Grey's Anatomy. During a heated confrontation, Bailey even referenced Meredith and Derek's affair all the way back from Season 1. "You're that girl ... that same little girl that's following her handsome attending all around the hospital, breaking all the rules, having sex in cars, nobody and no one else matters," she huffed, right in front of Meredith's new man, Nick Marsh.
Before viewers on Twitter could catch their breaths, it got worse, as Bailey continued, "It doesn't matter that he's your boss, that he's already married." That's when Meredith had enough, firing back that she had no right to speak to either her or Nick that way. On social media, one fan even likened Meredith's breaking point to Will Smith's Oscar slap in a meme, though there was no physical altercation here.
As longtime Grey's viewers remember, Bailey caught Meredith and Derek, who was then married to Addison, having sex in a car outside a party in Season 1's fifth episode. "Bailey held on to this secret for DECADES!" one user tweeted. As the intense scene was airing, another fan wrote, "I've watched 18 seasons of this show and it still shocks me."
The argument ended abruptly when Bailey suffered the previously teased medical event, though, good news, she turned out to be OK. Given that Grey Sloan's intern program is officially suspended — and she may have just effectively driven Meredith directly to Minnesota — that could change though. Luckily, the episode also contained several happier, more literal flashbacks to days of Grey's past. Various throwback scenes even showed fan favorites, including original interns Cristina, Izzie, Karev, and George.
The heavy doses of nostalgia had many fans wishing some of them would return, and, after all, the hospital does have a serious surgeon shortage problem to solve. Though Cristina likely won't be showing up anytime soon, Kate Walsh's Addison is returning for a third time this season in the next episode, which will air on May 5. To cap off the night of many memories, ABC gave a sneak peek at Addison's next comeback, and even she will be weighing in on the Meredith-Minnesota drama. "Well, well, how far the mighty have fallen," she says, making another grand entrance in one promo scene. In another, Addison jokes, "Meredith Grey pissing people off, it's like I never left."
By episode's end, viewers had gone on a whole rollercoaster ride of emotions to sustain them through the near-month until Grey's returns.