Meri & Kody Brown's Marriage Ended Later Than Sister Wives Fans Thought
Here's where they stand today.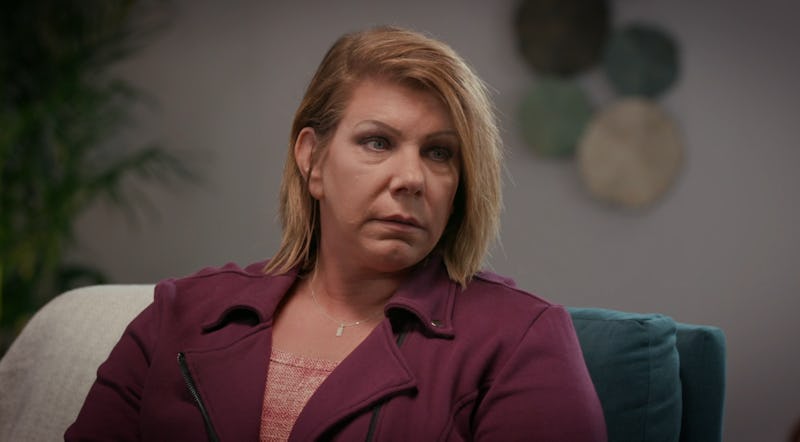 TLC
A major era of Sister Wives has come to an end. While the TLC reality show seems likely to continue for at least one more season (and hopefully beyond), several members of the polygamist family have separated from Kody Brown. Christine was the first to announce her departure from the marriage in 2021, while Janelle and Meri discussed their own relationship struggles in the Sister Wives: One on One specials that just wrapped on Jan. 8.
However, Meri and Kody's separation timeline may not be exactly what it seems. On Dec. 15, People described an exclusive clip from the One on One specials as "Meri confirm[ing] her 32-year marriage to Kody has ended," adding that she was "still open to reconciliation." But in a Jan. 10 Instagram post, Meri called out the story's framing. "The information, content, and timing was inaccurate and was based on a highly edited version of events that had been filmed months prior," she explained.
In the months since the One on One specials filmed, Meri said, she and Kody had "many open and honest discussions" that prompted them to announce their split officially. So Meri and Kody are, indeed, separated — it just didn't happen quite as early as fans might have believed.
"After more than a decade of working on our relationship in our own unique ways, we have made the decision to permanently terminate our marriage relationship," the couple wrote in a joint statement that they posted on their social media pages.
As Meri explained in the special, she was at a crossroads with Kody at the time of filming. "Maybe he's just at this place that's like, 'She's just not for me anymore,' and he's now finally just saying it," she said. As for whether she would wait and see if Kody might change his mind, she wasn't sure. "Time will tell, won't it? Yeah, that's for me to decide," she continued. "He's decided. So now what?"
Now, Meri's Jan. 10 Instagram post seems to answer that question — or at least, a piece of it. As she explained in her caption, "There is so much more to be told about this story," adding that her "truth will be told."
Meri also clarified that she has "no animosity toward Kody" and encouraged her followers to take the same approach. "I am not, and pray that I never will be, in a place where I will enjoy making, or seeing you make, rude and demeaning comments about him," she said.