Will There Be A Sister Wives Season 18?
After Janelle, Meri, and Christine separated from Kody, the show's future is in question.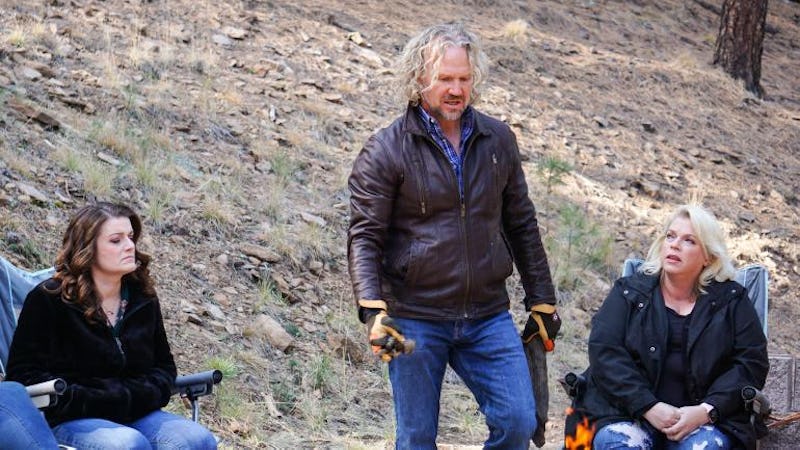 TLC
Sister Wives Season 17 has been the first to fully explore Christine and Kody Brown's divorce, which was first announced in 2021. Between the pair's final talks, breaking the news to the family, and Christine moving to Utah with Truely, there's been a lot to cover. But there have also been several developments since the season started airing, including Meri and Janelle announcing their intentions to separate from Kody, too. So, will there be a Sister Wives Season 18 to address the latest drama?
While TLC hasn't made an official announcement yet, it feels safe to expect another season of Sister Wives at this point. For starters, there have been rumors of its renewal: The U.S. Sun, for example, reports that the Brown family has a multi-year contract, and they're "not going anywhere" despite the separation. Interestingly, the outlet also adds that a spinoff with Christine and Janelle might be in the works, but again, the network hasn't announced anything besides the current YouTube series, Cooking with Just Christine.
In the meantime, though, there's another major reason to be excited about Sister Wives Season 18 — and it comes directly from Christine. In a November Instagram post, she shared a selfie with a new backdrop we haven't seen on screen yet, seemingly confirming that new material is on the way. "I'm finally filming in my house in Salt Lake!!" Christine wrote, adding that she was "so excited" and tagging her post #sisterwives and #newbeginnings.
There's another intriguing social media post from the Brown brood, too. Days after Meri discussed her own separation from Kody on Sister Wives: One on One, she wrote on Instagram that "not all is always as it seems," potentially alluding to the split. "It's not always about what you're looking at but also where you're looking from," she continued. "Everyone has their own experiences and their own truths. Remember, no matter how flat the pancake is, it always has two sides."
In addition to expanding on the latest separation news, The U.S. Sun and In Touch report that a new wife could be in a future season, with the latter citing a source that claims Kody is "actively looking" for one. However, during a clip of her One on One interview shared by People, Robyn said Kody's "basically said no" to the idea. Though Robyn acknowledged she could encourage the idea herself, she's "scared of it because of how badly this has gone."
As for when Sister Wives Season 18 might premiere, that's tricky to guess — as past seasons have followed somewhat irregular schedules. (Some years have seen two full seasons, and others just one, for example.) However, the most recent installments have started in the fall and wrapped up in January, so it seems that Season 18 could follow a similar schedule.