Michael B. Jordan Was Just As Shocked By Chadwick Boseman's Oscars Loss As You Were
"There's no award that can validate his legacy."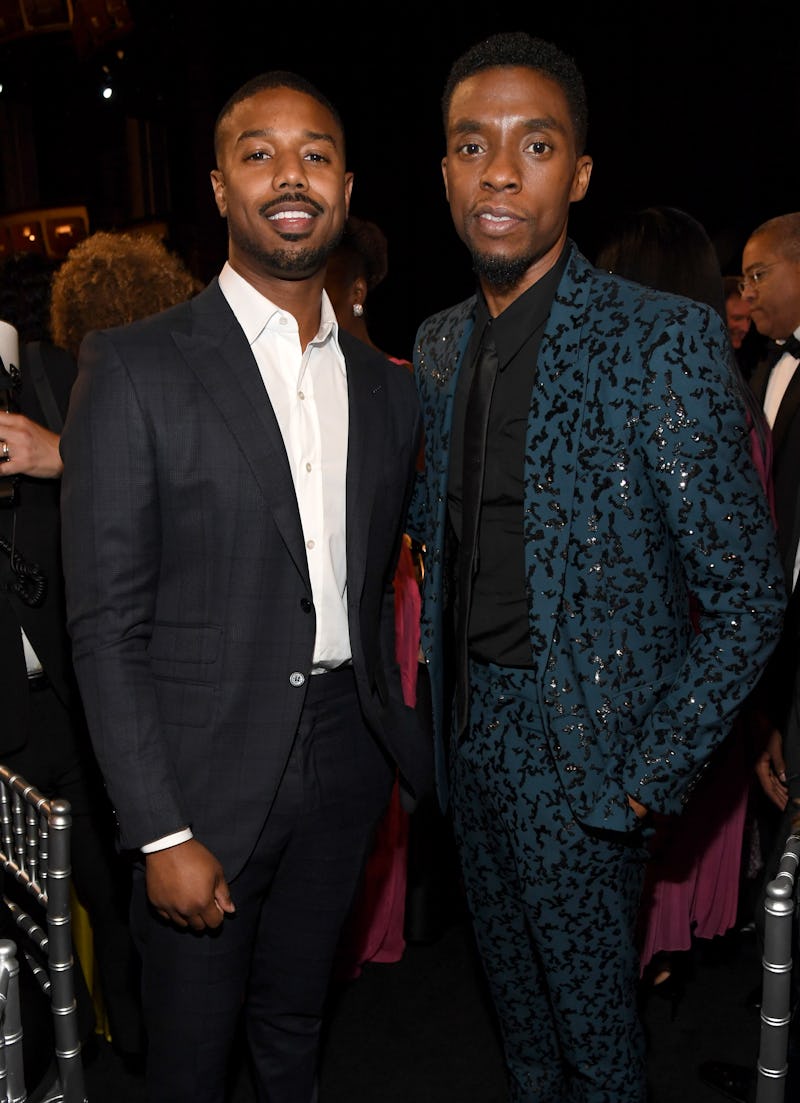 Kevin Mazur/Getty Images Entertainment/Getty Images
Fans of the late Chadwick Boseman were understandably disappointed on Sunday, April 25, when the Oscar for Best Actor went to Sir Anthony Hopkins. Michael B. Jordan was among those watching who were surprised by the results. But despite feeling strongly that his Black Panther co-star deserved recognition for his performance in Ma Rainey's Black Bottom, Jordan said on Jess Cagle's Sirius XM radio show on Thursday, April 29, that losing the award will not stain Boseman's incredible legacy at all.
When asked if he was "shocked" by Boseman's loss, Jordan answered honestly. "Yeah, I think everybody had a little bit of that feeling watching it," the 34-year-old actor said. "But this is how I honestly truly feel about it, like there's no award that can validate his legacy. There's no win that can take anything away from the lives around the world that he impacted, his family, myself included."
Jordan went on to say that instead of being angry over Boseman's Oscars snub, fans of the late actor — who died in August 2020 after a secret four-year battle with colon cancer — should instead celebrate the amazing work he left behind. "You've got to look at the things that we can control and the gifts and the blessings that he left us, and that's his incredible body of work and what he represents and stood for as a person, and that's the biggest one we could really ask for," he said.
Immediately after Sunday night's ceremony, viewers took to social media to express their dismay over Hopkins' win. They also heavily criticized the Academy for going out of their usual order and saving the Best Actor category for last, leading people to believe that the show was purposely rearranged so that Boseman's highly anticipated win would top off the night. This year marked the first year in several decades that the ceremony didn't end with the award for Best Picture.
"Yeah the 'let's put Best Actor last so, obviously, we can celebrate the life of Chadwick Boseman' really backfired," one disappointed fan tweeted. "So the Academy baited everyone into thinking Chadwick Boseman was going to win by putting best actor off until the last moment, didn't give him a special tribute, commodified his death with an NFT, and made his family sit through an entire ceremony without honoring him in any way," someone else wrote. Other people even criticized Hopkins for not being in attendance to accept the honor in person.
"They built the entire show around a Chadwick Boseman ending and then Anthony Hopkins won and didn't show up," Kyle Buchanan tweeted. Hopkins, who won for his performance in The Father, accepted the award remotely. "At 83 years of age, I did not expect to get this award — I really didn't," he said in his pre-taped acceptance speech. "I'm very grateful to the Academy, and thank you. And I want to pay tribute to Chadwick Boseman, who was taken from us far too early."