Chadwick Boseman Fans Are Mad At The Oscars For A Very Valid Reason
They're accusing the academy of exploiting the late actor's death.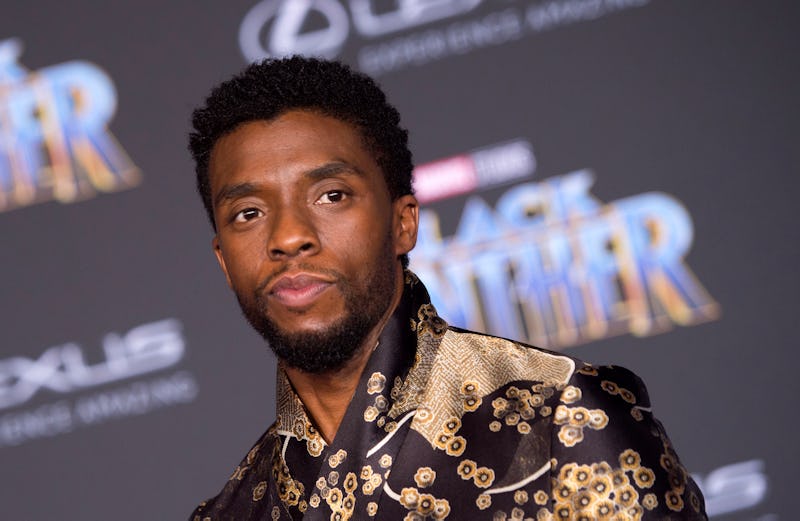 VALERIE MACON/AFP/Getty Images
Fans of the late Chadwick Boseman were left disappointed and surprised on Sunday, April 25, when the Oscar for Best Actor went to Sir Anthony Hopkins. However, infinitely more disappointing was the fact that the ceremony went out of its usual order and saved the Best Actor category for last, leading viewers to wonder if the show was purposely rearranged so that Boseman's highly anticipated win would top off the night.
Speculation that the Academy was planning an emotional nod to the Ma Rainey's Black Bottom star began when it was revealed that the show would be going out of order for the first time in decades. Typically, the Oscars end with the trophy for Best Picture, which has long been regarded as the biggest award of the night. But when fans found out that the Best Actress and Best Actor categories would come last this year, they assumed that Boseman would win the award and receive a heartfelt tribute that would tie up awards season in a nice little bow.
Unfortunately, if building up to that moment was the Academy's intention, it didn't work out as planned. In the end, Hopkins won the award for Best Actor for his performance in The Father, which he wasn't in attendance to accept so the ceremony ended abruptly without a speech. Hopkins later accepted remotely once he woke up oversees. "At 83 years of age, I did not expect to get this award — I really didn't," Hopkins said in his pre-taped acceptance speech. "I'm very grateful to the Academy, and thank you. And I want to pay tribute to Chadwick Boseman, who was taken from us far too early."
Fans of the late Black Panther actor took to Twitter to voice their disappointment and to slam the Academy for teasing a moment that ultimately never happened. "Yeah the 'let's put Best Actor last so, obviously, we can celebrate the life of Chadwick Boseman' really backfired," one person tweeted. "They built the entire show around a Chadwick Boseman ending and then Anthony Hopkins won and didn't show up," someone else wrote. Several other people echoed those same sentiments.
Despite not winning an Oscar, the 43-year-old actor — who died in August 2020 after a private, four-year battle with colon cancer — was posthumously recognized at many different ceremonies throughout awards season. Over the course of the last several months, Boseman earned trophies at the Critics' Choice Awards, the Golden Globes, and the SAG Awards.
"He would thank God. He would thank his parents. He would thank his ancestors for their guidance and their sacrifices. He would thank his incredible team," Boseman's widow, Taylor Simone Ledward, said while accepting a Golden Globe on her husband's behalf. "He would say something beautiful, something inspiring ... I don't have his words, but we have to take all the moments to celebrate those that we love, so thank you, HFPA, for this opportunity to do exactly that."