Michael B. Jordan Can't Escape The "Sexiest Man Alive" Jokes
His predictions proved correct.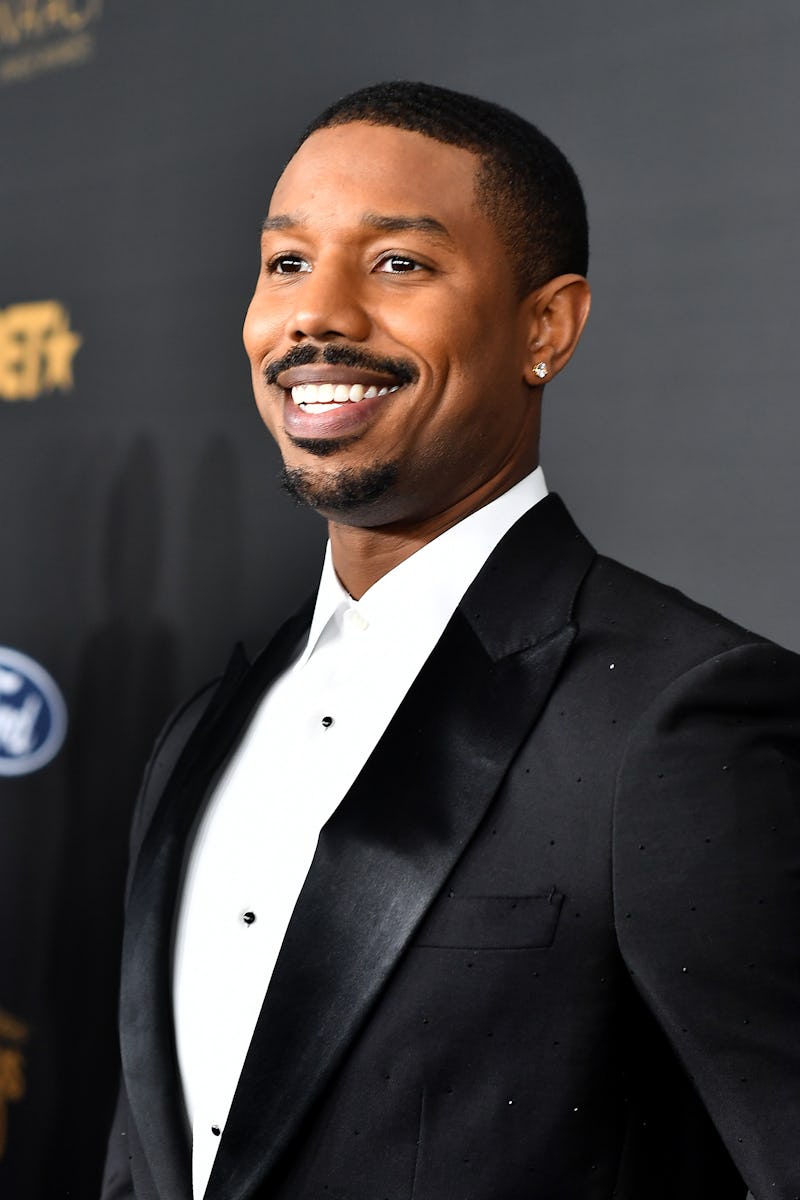 Paras Griffin/Getty Images Entertainment/Getty Images
Being named the Sexiest Man Alive has some drawbacks — just ask the current titleholder. Michael B. Jordan described the People magazine honor "a blessing and a curse" during his April 29 virtual appearance on The Tonight Show. Host Jimmy Fallon had asked him how his life has changed since he earned the crown in November, and the Without Remorse star revealed that his friends will not stop roasting him.
"People don't tell you that you instantly have a target on your back," Jordan said of the honor. "I mean, all my boys, you know in every group chat, just imagine… they're just constantly roasting me."
Apparently, the joke applies to any and all situations, from when he removes an outer layer to when he tries to enjoy a meal. "Everything I do, it's like, 'Oh, it's because the Sexiest Man Alive is taking off his jacket.' 'Oh, look at the way he wears his shirt.' 'He eats like the Sexiest Man Alive,'" he added.
Funnily enough, Jordan predicted this reaction. Speaking to People in November when the cover was announced, he said, "I think I'm going to get the most grief from everybody. … The jokes aren't going to stop."
And the quips really have come from all corners. When Jordan went public with his relationship with girlfriend Lori Harvey in January, her TV personality stepfather, Steve Harvey, couldn't resist tying the actor's famous title into his public response. While telling People that he considers Jordan a "nice guy," Harvey added that he remained prepared to hate him if need be, saying, "'Cause you ain't the sexiest man in the world to me! Let's be clear about that."
Others in Jordan's life are more excited about the honor, however. He told Fallon that his mom and his aunts have copies of the 2020 "Sexiest Man Alive" edition "vacuum-sealed" and "up on the mantle." He had told People in November that his grandmother collected the edition, so he knew they'd "have a special place" for it.
None of the reactions to his title are keeping Jordan from pushing on with his work, of course. His latest film, Amazon Studios' Without Remorse, premiered on Prime Video on April 30, and the action-heavy story challenged him with a lot of wild stunts, such as shooting inside a burning car. He'll also soon make his directorial debut with Creed III. He told Fallon he's "really excited" to reprise his role and helm the upcoming sports drama and added that he'll have to "sink or swim." One huge factor in his favor, though, is that he's very familiar with the film series.
"It's the one character and story that I know the most," Jordan said.
He seems like he has it under control, but however it turns out, he'll always be 2020's Sexiest Man Alive — and his friends certainly won't let him forget it.