Michaela Coel Dedicated Her BAFTA Speech To An Unsung Hero
The actor and director used her BAFTA speech to speak about the importance of intimacy coordinators.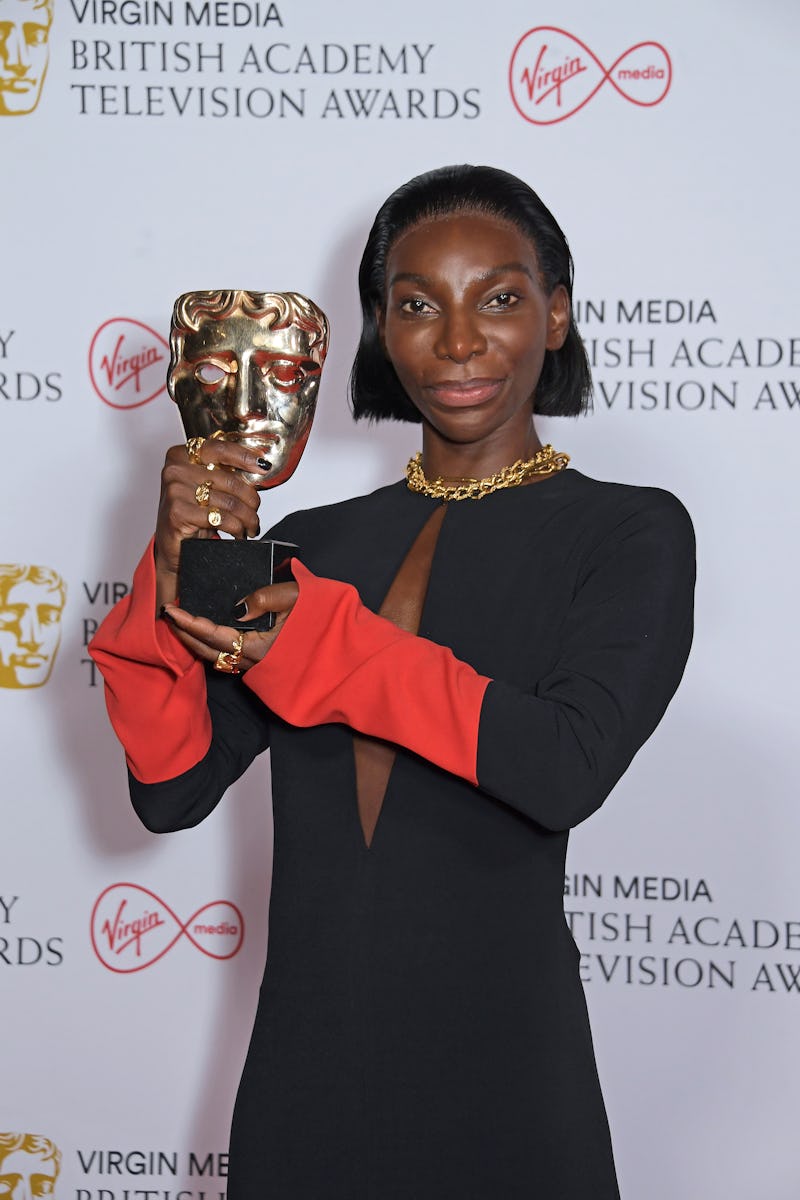 David M. Benett/Getty Images Entertainment/Getty Images
Last night, writer, director Michael Coel took home two BAFTAs for her ground-breaking TV show I May Destroy You, which explores the topic of sexual assault. During her powerful acceptance speech for Best Leading Actress, the star dedicated her award to one of the unsung heroes behind the scenes in TV production.
Coel's 12-part series, which aired in 2020, follows a millennial writer (played by Coel) as she tries to piece together and come to terms with her sexual assault after having her drink spiked in a bar.
The actor took home awards for Best Mini-Series and Best Actress. During her speech for the latter, Cole thanked the other women in her category including Billie Piper, Jodie Comer, Letitia Wright, Jodie Comer, and Daisy Edgar-Jones. But she dedicated the award to the director of intimacy Ita O'Brien, who has worked on a number of projects including Sex Education, Normal People and Behind Her Eyes.
In her speech she thanked O'Brien for "making space safe, for creating physical emotional and professional boundaries, so we can make work about exploitation, loss of respect, about abuse of powers, without being exploited or abused in the process."
Coel continued: "I know what it's like to shoot without an intimacy director – the messy, embarrassing feeling for the crew, the internal devastation for the actor." Using co-ordinators is "essential for every production company that wants to make work exploring themes of consent," the actor finishing.
Last year Bustle spoke to O'Brien about her work on Normal People and the importance of establishing "agreement and consent" between the actors before every single intimate scene. The year before that, she chatted to Bustle about her time on the Sex Education set and her mission to make sex scenes safer for everyone.
O'Brien created her intimacy on set guidelines in 2014, one of the very few guidelines of its kind at the time. In her 2019 interview with Bustle, O'Brien said she hoped that "in five years time, say, the industry won't even dream of doing a sex scene without an intimacy coordinator." After Coel's speech last night, it seems like the industry may be one step closer to that goal.