What Does Michael Peterson's Family Think Of The Staircase?
The Petersons have been very quiet since Michael's last appearance in court.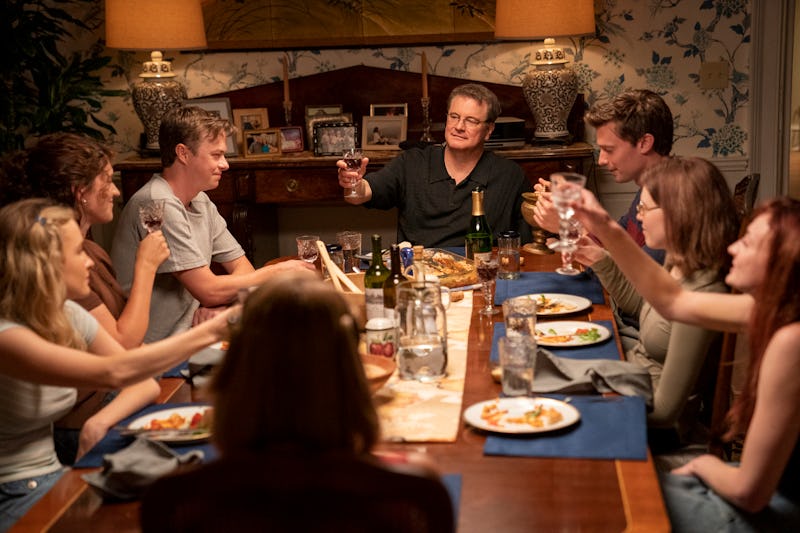 HBO MAX
Thanks to HBO Max's The Staircase — a dramatized adaptation of the award-winning docuseries of the same name — the Peterson family is once again at the front of the public's mind.
The limited series recounts the trial of novelist Michael Peterson (Colin Firth), who was accused of killing his wife Kathleen (Toni Collette) after she was found dead at the bottom of a staircase in their Durham, North Carolina home. The couple's large, blended family features prominently in the series, and each child's thoughts about the trial are explored in depth.
The new show also dramatizes the making of the original docuseries, which followed the trial in real time. Filmmaker Jean-Xavier de Lestrade and docuseries editor Sophie Brunet both appear as characters, played by Vincent Vermignon and Juliette Binoche, respectively.
While the Peterson family has kept mum about the star-studded adaptation, de Lestrade and his collaborators have voiced their disapproval. Below, what the real-life people featured in The Staircase think of the new series.
The Peterson Family Has Been Very Quiet Since The Trial
The Peterson family hasn't yet said anything about HBO Max's new limited series — nor much of anything since Michael Peterson's retrial in 2017. (After being convicted in his first trial, he took an Alford plea in 2017, which allowed him to maintain his innocence while admitting that there was enough evidence to convict him.)
Michael and Kathleen Peterson shared a blended family. Together, they raised Clayton and Todd Peterson, Michael's sons from his previous marriage; Caitlin Atwater, Kathleen's daughter from her previous marriage; and Margaret and Martha Ratliff, whom Michael adopted after the girls' mother, a close family friend named Elizabeth Ratliff, died. (Elizabeth Ratliff was also found dead at the bottom of a staircase — a fact that would become central to Michael's trial.)
Of these five children, only Caitlin Atwater didn't believe Michael's innocence. She testified against him during his first trial, and after his conviction in 2003, she filed a wrongful death lawsuit against him; she and Michael agreed to a $25 million settlement in 2007. Ten years later, after the end of Michael's second trial, she discussed her feelings about the case with INDY Week. "The only thing that I have to say about the trial and all the subsequent fallout is that, if there was any closure to possibly come from all of this, it came after sitting through the entire trial and listening day after day to all the evidence—on both sides," she said. "And after the closing arguments, when all was said and done, I felt confident that I knew what happened. I knew what happened to my mom. While there's no true closure that can ever come for an event like this, for a loss this deep, I was ready to walk away and start moving forward with my life." She hasn't directly commented on either the docuseries or the HBO Max series.
Clay has vocally supported his father. In an interview with press during Michael's second trial, Clay said that returning to the courtroom felt like "ripping up all our wounds again," and reaffirmed his belief in his father's innocence. Since then, he hasn't publicly commented on the case or The Staircase.
Todd, Martha, and Margaret have all largely kept silent, but stayed by their father's side during both trials. They also haven't commented on The Staircase.
The Documentary's Director Feels "Betrayed" By HBO Max's Adaptation
In an interview with Vanity Fair, docuseries director Jean-Xavier de Lestrade reportedly sounded "shell-shocked" while discussing his feelings about the HBO Max series. De Lestrade said he gave Antonio Campos — the creator of HBO Max's series — access to "Staircase archives," which included unused footage and notes. "We gave [Campos] all the access he wanted, and I really trusted the man," de Lestrade told Vanity Fair. "So that's why today I'm very uncomfortable, because I feel that I've been betrayed in a way." Though de Lestrade is listed as a co-executive producer on the limited series, he told Vanity Fair that the credit is ceremonial and that he trusted Campos with creative control.
In particular, de Lestrade took issue with how Sophie Brunet — the editor for the docuseries, who had a relationship with Michael Peterson — was portrayed. In the HBO Max series, it appears that Brunet edited the docuseries while becoming romantically involved with Michael, but both she and de Lestrade refute this. They say she didn't contact Peterson until after she'd finished production on the initial set of episodes, and that she'd only worked on later episodes — two that premiered in 2013, and three that were released in 2018 — after she and Peterson were already broken up. In an email, Brunet told Vanity Fair that her time with Peterson "never affected" her editing, saying: "I never, ever cut anything out that would be damaging for him. I have too big an opinion of my job to be even remotely tempted to do anything like that."
De Lestrade worries that the new HBO Max series will damage his reputation as a documentary filmmaker. "I understand if you dramatize. But when you attack the credibility of my work, that's really not acceptable to me," de Lestrade continued. "It's alleged that we cut the documentary series in a way to help Peterson's appeal, which is not true."