Miley Cyrus Isn't Done Sharing NSFW Butt Selfies On Instagram
It's probably a good time for her family to hit that unfollow button.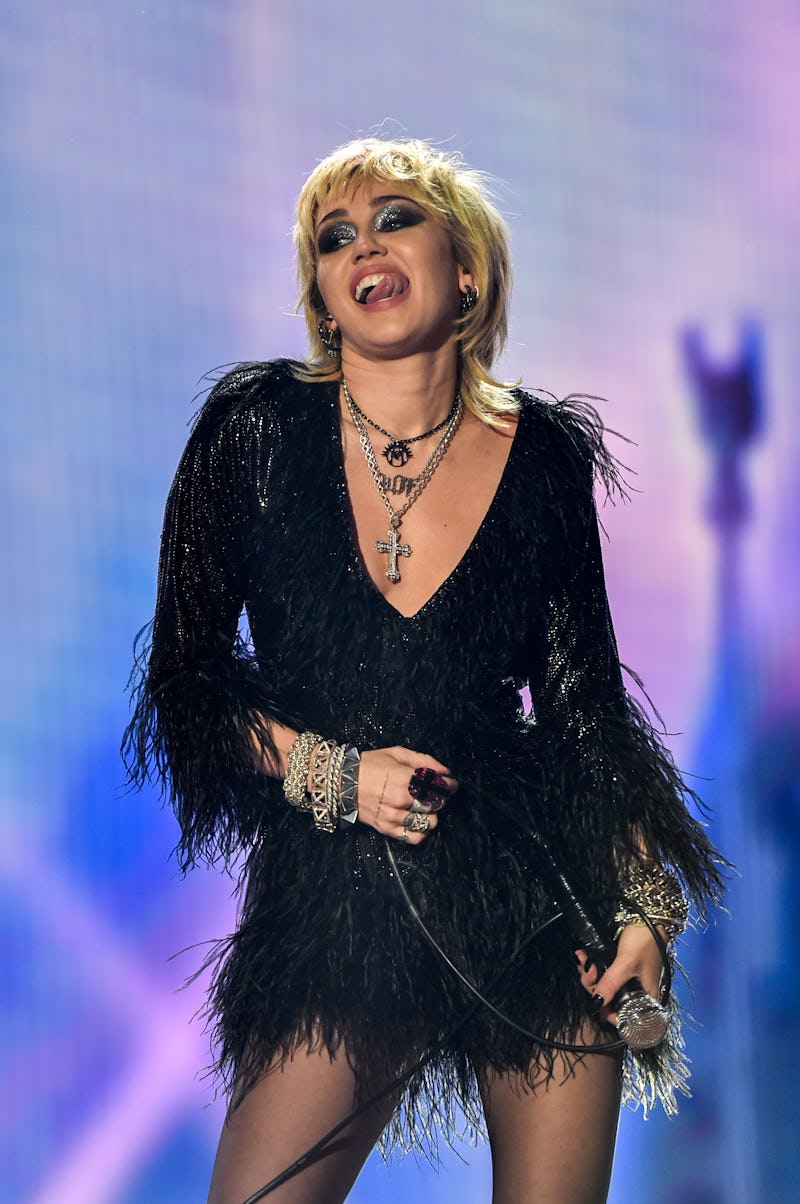 Alberto E. Rodriguez/Getty Images Entertainment/Getty Images
Miley Cyrus is just... being Miley. On Monday, June 14, the pop star shared an NSFW mirror selfie on Instagram featuring her wearing a lacy blue bra and thong set. The photo was complete with a message to — drumroll, please — her family. "Probably a good time for my family to unfollow my ass," she captioned the image. "Literally." This isn't the first time in recent weeks that the pop star shared photos of herself in her underwear. Just last week, she posted another mirror pic in a matching red bra and panty set, proving that she has now entered her lingerie era.
While it remains unclear what exactly inspired the "Prisoner" singer's latest NSFW photoshoot, the body shaming that she experienced several years ago might have something to do with it. On Saturday, June 5, the pop star shared a risqué video to her Instagram feed, which was intended to promote her upcoming appearance at Summerfest Music Festival this September. However, the caption revealed that she's still "scarred" from jokes and memes that were made about her body in 2013.
"Made ya look," Cyrus captioned the clip, which featured her wearing a revealing, bum-baring black bodysuit. "Now buy tickets to @summerfest." Shortly after posting the video, the "Midnight Sky" singer shared another picture in the same outfit to her Stories. "Ya'll scarred me w that turkey butt sh*t," she captioned the post, alluding to the haters who said she looked like a turkey at the VMAs eight years ago. She also included animations of a skeleton eating turkey, a speech bubble that says "gobble gobble," and a chicken shaking its butt.
At the time of the highly controversial performance, the Hannah Montana actor was in the middle of transitioning from a wholesome Disney Channel star to a full-blown pop star, something that much of the general public wasn't ready for. But what Cyrus couldn't have prepared for were the body-shaming comments that she received immediately after the world watched her twerk on singer Robin Thicke on live TV. For a long time, those unsolicited opinions left the singer with little to no body confidence.
In March 2021, Cyrus spoke to Demi Lovato about those hurtful comments on an episode of her Instagram Live talk show, Bright Minded: Live With Miley. "I stopped wearing skirts on stage, all this sh*t because after the VMAs and I had on my cute little nude bodysuit, everyone started comparing me to a turkey and putting a turkey on my outfit," Cyrus explained. "I was just so skinny and so pasty and they kept putting me next to this turkey, and I was feeling so bad on myself that I did not wear a bikini for like two years."
Overall, the criticism about Cyrus' body helped her realize that she wanted to use her platform "for a bigger purpose." But still, the body shamers got to her head and made her feel like she was lying about who she was. "The worst thing that I would feel like I would be to my fans is lying or a fraud," she told Lovato. "I felt like having this persona of being the most confident girl on the planet was actually kind of fraud because I was so insecure on the inside that in my personal life I wasn't even wearing bathing suits and shorts."
Lovato could relate. In response, they explained that their 2015 single "Confident" was actually written when they weren't feeling confident at all. And if the "Dancing With the Devil" singer had known what her fellow Disney Channel alum was going through, she would've been there to help her navigate it. "I'm so sad that you went through that, and I had no idea," Lovato said. "I feel like we've gone through times where we're closer and then distant and that's fine, that's what friends do. I just wish I could've been there for you."
Cyrus' NSFW Instagram photos seem to suggest that she's done with feeling insecure about her body. And whether she's simply glowing with confidence or preparing to announce an upcoming lingerie line, we're here for it. And that blue lace bra and panty set? We'll take 10.