Millie Bobby Brown Put A Stop To David Harbour's Stranger Things Spoilers
"Get off of Live and go back to work."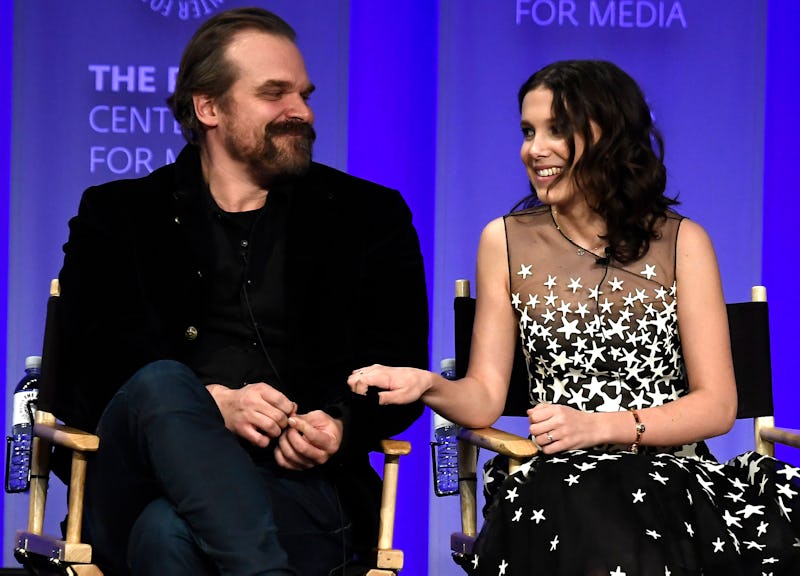 Frazer Harrison/Getty Images Entertainment/Getty Images
Eleven doesn't always have to use her power to put Hopper in his place. During David Harbour's recent Instagram Live from Stranger Things' set in Atlanta, the actor who plays Hawkins Police Chief Jim Hopper threatened to spill Season 4 spoilers. Luckily, his co-star Millie Bobby Brown, aka Eleven, had tuned in to put a stop to it all.
After confirming he was shooting Season 4 of the Netflix series, Harbour — who was in costume, donning a tattered work coat and a scraped face — admitted he didn't think he was "supposed to be showing" fans anything. "Who wants to hear spoilers for Season 4?" he joked in between scenes during a "very tough day" of filming. "Let me just read directly from the script."
That's when he noticed Brown was among his viewers and added, "Oh, sh*t! Millie! Oh, no. Millie, don't tell Netflix, don't tell Netflix that I'm doing Instagram Live from set." He joked that would only read her sections of the script and "tell everybody what happens to Eleven this season." Although it's unclear what she had typed to her onscreen father figure, he then added her to the Live so that fans could hear from the 17-year-old actor directly.
"Are you in your costume?" Brown asked, before telling Harbour to "get off of Live and go back to work." To be fair, he reasoned with her that fans had already seen Hopper's look (and learned his character is still alive) in the February 2020 Stranger Things Season 4 "From Russia with love…" teaser. Harbour joked that he was "getting fired," while Brown asserted he should at least expect a phone call from Netflix imminently.
Whether or not he actually got a call, Netflix did respond with a wave and eyes emoji in the comments section. Harbour replied, "Dammit. How long have you been standing there?" The official Stranger Things Instagram account also commented that he had to go because Netflix called about his grandma, to which the actor responded, "You're crazy."
They weren't the only one's to react to Harbour's video, which had racked up almost 1.4 million views on his main page, as of publication. Co-star Cara Buono, who plays Karen Wheeler, noted that she'd gotten in trouble just for posting a photo of her set chair, calling his broadcast bold. "That seems like a PRETTY BIG SPOILER CARA!!" he wrote. Even Harbour's wife, Lily Allen, chimed in, "Baybee what are you doing ?????" along with several face with open-mouth emojis.
The actor's live certainly explains why Stranger Things creators Matt and Ross Duffer said in 2017 they were done telling Harbour any plot spoilers. "We can't tell David anything anymore," Matt joked at a 2017 Vulture Fest event. "He's cut off. He tweets it, he puts it on Instagram, he tells every journalist he can find. … I'm not telling him anything."
During an April 6 interview on The Tonight Show Starring Jimmy Fallon, Gaten Matarazzo, who plays Dustin Henderson, did confirm that Stranger Things Season 4 "might be the scariest one" yet. Aside from that tease, however, the cast has remained tight-lipped. That is, of course, except for Harbour.