Lily Allen Just Revealed How She And David Harbour First Met
"I remember looking at him, and it reminded me of Leonardo DiCaprio in Titanic."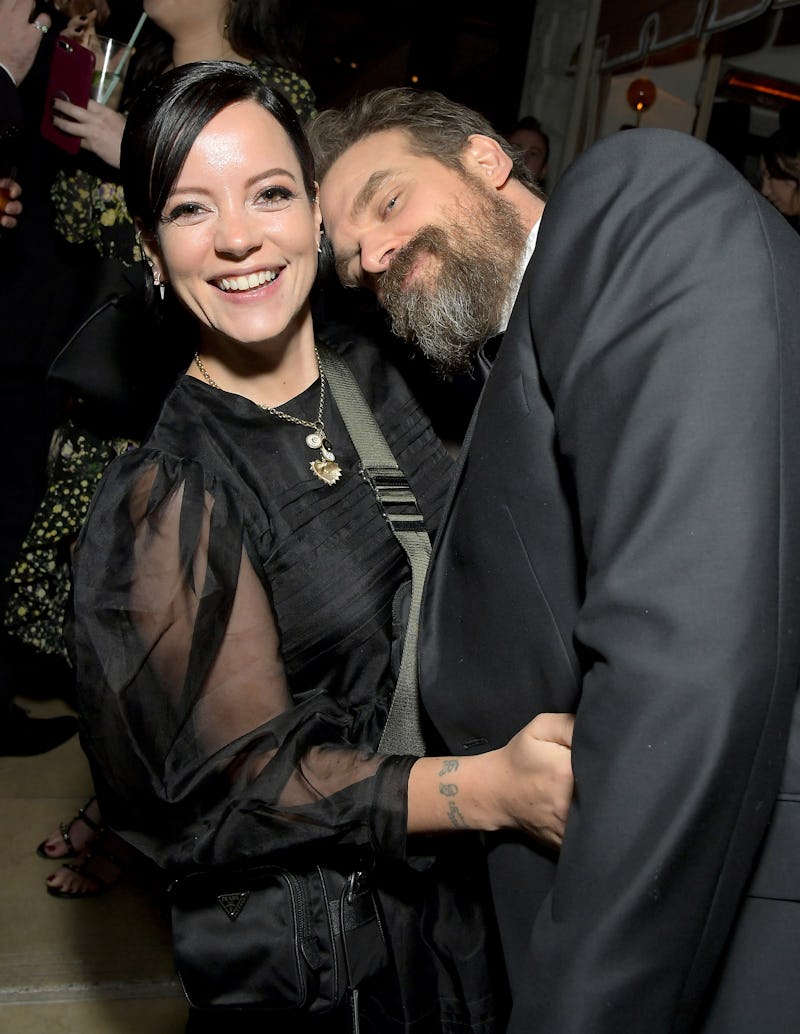 Charley Gallay/Getty Images Entertainment/Getty Images
One of 2019's surprising couplings was British singer Lily Allen and actual Hopper from Stranger Things David Harbour. In Sept. 2020 – after just a year of dating – the couple shocked fans with a surprise Las Vegas wedding, complete with Elvis impersonator. But how did Lily Allen & David Harbour meet?
While Allen and Harbour initially kept their whirlwind relationship under wraps, Allen revealed they connection on celebrity dating app Raya. "He was shooting a film in London, playing a Russian character," she told the Sunday Times Style magazine. "He had the name Karl Marx tattooed on his fingers."
For their first date, they went to London celeb-haunt The Wolseley. "There's this middle table in the middle section that's underneath a [massive, restaurant-defining] clock, and I remember looking at him, and it reminded me of Leonardo DiCaprio in Titanic, you know? When she's going to meet him under the clock. And, by the way, it was my first date ever. I had never been on a date! I was so anxious. He was, like, 'Have you been here before?' and I said, 'Yeah, I love this place, my kids love the pancakes here,' and he was, like, 'Oh, you have kids?' " He didn't want her to think he'd been googling her, Allen claims.
Allen and Harbour tied the knot in September 2020. In true Las Vegas style, they got married in a Graceland wedding chapel with an Elvis impersonator. Allen's wedding dress – vintage Dior look – a lucky find, just hours before the ceremony itself.
E! News reported their first public appearance back in August 2019 and fans couldn't get enough of the couple's public date nights. They were spotted having a right old laugh at a performance of The Lehman Trilogy at the Piccadilly Theatre. I know right? Very on brand for both of them.
Continuing on their August dating spree, Elle reports that Allen and Harbour went to the O2 arena to see Vasily Lomachenko and Luke Campbell duke it out in the boxing ring. Clearly London travel savvy, the low key pair took the tube to the event.
According to Harper's Bazaar, in October 2019 they went next level, attending an SNL after party together. Allen showed her appreciation for Harbour, who'd hosted the show that week, by posting a zoomed-in screenshot of his bicep from this skit with the caption "Mine" on her Instagram stories. Their lovefest continued as they packed on the PDA on the streets of NYC and courtside at Madison Square Gardens watching the Knicks. They even made their first red carpet appearance, according to Elle, when they attended the Skin Cancer Foundation's Champions for Change Gala in NYC.
Elle reports that 2020 kicked off with more public affirmations for the couple, who attended SAG pre parties and the awards themselves.
For everyone, even loved up superstars, lockdown meant a lot less opportunities for PDA and socialising. So what did they do? Why they hunkered down together for lockdown, alongside Allen's daughters, and shared photos of their happy blended family life on their respective Instagram accounts. They even went the whole hog and posted some cute AF holiday pics from their trip to Croatia. It was in late April that fans started hearing wedding bells as Allen posted photos of herself with a diamond, the size of a chicken nugget, on her ring finger.
Speaking to ST Style magazine, Allen revealed rather cute family holiday details, too. The pop singer said that her daughters, Ethel and Marnie, find it "most entertaining" to tease her new hubby about fame. "We went on holiday to Croatia and people did not recognise David at all, but would come up to me. The kids loved it, they were, like, 'Ha ha!', every time someone would ask for my autograph or a picture, they'd go up to David, and be, like, 'Are you OK, David? Shall we tell them who you are?'"
This article was originally published on