How Did Ms. Marvel End Up With Such A Low Audience Score? Review Bombing Explained
"Review-bombing" has driven Ms. Marvel to be the second-lowest rated MCU show, despite a 96% on Rotten Tomatoes.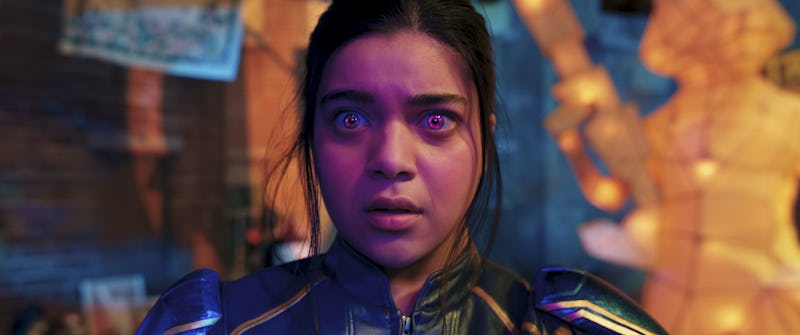 Marvel Studios
Fandoms can be a prickly thing: on one hand, they provide a safe haven for people who are super-fans of any IP. But on the other, the intensity of their worship can lead to unjust scrutiny of and malice toward the production at hand (see recent Obi-Wan Kenobi controversy in which "fans" bullied star Moses Ingram online).
Ms. Marvel, an MCU-set Disney+ show about Muslim teenager and Marvel superfan Kamala Khan, debuted last week to rave critical reviews that landed the new series at a 96% positive Tomatometer rating on aggregator Rotten Tomatoes, with a consensus that reads "Ms. Marvel is a genuinely fresh addition to the MCU — both stylistically and substantively — with Iman Vellani ably powering proceedings with her super-sized charisma." So why did audience ratings immediately plummet after the premiere receieved positive reviews?
Both Forbes and Axios have recently reported on claims of "review-bombing," a phenomenon where viewers intentionally rate shows lower to bring down the overall average. At the time of the Axios article's publishing on June 13, 2022, Ms. Marvel was the lowest rated MCU show on IMDb (two days later, the show has risen one spot, ahead of only the 2017 Inhumans show). Over on Rotten Tomatoes, the audience score is 83%, though that score is slightly skewed as it refers to the percentage of users that rated the show 3.5 stars or higher.
Further IMDb investigation shows that the second-highest amount of votes (28% at the time of this article's publishing) were given to the "1" rating score while 37% of votes went to a "10" rating. Forbes pointed out that this percentage of 1-star reviews is far higher than other Disney+ shows (Moon Knight saw only 5% and Falcon and the Winter Soldier saw 3%, even though both received mixed critical responses). Bustle has reached out to both IMDb and Rotten Tomatoes for comment on how they police review-bombing, but has not heard back in time for publication
Critics and fans alike have claimed that the hostility is a small but vocal minority in the racist and sexist corner of the fandom. YouTube star Jessie Earl claimed that Ms. Marvel's review bombing was because "some people see her as a Muslim girl 'replacing' the white Carol Danvers. Not only is this racist white replacement nonsense, it's hypocritical given all the harassment Larson got. It's perpetual racism and sexism."
Another YouTuber Joe Vargas tweeted that their Ms. Marvel review was "downvoted to a lowest level in months within 3 minutes of its posting," further accusing those who left negative reviews weren't doing so because of genuine dissatisfaction.
This isn't the first time it has happened — in fact, other Marvel productions, "particularly those showcasing representation in Hollywood," have been appeared to have targeted before. Eternals, which had an Asian female director, and Captain Marvel, one of the first MCU movies to be fronted by a female superhero, both saw similar review bombing behavior after release, though it should be noted the critical reviews were not as strong as Ms. Marvel's.
Despite the scores associated with these sites, overall word-of-mouth consensus has been positive and those associated with the show are choosing to focus on the good.
Adil El Arbi and Bilall Fallah, the directing duo known as Adil and Bilall who directed the first episode of Ms. Marvel, spoke with Gizmodo and commented on the controversy. "I think fandom values are a reflection of society, you know, so you got to have the good and the bad," said El-Arbi.
"We believe that it's overall good. I mean, fandom for us the reason why we make these TV shows and movies. They make Marvel MCU heroes big and that's why we have AvengerCon. We try to do that homage to the fandom. That's why Kamala Khan is a fan. You got to also respect the fandom because they're so passionate about that. I think that we tend to focus just on the positive aspects of it, because the love and the care that they give. You will not have that in any other job and it's a real pleasure. We hope that our humble contribution to the MCU will please the fandom everywhere in the world, especially the younger fandom."