Naomi Osaka Quit The French Open After Being Fined $15K For Refusing To Do Interviews
The 23-year-old tennis star sparked controversy when she decided to put her mental health first.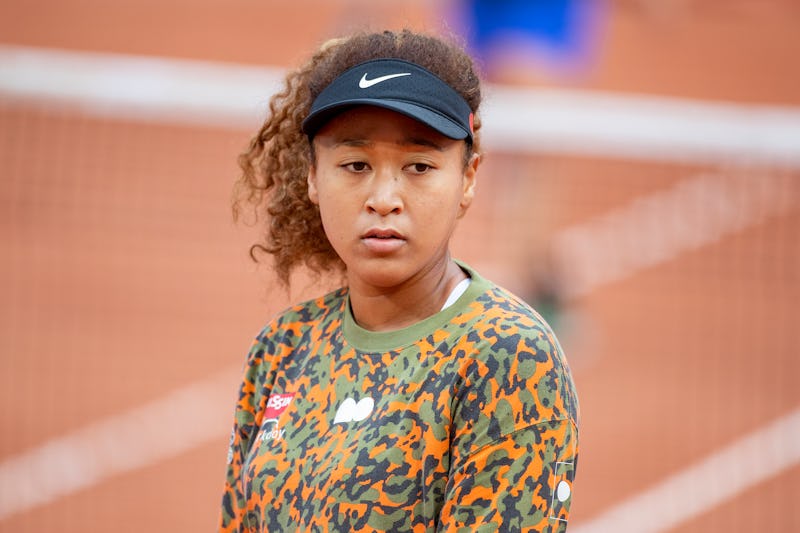 Tim Clayton - Corbis/Corbis Sport/Getty Images
After being fined $15,000 for refusing to speak to the press at this year's French Open, Naomi Osaka has officially backed out of the tournament. "Hey everyone, this isn't a situation I ever imagined or intended when I posted a few days ago," the 23-year-old tennis star wrote in a lengthy social media post on Monday, May 31. "I think now the best thing for the tournament, the other players and my well-being is that I withdraw so that everyone can get back to focusing on the tennis going on in Paris."
Osaka, who is currently ranked the No. 2 player in the world, proceeded to explain in her note that while the timing of her decision to not do interviews definitely wasn't ideal, she would "never trivialize mental health." "The truth is that I have suffered long bouts of depression since the US Open in 2018 and I have had a really hard time coping with that," she admitted. "Anyone that knows me knows I'm introverted, and anyone that has seen me at the tournament will notice that I'm often wearing headphones as that helps dull my social anxiety."
The athlete's decision to withdraw from the French Open (otherwise known as Roland-Garros) came shortly after she was hit with a hefty fine for refusing to speak to the media following her match with Patricia Maria Tig. "Naomi Osaka today chose not to honour her contractual media obligations," the joint statement from Australian Open, Roland-Garros, Wimbledon, and the US Open read. "The Roland-Garros referee has therefore issued her a $15,000 fine, in keeping with article III H. of the Code of Conduct."
Additionally, the press release shot down Osaka's claims that the tournament does not prioritize athletes' mental health. "The mental health of players competing in our tournaments and on the Tours is of the utmost importance to the Grand Slams," the statement continued. "We individually and collectively have significant resources dedicated to player well-being." The press release also claimed that the French Open staff "tried unsuccessfully to speak with [Osaka] to check on her well-being," but ultimately maintained that all players are required to give interviews.
These interviews have been a point of contention for athletes in the past, including Osaka, which was why she refused to participate. "I'm writing this to say I'm not going to do any press during Roland Garros," she wrote on Instagram last week. "I've often felt that people have no regard for athletes mental health and this rings very true whenever I see a press conference or partake in one." To prove her point, she attached two video clips. In one, a journalist tried to sow seeds of doubt into 14-year-old Venus Williams' mind. In another, NFL star Marshawn Lynch said that he only showed up to his press conference to avoid being fined.
There are more recent examples of athletes getting frustrated by the media, too. Three months ago, for example, Serena Williams stormed out of a news conference in tears after losing to Osaka in the semifinals at the Australian Open. "I don't know. I'm done," she said before leaving the press room suddenly. And now that Osaka has withdrawn from the competition altogether, Williams has come to her defense. "I feel for Naomi," the 39-year-old tennis champion told the press at the French Open, adding that "everyone handles things differently." "That's the only thing I can say: I think she is doing the best she can."
Although Osaka had a valid point about the mental implications of speaking to the press, she issued an apology to journalists in her open letter after withdrawing from Roland-Garros. "Though the tennis press has always been kind to me (and I wanna apologize especially to all the cool journalists who I may have hurt), I am not a natural public speaker and get huge waves of anxiety before I speak to the world's media," she wrote, adding that she gets "really nervous" trying to come up with the perfect answers. "I was already feeling vulnerable and anxious so I thought it was better to exercise self-care and skip the press conferences."
Osaka closed out her letter by announcing that she will be taking some time away from the sport altogether, but that she looks forward to hopefully working with the Grand Slams to update some of their most outdated policies in a way that works for everyone. "I'm gonna take some time away from the court now, but when the time is right I really want to work with the Tour to discuss ways we can make things better for the players, press and fans," she wrote. "Hope you are all doing well and staying safe, love you guys I'll see you when I see you."