At 28, Naomi Watts Was Feeling Lost In Hollywood
The actor had relocated from Australia to pursue acting, but hadn't yet landed a breakout role.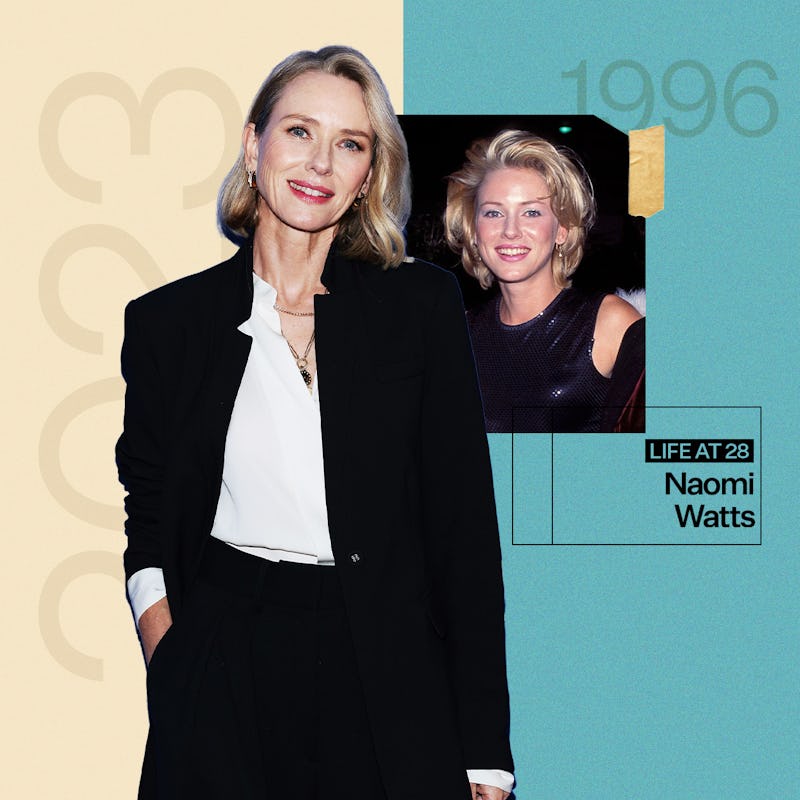 Caroline Wurtzel/Bustle; Dimitrios Kambouris, Patrick Riviere/Getty Images
By the time Naomi Watts was 28, she was on her third career. In her late teens she'd tried her hand at modeling, but after several failed auditions, she pivoted to a different path within the industry: working as a fashion editor at the now-defunct Australian magazine, Follow Me. Then, after agreeing to participate in a weekend-long acting course as a favor to a friend, she decided to leave fashion behind entirely. "The actors, students, as well as the teacher just said, 'Look, this is your calling, it's who you are,'" Watts tells Bustle. "So literally, on Monday morning, I quit my job."
At first, Watts seemed to be on the fast track to success. "Two weeks later, I got my first job in this movie called Flirting. Nicole Kidman was in it, and Noah Taylor and Thandiwe Newton," the 54-year-old says. "So I met a lot of great people. I actually already knew Nicole, but we all became friends really good friends on that." So much so that Kidman inspired Watts to move to the States and attempt to break into Hollywood — where Watts' streak of good luck momentarily seemed to stall. "I pretty much felt like I was a gun for hire," she says of the odd jobs that made up her early oeuvre. "I was over in America, far away from where I was raised. I just felt displaced."
Now three decades into her career, the two-time Oscar nominee has a newfound grace for her 28-year-old self. "I heard this saying the other day, that three career changes is average for a person to go through, and it really made sense," says the actor and Stripes founder. "Twenties is really young, you don't have to have it all figured out. You don't have to worry about, 'Oh, I've put so much time into this already, I can't possibly change my career now.' You absolutely can."
Below, Watts reflects on jealousy, stretch marks, and a life changing night at the Cannes Film Festival.
Take me back to 1996, when you were 28.
I was just panicked. I always thought, "Oh, I'll be married with a family by the age of 25," because my mom had kids when she was 19 and 20 ... [I was] thinking, "I'm missing my goal, the plan didn't work out."
How were you feeling about your career?
I'd moved into America in my early 20s and [still hadn't] achieved any kind of career, I don't want to say success. But even assurance — nothing felt firmed up. So I was a little bit lost and comparing myself to other people. I had one other best friend here in America who already had one child and was married and doing well, so I definitely felt not in the best shape mentally.
What was it that pushed you to keep going?
Looking back I really feel like, "Wow, I cannot believe I kept going." I must have had some kind of incredible resilience. And also the notion that I didn't know what else to do. I didn't have another skillset that I'd spent a lot of time developing.
You've spoken about your close friend Nicole Kidman really being your rock during your early years in Hollywood. How did the two of your support one another?
There was just a lot of encouragement from her, and other people as well. Comparing yourself to others is the easiest trap to fall into at that point in your life. It takes growing emotionally and trusting yourself to come out of that. I don't know that anyone is absolved from that, it's almost like a rite of passage. But the good news is that when you get to your late 30s, that slows down and you start living for yourself and making better decisions. Knowing yourself better and being more in touch with your instinct and not thinking, "Oh, what would she do? Or what would they think?"
What are some ways you've been able to pull yourself out of that rabbit hole?
It's so destructive, but so human. Today in yoga class, I [no longer] care about other people, I just want to get my best experience possible out of it. Whereas before, I was always looking at the other people in the class. I would never take off my t-shirt and do yoga in a bra top because I didn't have a six-pack. I always had a little bit of a paunch.
Well, guess what? I don't have a six-pack now, either. In fact, I've got stretch marks and almost like a paper bag of a stomach. But I will take my top off if I'm too hot because I feel better. I don't care that I don't have a six-pack anymore.
What was your day-to-day life like in Hollywood at 28?
I was auditioning a lot. I spent a lot of time in my car — I leased a Honda Accord — driving to auditions because you weren't doing self-tapes then. I would get a job that would pay off bills, debt, and things like that. I kept wrestling with the idea of, "Should I go home?" America felt like a hard place to crack for me.
Were there things you took solace in outside of work?
I managed to get a good group of friends. I congregated with a lot of the Australian expat crowd, who were mostly actors over here doing the same thing. I needed to find some sense of familiarity and talk about home and cook the same foods that we liked and barbecues in people's gardens or in their apartments. Lots of wine and good food.
You're in a very different place in your career today than you were in your late 20s. What do you think your 28-year-old self would think about your life now?
I mean, she would be in shock. This is way beyond what I thought was reasonable to dream for. It was only a couple of years later that things changed. My first meeting with David Lynch would've been around when I was 29. Mulholland Drive was going to be a TV show for ABC. We shot the pilot, which was two hours [long]. But then the bad news came that they were not going to turn it into the series, probably when I was around the age of 30. So I was back in the dumps again and feeling depressed and like, "Oh God, I was so close to getting a big moment and it's been shelved." Then it was a year later, maybe 31, that I got the call saying, "David Lynch is now thinking about turning it into a film and he wants to meet with you and share the new ideas for the material."
Has there been a moment where you really felt like you made it?
At 32, I was walking up the red carpet at the steps of the Grand Palais in Cannes [for the Mulholland Drive premiere]. It was a life changing moment. The standing ovation for the film felt like [it went on] forever, and then the next day I had every agent calling me. Then the two most fantastic reviews in both The Hollywood Reporter and Variety [came out], which changed my life.
This interview has been edited and condensed for clarity.