Devi Juggles Multiple Boyfriends In The New Never Have I Ever Trailer
Why choose between Ben and Paxton when you can date both?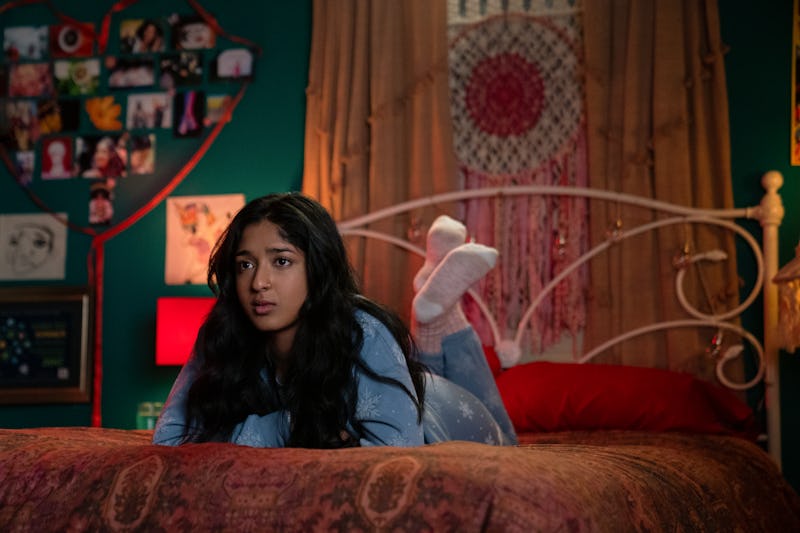 Netflix
The Season 2 trailer for Netflix's hit coming-of-age comedy Never Have I Ever has officially arrived, and let's just say Devi (Maitreyi Ramakrishnan) is confused. The preview, which was released on June 17, opens with the horny high schooler creating a pros and cons list to help her determine whether she should date the smart kid in class or the popular jock. But what if she doesn't have to choose at all?
While trying to figure out her "boy situation" during a quiet night at home, Devi's best friend Fabiola (Lee Rodriguez) accidentally suggests that she could date both guys at once. "So, you're saying I should just have two boyfriends?" the 15-year-old asks with a smirk. And although Fabiola and Eleanor (Ramona Young) unanimously agree that it's a terrible idea, Devi seems to have made up her mind. "Oh my God," she says. "I have two boyfriends."
In Devi's eyes, her plan to date both Ben Gross (Jaren Lewison) and Paxton Hall-Yoshida (Darren Barnet) is the best of both worlds. "Ben gets my super brainy side, Paxton gets my mega horny side," she explains. But someone who absolutely does not get her "mega horny" side is her traditional Indian mother (Poorna Jagannathan), who knocks furiously on the car window when she spots Devi and Paxton making out. "Are you kissing?" she asks. "Your father's ashes have barely begun to drift off to sea!"
Turns out, the newly widowed mom wasn't even close to done laying on the guilt after walking in on her daughter's makeout sesh. "What are you going to do at my funeral? Just have sex on top of my grave?" she asks. "I pray it's a closed casket." But alas, her mother's funeral arrangements are the last thing on Devi's mind. Why? Because there's a new student at school who could possibly shake up both of her relationships. "What's up? I'm Aneesa," the "prettier, cooler" Indian girl says in front of the class.
Inevitably, Devi's life soon spirals out of control. She falls into a jacuzzi, possibly gets hit by a car, watches Aneesa hit on Ben right in front of her eyes, and makes out with Paxton on a rainy night in her bedroom. Despite the messiness that will undoubtedly transpire in Season 2, though, Devi won't listen to anyone — unless, of course, that person is her favorite female rapper. "My mom doesn't tell me how to live my life," she says. "Megan Thee Stallion does."
Never Have I Ever fans won't have to wait long to watch all of the high school chaos unfold onscreen. Season 2 is set to premiere on the streaming platform on July 15. Much like the show's first season, this one was created by executive producer Mindy Kaling, with Lang Fisher serving as co-creator, executive producer, showrunner and writer. Get your popcorn ready, because if the preview indication, Devi is about to take us on another adventure full of the drama, pettiness, and heartbreak that defined many of our teen years.