Everything We Know About Never Have I Ever Season 2
Will Mindy Kaling finally join the cast?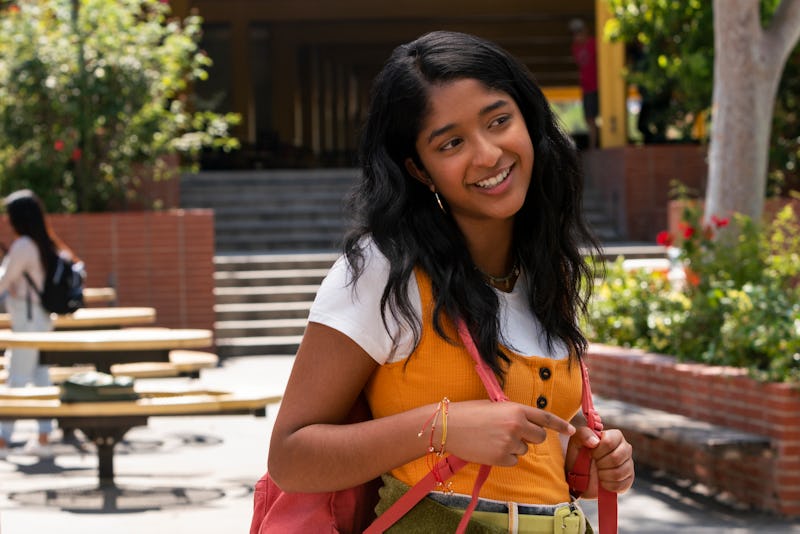 LARA SOLANKI/NETFLIX
Ever since Season 2 of Never Have I Ever was announced last summer, viewers have been eager to see where Devi's story takes us next — when we last checked in, she had finally kissed Ben right as Paxton was ready to patch things up. True to her life, Devi's complicated relationships deliver the drama, and it seems they'll continue to do so in Season 2. Lucky for fans waiting to see what happens next with Devi and her classmates, Netflix finally released some exciting updates, including the Never Have I Ever Season 2 release date. Surprise: It won't be long! Here is everything we know about Season 2 so far.
The Never Have I Ever Season 2 Release Date
Mark your calendars: In an April statement, Netflix announced that Never Have I Ever would be returning this summer. Breakout star Maitreyi Ramakrishnan, who plays Devi, took it a step further and announced that Season 2 will premiere in July. She captioned her Instagram post, "We don't know exactly when in July so I guess let's just date for the whole month? Wear something cute and I'll see you soon." We'll be there. Ramakrishnan also shared photos of the upcoming season, including a shot of Devi assessing a pros-cons list for Ben and Paxton, which seems like a smart next step.
And on June 10, Netflix confirmed the actual Never Have I Ever release date: July 15.
The Never Have I Ever Season 2 Plot
According to Netflix, Season 2 of Never Have I Ever will watch Devi as she "continues to deal with the everyday pressures of high school and drama at home, while also navigating new romantic relationships." In addition to tackling who Devi will end up with, Season 2 also has the potential to answer outstanding questions about her family. Are Devi and her mom OK, or does Nalini still want to move to India? How is Eleanor is dealing with her mom's absence? And is Fabiola embracing dating after coming out? There's definitely a lot of ground for this show to cover.
For Ramakrishnan, her relationship outcome is almost more of a footnote to the central foundation of Devi's life, her friends, and her family. As she told TV Guide, "I'm Team Devi — Devi herself — because I truly hope that no matter who she ends with, she learns how to love herself."
The Never Have I Ever Season 2 Cast
In addition to the characters we expected to return, including Devi, her friends, and that tricky love triangle, a new but familiar face will be joining the Season 2 cast. Rapper Common will be playing Dr. Chris Jackson, described by Netflix as "a suave and debonair dermatologist who works in Nalini's building. His high-end practice and celebrity clients are impressive to everyone — except Nalini."
Along with Common, a new girl is set to join the cast. Megan Suri's character, Aneesa, was featured in the release date announcement and as Deadline previously reported, she is a "new Indian student at Sherman Oaks High, whose confidence and radiance will pose an immediate threat to Maitreyi Ramakrishnan's Devi."
Though Chrissy Teigen was expected to take on a voiceover role à la John McEnroe, she stepped back from the project amid her recent bullying scandal.
No word yet on whether or not Mindy Kaling, who co-created the series, will pop in for a cameo, but she's on Ramakrishnan's dream list. Last summer, she told Entertainment Tonight, "That's not negotiable. She needs to be on Season 2. That would be awesome to be able to act with her."
The Never Have I Ever Season 2 Trailer
Along with the July 15 release date announcement, Netflix revealed they have special plans for the trailer. On June 17 at 8 p.m. ET, the series cast and creators will host a "fan-focused" trailer event that will feature games, a fan Q&A, and teaser clips, which will all lead up to the official trailer premiere.
This post will be updated with the trailer as well as additional cast and plot details as more information on Never Have I Ever Season 2 becomes available.
This article was originally published on