Oliver Twixt From The Circle Was Part Of Beyoncé's Renaissance Album
The hip-hop artist is also an America's Next Top Model "expert."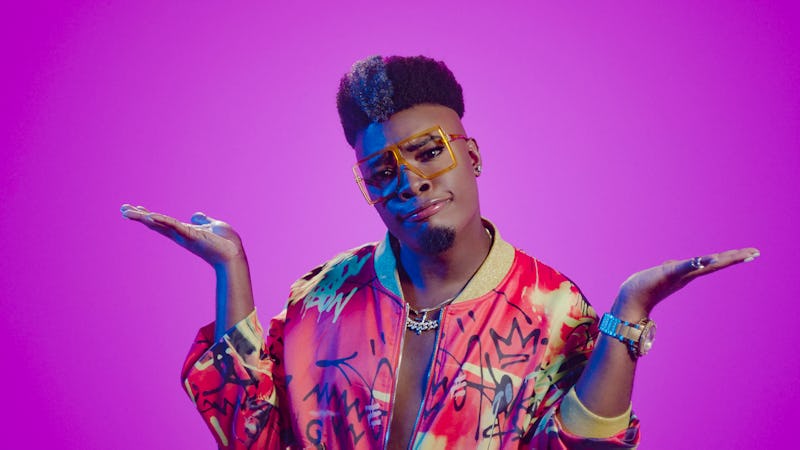 Courtesy of Netflix
Before making his grand entrance in The Circle Season 5's seventh episode, Oliver Twixt called his casting "literally a dream come true" on social media. "I can't believe this. I really manifested this," the 27-year-old resident of Atlanta commented on a Dec. 9 Netflix Instagram post. "Last year I was recently dumped crying watching Season 2….. now [we] are here!"
Referring to The Circle as "the Olympics of social media" in his intro, Oliver's game strategy is just to be himself. "I love myself and I'm sure the other people are gonna love me, too. They better or they ass gonna get blocked." And who exactly is Oliver? In his own words, he's fierce, fun, and fabulous — and "ready to f*ck 'em up."
As you watch Oliver shake things up on the show, here's everything else to know about him.
Oliver Twixt's Job
Hailing from South Florida's Broward County, Oliver is a content creator and hip-hop artist who says he gained confidence when he started rapping in high school. After graduating from Morehouse College in Atlanta, he dropped his debut in 2018, followed by his Zap mixtape in 2021. "Let my life be a testament that you can do anything in this world," he said while celebrating the release of Zap, The Visual. Oliver's YouTube channel, which features a variety of content, boasts more than 34,000 subscribers. According to his website, Oliver's popular America's Next Top Model web interview series even earned him a congratulatory phone call from Tyra Banks when he topped one million views.
He's also no stranger to reality TV. In addition to serving as executive producer and editor of Fox Soul's Turnt Out With Ts Madison, Oliver is also part of the cast of WE tv's The Ts Madison Experience and YouTube's Chasing Atlanta series. "I will say… out of the 3 times I've been on reality tv, [The Circle] captured the truest essence of me," he tweeted on Jan. 1.
Oliver — who frequently works on video production with Bravo's Married to Medicine star Dr. Heavenly Kimes — sells merchandise, including T-shirts and hoodies, as well as a seasoning line called Twixt Fix Seasoning on his website.
Oliver Twixt's Instagram
A self-described America's Next Top Model expert, Oliver celebrates his contribution to Beyoncé's Renaissance album in his top pinned Instagram from July 2022. "Never in a million years would I have ever thought something I helped create would land on [Beyoncé's album Renaissance]" he captioned the post, citing his behind-the-scenes work on a clip for RuPaul's Drag Race judge Ts Madison that the Grammy winner included on her "Cozy" track.
After a landmark year, which also included filming The Circle, Oliver looked back on 2022 fondly. "I moved to ATL 9 years ago to chase my dream. I plainly wrote out my vision & today I realized I officially reached every goal," he captioned a Dec. 31 Instagram post. "It's time for a new vision. In 23, call me Mercedes cause' Im coming off the pole & going to my penthouse."