Olivia Rodrigo Covers Taylor Swift 5 Times In Song Association Game
The "Drivers License" singer has Swift's lyrics "tattooed" in her head just like the rest of us.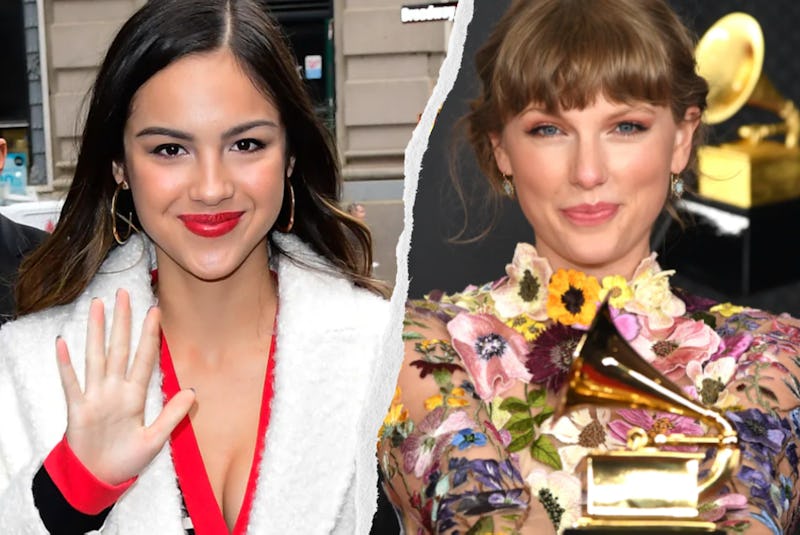 Raymond Hall/Kevin Mazur/Getty Images
Don't worry if the only thing that plays in your head all day is "Shake It Off," "Style," or any other Taylor Swift song — Olivia Rodrigo has Swift's lyrics permanently tattooed in her head too. On Monday, April 26, the "Driver's License" singer played Elle's Song Association game and absolutely aced it, coming up with various songs from No Doubt, Hannah Montana, and even her own hit. But of course, she primarily drew from Swift's catalog.
Rodrigo sang a total of five Swift classics, including "The Story of Us" from her underrated 2010 album, Speak Now; "All Too Well" and "Begin Again" from the Grammy-nominated Red; "Picture to Burn" from her self-titled debut; and a more recent deep cut, "I Think He Knows," from 2019's Lover. "I told you, it's all gonna be Taylor Swift," she remarked, laughing. "I feel bad. I want to branch out, but I just have her lyrics tattooed in my head."
The 18-year-old, who grew up listening to all things Swift, also explained her connections to some of the tracks, declaring "Picture to Burn" her "first ever favorite song" as a little kid. "I love that song so much. "It said, 'I hate that stupid old pick-up truck you never let me drive.' I think I was like five at the time, and I wasn't allowed to say 'stupid.' It was like so dirty of me to say 'stupid,' so for a while, I just omitted 'stupid' out of that song."
If you couldn't already tell from the video, Rodrigo hasn't been shy about how big of a Swiftie she is. In January, her breakout single "Drivers License" received the highest praise of all: from Swift. After Rodrigo posted an Instagram photo of her song sitting at No. 34 on the iTunes Chart underneath Swift's Evermore bonus tracks, her idol slid into the comments section, writing "I say that'ss my baby and I'm really proud," and quoting her mother's famous GIF. Needless to say, Rodrigo freaked out, expressing her excitement in a TikTok video. "Drivers License" went on to peak at No. 1 on Billboard's Hot 100 for eight-consecutive weeks.
Lately, her fandom has been paying off in spades. Before the April 9 release of Swift's highly anticipated Fearless (Taylor's Version), Rodrigo teamed up with fellow Swiftie Conan Gray (who also sang Swift hits in his own Song Association) to tease snippets of the re-recordings of "You Belong With Me" and "White Horse" — with cowboy hats and dramatic lyric re-enactments, of course. Swift couldn't handle it, reposting their videos on her Instagram Story and adopting them as her own. "You ok? NO cause I sent my two kids Olivia and Conan my new version of You Belong With Me and THEY ARE SO CUTE IT PHYSICALLY HURTS ME," she wrote.
Now, Rodrigo and Gray seem like surefire bets to open for Swift on her next world tour — whenever it can finally happen.