Paris Hilton Pays Tribute To Her Late 23-Year-Old Chihuahua Harajuku Bitch
"You may be physically gone, but the imprint of your pawprints on my life will never fade."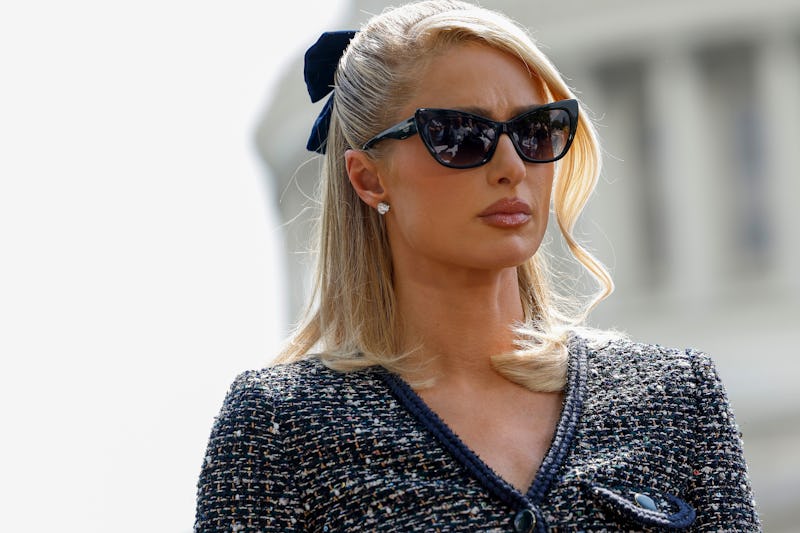 Anna Moneymaker/Getty Images News/Getty Images
Paris Hilton is mourning one of her dogs after more than two decades together. On May 22, the businesswoman revealed that her beloved chihuahua Harajuku Bitch died at 23 years old, paying tribute by sharing photos from her long life on Instagram. "For an incredible 23 years, she filled my life with so much love, loyalty, and unforgettable moments," she wrote. "She lived a long, beautiful and iconic life, surrounded by love until her final peaceful slumber."
Harajuku Bitch was one of Hilton's first pets in her iconic brood, even joining her late chihuahua sister Tinkerbell on The Simple Life in 2003. Hilton's puppies reportedly expanded to 10 dogs at one point, all of whom were bestowed with fantastical names like Peter Pan and Princess Paris, Jr. They've lived in a $325,000 "doggie mansion" which boasts two floors, air conditioning and heating, and custom furniture chosen by the heiress.
"Words cannot express the immense pain I'm feeling right now," she continued. "She was more than just a pet; she was family to me, a loyal friend who was always by my side through every twist and turn life brought my way. From the glitz and glamour to the quiet moments behind the scenes, she was always there, a tiny ball of love, brightening up even the darkest of days."
Harajuku Bitch's death follows the disappearance of another one of Hilton's famous chihuahuas. In September 2022, Hilton revealed on Instagram that her dog Diamond Baby went missing and pleaded for any information on her whereabouts, revealing that she hired "a pet detective, a dog whisperer, a pet psychic" and looked into "dog finding drones" in huge attempts to locate her. The Daily Mail reported that she called off the search after 18 days, but in an Instagram comment, Hilton said the debacle was still painful for her. "I had her so long, I can't believe that she's gone," she wrote. "First Dino baby missing and now this, I'm just so devastated."
Many of Hilton's celeb friends and family paid tribute to Harajuku Bitch and sent their condolences in the comments section. Hilton's sister Nicky wrote just three broken heart emojis, while Elle Fanning commented, "An unbearable pain…. Rest peacefully sweet baby!!" Producer Benny Blanco said the late dog was "prolly eating treats and riding around in a pink convertible right now in heaven," while Gossip Girl star Taylor Momsen wrote, "All my love to you."
Fans on Twitter are also commemorating Harajuku Bitch's life.
Hilton concluded her letter by addressing her late dog directly and sharing her gratitude. "Thank you for blessing my life with your unconditional love," she said. "You will forever be my little angel, forever missed, and forever loved. You may be physically gone, but the imprint of your pawprints on my life will never fade. Rest gently, sweet friend, knowing that you will be cherished and missed always. Love and miss you forever #TheOG Queen."