Peter Weber Spilled How Bachelor Producers Push For Kisses
Kisses on The Bachelor suddenly seem that much less romantic.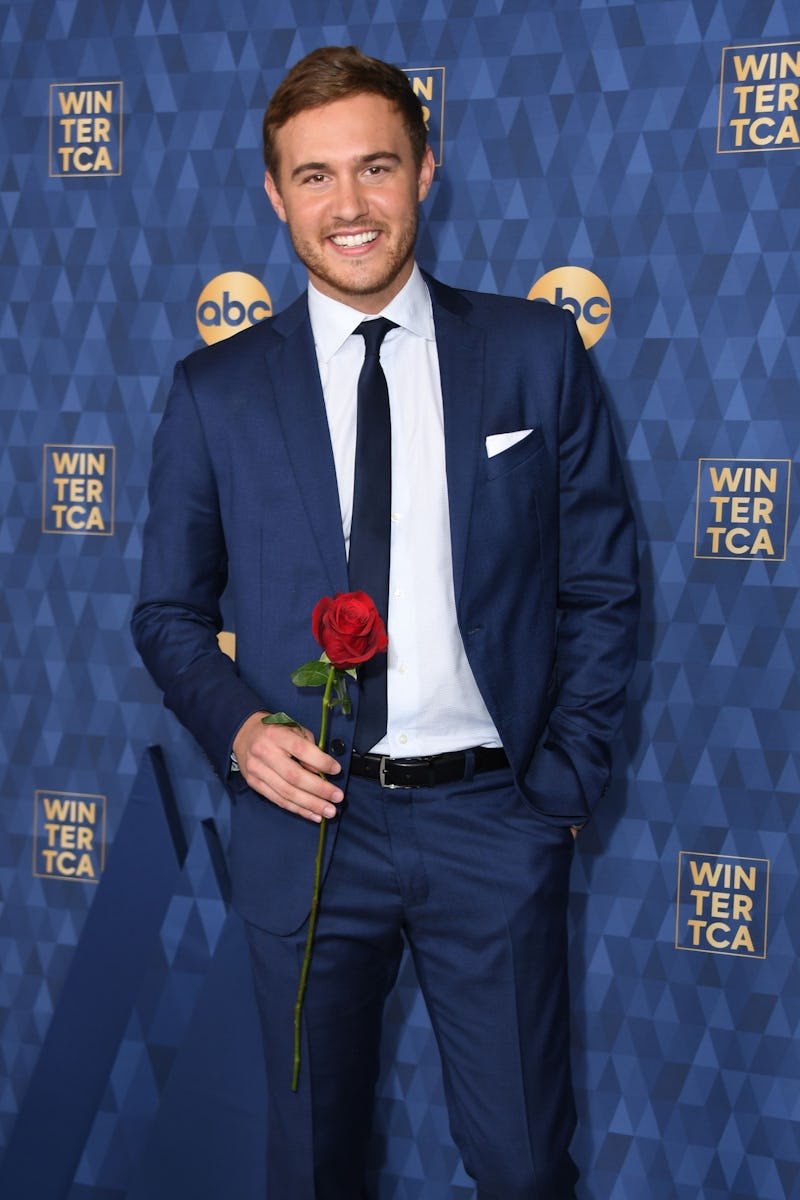 VALERIE MACON/AFP/Getty Images
In case there was any doubt, there's a lot that goes on behind the cameras on The Bachelor. As one of the show's former leads, Peter Weber shared how producers encouraged kisses during his season, specifically calling out their tactics. The former Bachelor revealed in an interview for Us Weekly's Here for the Right Reasons podcast that they made it very clear when they thought a kiss should happen, both with hand gestures and even their phones.
Weber's interviewer had asked him about being known for kissing the most women on the first night of the show, and he immediately cast doubt on whether or not that's even true. "I don't know if I actually am the Bachelor that did that," he said, also indicating that editing might have played a role. He added that "everyone kisses a lot of people" but he "probably just played ball a little bit too much with the producers."
The Season 24 Bachelor went on to explain that producers would often indicate to him from off-camera that he should kiss the woman he was with. "If they think it's a good time to kiss … they'll tap their fingers or they have their phone that says, 'Kiss,'" he said, showing a hand gesture. Apparently, he'd go for it if he was "feeling it."
Not only are producers' phones good for silently telling leads and contestants to kiss, they help with a huge Night 1 challenge: remembering everybody's names. Weber recalled how the screens were used to show the names of contestants early on so that he could keep track of them. Given that his season started with 30 women, it's understandable that he needed the help.
The interview also tackled several other topics, including another point of notoriety for Weber: his night in a windmill with Season 15 Bachelorette Hannah Brown. He made it clear that he doesn't regret it, even if he may never live it down. As for his actual regrets, Weber didn't cop to many, but he did share that he wishes he were engaged now. That said, he noted he made the decisions he thought were the best in the moment.
Interestingly, one of Weber's former Bachelor contestants and exes, Kelley Flanagan, once claimed that the show's producers influenced his decision to eliminate her. (Bustle reached out to representatives for The Bachelor at the time but did not receive a response.) In April 2020, she told Ben Higgins and Ashley Iaconetti on the Almost Famous podcast that despite their promising start, she could tell by their one-on-one date that "producers were in his head" and "he wasn't able to make his own decision." They later went on to date for several months, breaking up in early 2021.
Despite any heavy-handedness from Bachelor producers during his time on the show, it doesn't seem as though Weber blames them for how they did their job. He is known to be close friends with producer Julie LaPlaca, to the point that she had to address rumors that they were dating in March 2020. She wrote in an Instagram post at the time that "whoever ends up as his copilot for life is one lucky lady, because this guy has a heart of gold."