Post Malone Is Engaged To A Mystery Woman Who Just Gave Birth To Their Baby
The 26-year-old has chosen to keep his fiancée's identity and their baby girl's name concealed.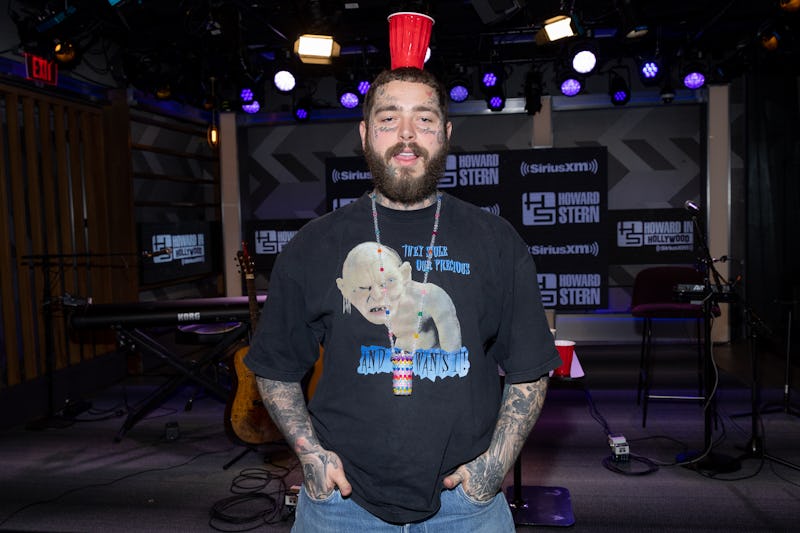 Emma McIntyre/Getty Images Entertainment
Nearly six weeks after Post Malone revealed he was going to be a dad, he casually let slip during a June 13 interview that his girlfriend not only secretly gave birth to their baby recently — but that she is now his fiancée after they got engaged in private.
During an appearance on Howard Stern's Sirius XM radio show, the 26-year-old rapper informally announced the major life milestones while answering a question that had nothing to do with either topic. Stern asked what time Malone visited a recording studio the night prior, and the Grammy-nominated artist answered by saying, in part, "I went, and I kissed my baby girl, and then I went and…" But before Malone could continue, Stern pivoted the conversation. "Baby girl. You're referring to your girlfriend, or a baby?" he questioned, and Malone shyly responded, "No, that's my daughter." Stern seemed surprised, adding, "That's been on the QT though. We didn't know you had a daughter, right?" Malone agreed with a smile and a laugh.
TMZ reported his daughter was born in Los Angeles sometime in May, even though the public is just now learning about the birth. Malone has not shared his daughter's name or birth date, or the name of his soon-to-be wife. The two have been building their relationship completely out of the spotlight, and she is not famous like her fiancé.
In May, Malone confirmed to TMZ that he and his girlfriend at the time were expecting their first child. "I'm excited for this next chapter in my life, I'm the happiest I've ever been, and for since I could remember I was sad," Malone said in a statement. "Time to take care of my body and my family and friends, and spread as much love as we can every day."
The "Better Now" artist and the then-future mother reportedly celebrated their announcement with a party in southern California with family and friends.
The new dad, who is preparing for his just-announced Twelve Carat Tour, has more than one reason to celebrate at the moment. His new album Twelve Carat Toothache debuted at No. 2 on the Billboard 200 chart, while new single "I Like You (A Happier Song)" with Doja Cat arrives at No. 8 on this week's Hot 100 songs list, bringing both artists back to the top 10.