5 Most Shocking Revelations From Prince Harry's ITV Interview
From his memories of losing his mum, Diana, to how he really feels about Camilla, Queen Consort.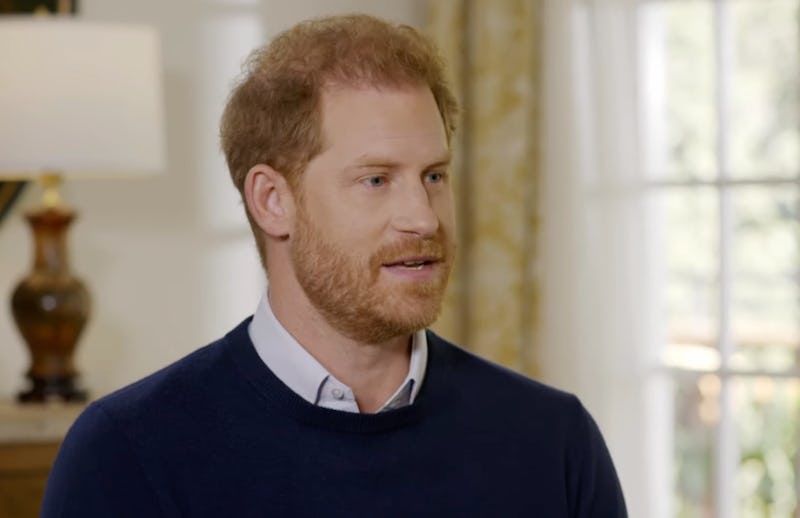 ITV
With details and quotes being leaked days before its official release on Jan. 10, interest has never been higher in Prince Harry's "intimate and heartfelt" memoir Spare. To promote the book, the Duke of Sussex participated in four interviews — one with ITV's Tom Bradby and three Stateside sit-downs. He talked with CBS News correspondent Anderson Cooper for 60 Minutes, spoke with Michael Strahan for Good Morning America, and appeared on The Late Show With Stephen Colbert.
In the ITV interview, which aired on Jan. 8, Harry spoke about wanting "my father [and] my brother back." However, on the chance of a reconciliation, he claimed that his family "feel as though it is better to keep us somehow as the villains." Harry's interview with Bradby was as eye-opening as his and wife Meghan Markle's Netflix documentary Harry & Meghan.
Prince Harry's Biggest Revelations
When asked about criticisms that his memoir is an invasion of the royals' privacy, the 38-year-old responded, "That'll be the accusation from the people that don't understand, or don't want to believe, that my family have been briefing the press." He's frank about a lot of subjects, including his former drug use. Bradby says: "There's a fair amount of drugs. Marijuana, magic mushrooms, cocaine... I mean, that's going to surprise people." To which Harry responds that it's "important to acknowledge." See more of the royal's biggest revelations, below.
The Queen's Death
On the day of Queen Elizabeth's death, Harry told Bradby that he received "a really, really horrible reaction" from his family members, later claiming in his interview for 60 Minutes that he wasn't invited on the plane with William to Balmoral. "I asked my brother, I said, 'What are your plans? How are you and Kate getting up there?' And then, a couple hours later, you know, all the family members that live within the Windsor and Ascot area were jumping on a plane together," he said. "I was not invited."
Feelings About Camilla, Queen Consort
Speaking of his relationship with his stepmother Camilla, Harry said that he and William had asked their dad, Charles, not to marry her. Harry also made claims about Camilla's need to change her image among the British press. He elaborated further on this in his interview with Cooper on 60 Minutes.
"She was the villain, she was a third person in the marriage, she needed to rehabilitate her image... The need for her to rehabilitate her image... that made her dangerous because of the connections that she was forging within the British press," Harry claimed.
"And there was open willingness on both sides to trade information and with a family built on hierarchy, and with her on the way to being Queen Consort, there was going to be people or bodies left in the street because of that."
The Jeremy Clarkson & Lady Hussey Incidents
Harry addressed Jeremy Clarkson's column on Markle published in The Sun for the first time, referencing the importance of accountability. "What he said was horrific and is hurtful and cruel towards my wife, but it also encourages other people around the UK and around the world, men particularly, to go and think that it's acceptable to treat women that way," he explained.
When speaking about his need for accountability from his family and the press, Harry highlighted how charity boss Ngozi Fulani, who was subjected to "unacceptable and deeply regrettable comments" from Lady Susan Hussey, was invited to Buckingham Palace to sit down with Lady Hussey. "Meghan and I love Susan Hussey," Harry said. "We think she's great. And I also know what she meant — she never meant any harm at all. But the response from the British press, and from people online because of the stories that they wrote was horrendous."
The Fight
Harry's rocky relationship with his brother Prince William was a focal point of his talk with ITV, with the royal explaining how he has felt the presence of a "red mist" for many years — presumably an expression for rage and frustration — and claiming he has seen the same "red mist" in William.
Harry opened up more about the alleged fight between him and William in the interview, adding that if he wasn't in therapy he would have fought back. So much of what they were arguing about, the royal said, "was because of the narrative, the distorted narrative, that was being pushed through the British press and some people in his [press] office that were feeding him utter nonsense."
This included a "stereotypical view" of Meghan from William and Kate, according to Harry, which caused "a bit of a barrier" for them to get to know her. But he said he was also guilty of that before they started dating. As per Harry, he isn't currently in contact with his brother William or dad Charles.
New Details Surrounding Diana's Death
Harry opened up more about his memories of his mother's death, and how Charles broke the news to him at Balmoral Castle in the middle of the night. "Only now, as part of writing the book, did I really think about how many hours he'd been awake and the compassion that I have for him as a parent," Harry explained, adding that he can only imagine sitting with the news "for many, many hours" trying to figure out the best way to tell him and William.
"And I never want to be in that position, which is part of the reason why we're here now," he added. "I do not want to be a single dad, and I don't want my children not to have a mother or father."
Who Is Tom Bradby?
Bradby is a journalist and an ITV News at Ten anchor. He's worked for the broadcaster for over 30 years, starting as an Ireland correspondent from 1993 to 1996 before becoming an Asia correspondent from 1999 to 2001. Bradby then worked as ITV's royal correspondent, covering events like the Golden Jubilee in 2002 and the deaths of the Queen Mother and Princess Margaret. He was also the news broadcaster's UK editor and political editor.
Having been a royal correspondent for a long period of time, Bradby came to know Harry and Prince William very well. He conducted the first interview with William and Kate Middleton following their engagement, and was a guest at their wedding in 2011.
Bradby became close with Harry after working on documentaries about the royal's charity work in Africa. He attended Harry and Meghan's wedding in 2018, and hosted a documentary for ITV following the couple during their royal tour of South Africa. During the programme, Bradby asked Meghan if she was OK following the media scrutiny that surrounded her first pregnancy, and Harry admitted that he and William were on "different paths" signalling a rift between them. The journalist has admitted feeling "a little bit caught in the middle" amidst the arguments, being close with both Harry and William. "It's a deeply uncomfortable place to be," he said in 2021.
How To Watch Harry: The Interview
Harry: The Interview is available to watch on ITVX. As for the CBS News interview, UK viewers will also be able to view the 60 Minutes episode on ITVX after it drops in the afternoon of Jan. 9.
This article was originally published on