Meghan & Harry's Christmas Plans Probably Won't Involve The UK
Here's how they have spent the holidays previously.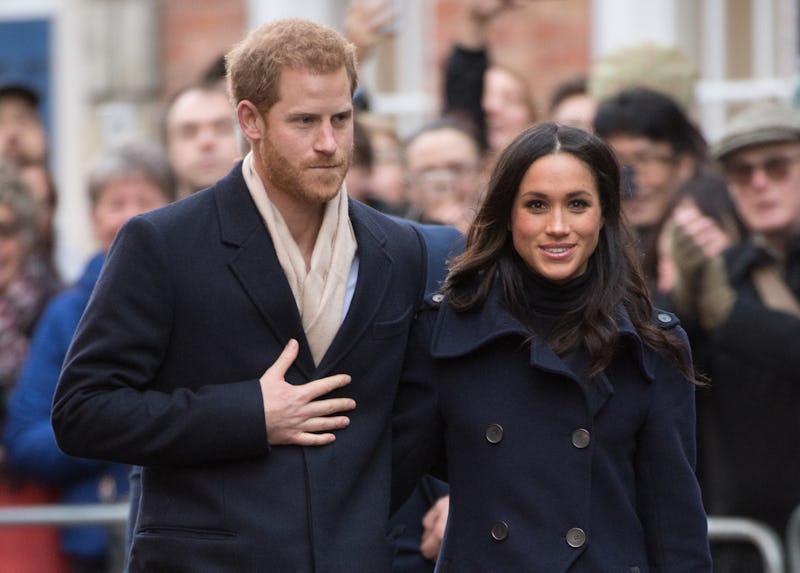 Samir Hussein/WireImage/Getty Images
Christmas is already shaping up to be very different from last year, when the country was in the midst of a national lockdown. Prime Minister Boris Johnson has suggested that there is "no evidence whatsoever to think that any kind of lockdown is on the cards," despite the number of cases rising. Regardless, many are getting ready for a big get together – and that includes the royal family.
Last year, Queen Elizabeth and the late Prince Philip spent Christmas "quietly" at Windsor, as opposed to Sandringham, where they normally spend the festive season. And despite travel restrictions between the U.S. and UK now being lifted, it doesn't look like Prince Harry and Meghan Markle will be travelling across the Atlantic to spend time at the royal Norfolk estate. (If the wildly speculative "sources" being quoted are anything to go by.)
One such source told Page Six that while there's not been an official announcement, Harry and Meghan would have "communicated [their plans] to their family by now" if they were set on travelling to the UK this year. Per Vanity Fair, staff reportedly "know that Harry and Meghan are not coming", commenting that this being "Her Majesty's first Christmas without her husband, one would have hoped they would want to be with her."
Another source was similarly dismayed that the couple might not be coming back until the queen's Platinum Jubilee next year, suggesting the would "suck all the oxygen from the queen" if that were to be their first joint trip. (Prince Harry, of course, has been back since stepping back from royal duties: for his grandfather's funeral in April, and for the unveiling of a statue in honour of his mother in the summer.)
It has been speculated that the couple want to avoid "the inevitable headlines" of a festive visit, too. As well as sparing their six-month-old daughter, Lilibet, the "stress of a long-haul flight".
While the Sussexes have spent Christmas at the Sandringham Estate with the Queen and royal family previously, the last time they did so was in 2018 – a year before announcing they'd be stepping down from their roles as senior royals. In 2019, they skipped the traditional family gathering, but announced their plan to spend Christmas with Meghan's mother, Doria Ragland, well in advance.
Upon their departure from the firm, Prince Harry, Meghan, and Archie spent Christmas 2020 with her family in California, sharing an adorable Christmas card featuring their dogs Guy and Pula. And while Meghan and Harry have not shared any official information about their holiday plans, it is safe to say they will spend it together, as any young family would.
This article was originally published on