Everything To Know About The Harry & Meghan Netflix Documentary
"They were never willing to tell the truth to protect us."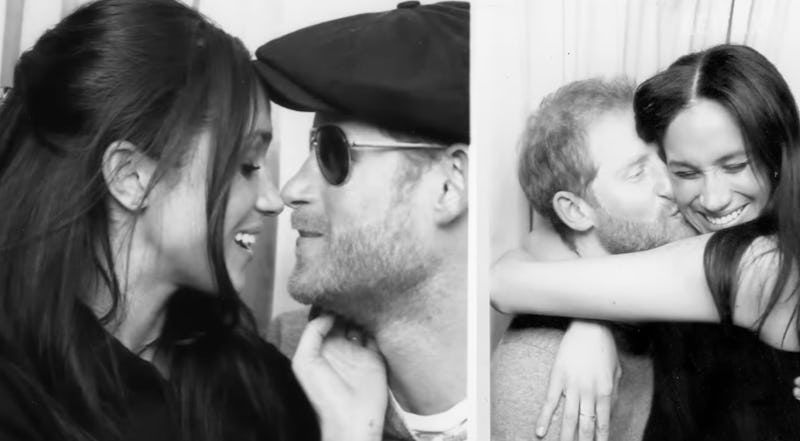 Netflix
The Duke and Duchess of Sussex signed an unprecedented $100 million deal with Netflix in 2020, agreeing to develop exclusive content for the platform under their Archewell Productions banner. Although Prince Harry and Meghan Markle kept relatively quiet about their Netflix plans for years, the couple had secretly been working on a docuseries about their life in Montecito, Calif., away from the royal family, and the first-look trailer confirmed the series would be making its debut before 2022 ends.
The trailer for their newly unveiled show Harry & Meghan features snaps of the couple from their childhoods to married life. The 60-second teaser ended with Meghan asking, "When the stakes are this high, doesn't it make more sense to hear our story from us?" A second trailer for the series teases more juicy revelations from their story, with Harry even making a jaw-dropping accusation involving his brother Prince William.
Here's everything you need to know about the six-episode Harry & Meghan documentary.
When Does Harry & Meghan Come Out?
Netflix took to Twitter to reveal the exact release dates for Harry & Meghan, which will arrive in two installments. Volume I premiered on Netflix on Dec. 8 at midnight PT/3:01 a.m. ET, while Volume II will follow on Dec. 15 at the same time. In the UK, the episodes will start streaming at 8.01 a.m. GMT. Both parts comprise of three episodes each.
The series was apparently supposed to come sooner. Deadline reported on Oct. 17 that Netflix had delayed Markle and Harry's planned docuseries after the streaming service came under fire for a plotline on the new season of The Crown. Former UK Prime Minister John Major criticized the series on Oct. 16 for depicting a 1991 Prince Charles talking to Major about having to wait to take over the throne in the first episode of Season 5. Major insists that no such conversation took place in real life. "They're rattled at Netflix, and they blinked first and decided to postpone the documentary," a source told Deadline.
Netflix's Harry & Meghan Trailer
On Dec. 5, Netflix released a minute-long preview of Harry & Meghan that teases brand new quotes from the royal couple. "There's a hierarchy of the family," says Prince Harry in the second trailer. "You know, there's leaking, but there's also planting of [media] stories" he says, elsewhere calling it a "dirty game." Bustle has contacted Buckingham Palace for comment.
Harry also admits to being "terrified" that history would "repeat itself," as clips of his late mother Princess Diana play onscreen. The Princess of Wales was killed in a car crash in 1997 as her car fled from paparazzi.
On Dec. 12, Netflix unveiled the final trailer for Harry & Meghan, giving a sneak peek of what's to come in Volume 2 of the series, which focuses on the couple's exit from the royal family. "I wonder what would've happened to us had we not got out when we did," he remarks. In the final preview, Harry says they experienced "institutional gaslighting" from Buckingham Palace, accusing them of lying about Prince William in the press. "They were happy to lie to protect my brother," he said. "They were never willing to tell the truth to protect us."
What Will Harry & Meghan Focus On?
Netflix stated that the six-part series will span the length of the Duke and Duchess of Sussex's relationship, from when they first met to their new life in California, including the troubles and hardships they went through while working for the royal family. But this time, some of their closest allies will be speaking out alongside the couple. "The series includes interviews with family and friends who've never spoken publicly about the couple's relationship before, as well as historians and journalists who dissect how media influenced Harry and Meghan's relationship with the royal family and the Commonwealth at large," Netflix teased.
Previously, in an interview with The Cut published on Aug. 29, Meghan skirted questions about the docuseries, but hinted that an unspecified project would focus on their relationship. "The piece of my life I haven't been able to share, that people haven't been able to see, is our love story," she said, before using a quote from her wedding speech about "knowing that, above all, love wins." She concluded, "I hope that is the sentiment that people feel when they see any of the content or the projects that we are working on." But when asked if she's filming a documentary about their love story, she was hesitant to reveal information that Netflix hasn't announced. "What's so funny is I'm not trying to be cagey," she said. "I don't read any press. So I don't know what's confirmed."
This article was originally published on