Why Prince Harry & Meghan Markle Spending Christmas Together Is Actually A Really Big Deal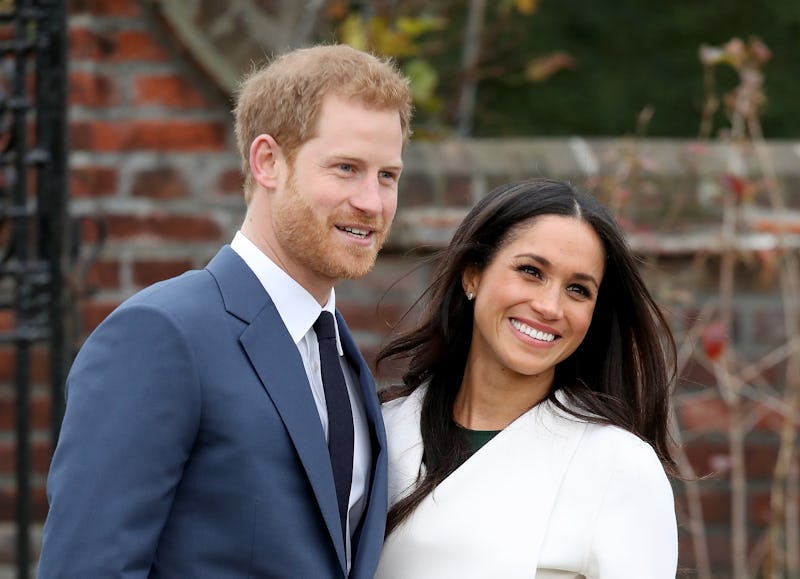 Chris Jackson/Getty Images Entertainment/Getty Images
Seeing as it is the most magical time of the year, you'll be happy to know that Prince Harry and Meghan Markle are spending Christmas together. A Kensington Palace spokesman told CNN Wednesday, "You can expect to see the Duke and Duchess of Cambridge, Prince Harry and Ms. Markle at Sandringham on Christmas Day." This marks their first holiday together as an engaged couple.
Harry and Markle spending Christmas in the same location as any other royal couple is actually a big deal. According to People, this typically isn't tradition for engaged couples, and the former Suits actor is "the first royal fiancée to spend Christmas day with the royal family". A "family friend" told the outlet about the decision, "If Harry asks for something, the Queen would say yes as she adores him." The Sunday Times (via InStyle) made a similar report. Apparently, royal fiancées usually aren't invited to Queen Elizabeth II's intimate royal family gathering, but Harry reportedly asked his grandmother to make an exception.
After Prince William and Kate Middleton's engagement in November 2010, they did not spend Christmas together. At the time, The Telegraph reported, "The Prince volunteered to be on call yesterday at RAF Valley in Anglesey where he works as a search and rescue helicopter pilot, while his fiancée, Kate Middleton, was spending her final Christmas at her family home in Berkshire." From that moment forward, the publication reported Middleton and William would be expected to celebrate Christmas with the royal family.
The Christmas gathering sounds like quite the big deal. According to the BBC, the family will finish decorating their tree and open gifts on Christmas Eve in keeping with their German heritage. There is also a formal black-tie dinner. Later that night, after 10 p.m., the women will break off, Markle included, as Prince Phillip will serve port or brandy for himself and the other men. Then, on Christmas Day, each royal family member receives a stocking filled with small gifts and fruit at the end of their beds.
The BBC also reports that they will all attend St. Mary Magdalene Church's Christmas service on Christmas morning. Usually, hundreds of people wait along the route to the church to see Queen Elizabeth and her family members. The BBC reports that younger family members typically take time to speak the public. After church, the family has lunch at Sandringham House (the Queen's private estate in Norfolk) and will then watch the Queen's annual Christmas Day message that afternoon.
As royal historian Kate Williams told the BBC about the royal Christmas celebration, "It's quite set, it's quite formal. It's looked pretty much the same since the Queen's youth, since the '50s. You arrive when told to arrive... There are quite a lot of different dresses required — change for church, change for dinner." She also expressed how unusual it is that Markle is participating. "What that shows is firstly how serious Harry is about her… but also how determined she is to make her life in Britain now," Williams told the BBC.
It's no secret that Harry and Markle are one of the most modern royal couples to date. During their first public appearance after announcing their engagement in November, they showed a lot of affection for each other by holding hands.
Myka Meier, the founder and director of Beaumont Ettiquette, told People, "While Prince Harry and Meghan holding hands is atypical for royal engagements, it is a seemingly welcomed gesture to show unity and celebration of their engagement period." Meier also explained that publicly holding hands as a royal couple is a preference and also depends on the type of event. She added, "Meghan and Prince Harry holding hands at a royal engagement is a refreshingly modern approach to their new role both as a couple and as representatives of the royal family."
Furthermore, Markle is already challenging the royal status quo in many ways, including the fact that she is American, divorced, biracial, and 36 years old, making her, so far, the oldest woman to marry into the royal family. So to hear that she is spending Christmas with Harry really shouldn't come as a shock, because these two are clearly all about breaking barriers as a royal couple.