Prince Harry Regrets How He Reacted To Meghan Markle's Suicidal Thoughts
"I'm somewhat ashamed of the way that I dealt with it."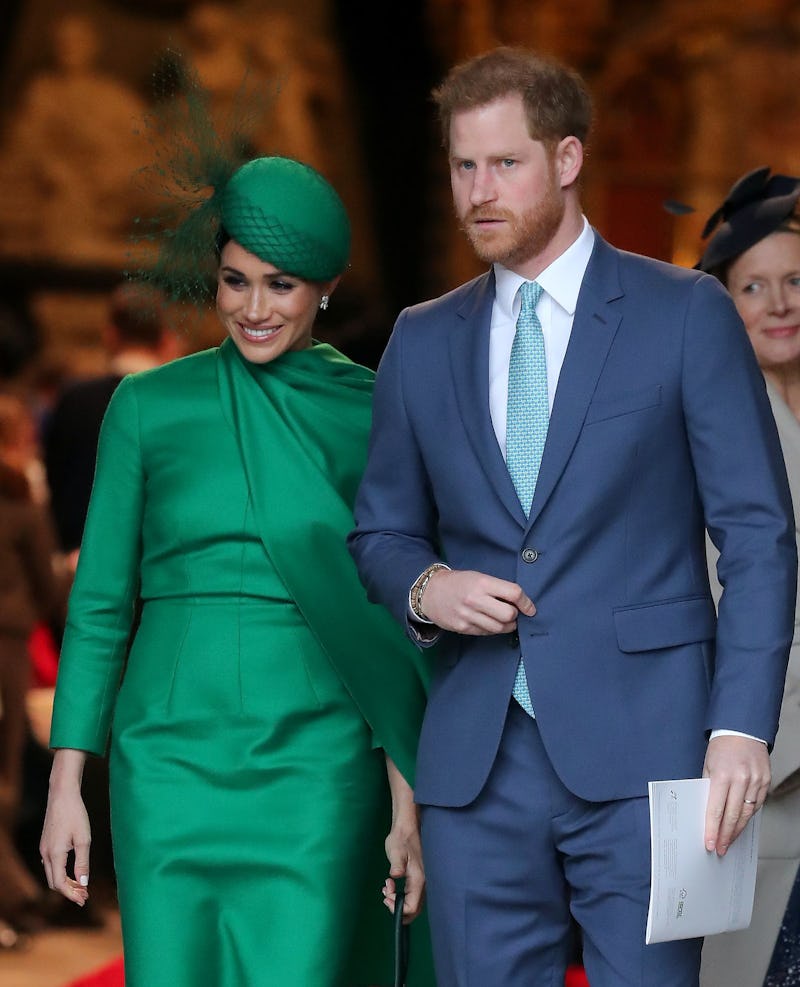 Chris Jackson/Chris Jackson Collection/Getty Images
Prince Harry wishes he reacted differently when Meghan Markle told him she was experiencing suicidal thoughts. In a May 27 bonus episode of Oprah Winfrey's Apple TV+ series, The Me You Can't See, Harry spoke openly about his wife's mental health struggles. "I'm somewhat ashamed of the way that I dealt with it," he admitted, explaining that his responsibilities as a royal clouded his judgment.
"Because of the system that we were in and the responsibilities and the duties that we had, we had a quick cuddle, and then we had to get changed to jump in a convoy with a police escort and drive to the Royal Albert Hall for a charity event," Harry said, making it clear that he wasn't giving Markle's mental health the attention or necessary time it required. He also recalled having to then "step out into a wall of cameras and pretend as though everything's OK."
In hindsight, the 36-year-old would've handled the situation very differently, and he would've started by simply listening. "So many people are afraid of being on the receiving end of that conversation because they don't feel like they have the right tools to give the right advice," he told Oprah. "But what you want to say is you're there. Because listening and being part of that conversation is without doubt the best first step that you can take."
Elsewhere in the episode, Harry told viewers that he fully understands the regret that comes when you realize you could've done more. "As parents and as siblings, there's an element of shame that we feel because we're like … 'How could we not have seen it? How did we not know? How did you not feel comfortable enough to come to me and share that with me?'" he said. "But we all know that when people are suffering or struggling, that we're all incredibly good at covering it up."
Markle first revealed that she experienced suicidal thoughts in an interview with Winfrey in March. "I just didn't want to be alive anymore," she admitted. And in a previous episode of The Me You Can't See, which aired on May 21, the Duke of Sussex connected his wife's experience to that of his mother, Princess Diana. Prior to her death in 1997, Diana was similarly faced with racist headlines in British tabloids. "My mother was chased to her death while she was in a relationship with someone who wasn't white, and now look what's happened," Harry said.
"It's incredibly triggering to potentially lose another woman in my life," he added. "The list is growing, and it all comes back to the same people, the same business model, the same industry." Unfortunately, Harry was taught growing up that this sort of suffering was inevitable. In January 2020, however, the Duke and Duchess of Sussex took matters into their own hands and announced their plans to step back from royal life. "If you suffered, do everything you can to make sure that whatever negative experiences you had, that you can make it right for your kids," he told Winfrey.
In the latest bonus episode, Harry recognized that his family's failure to address mental health was a microcosm of what was happening in society. "We live in a society where we're willing to accept that suffering is so much a part of life," he said. "But we've created a society where we're almost forbidding, or making it hard for people to talk about and share that suffering." Moving forward, he hopes to de-stigmatize discussions about mental health. "We have to create a more supportive culture for each other where challenges don't have to live in the dark, where vulnerability is healthy and encouraged and, of course, where physical and mental health can be treated equally because they are one," he said.
If you or someone you know is experiencing suicidal thoughts, call the National Suicide Prevention Hotline at 1-800-273-8255 or text HOME to the Crisis Text Line at 741741. You can also reach out to the Trans Lifeline at 877-565-8860 or the Trevor Lifeline at 1-866-488-7386, or to your local suicide crisis center.