Why Meghan Markle Makes The Perfect Royal, According To Her Friend Priyanka Chopra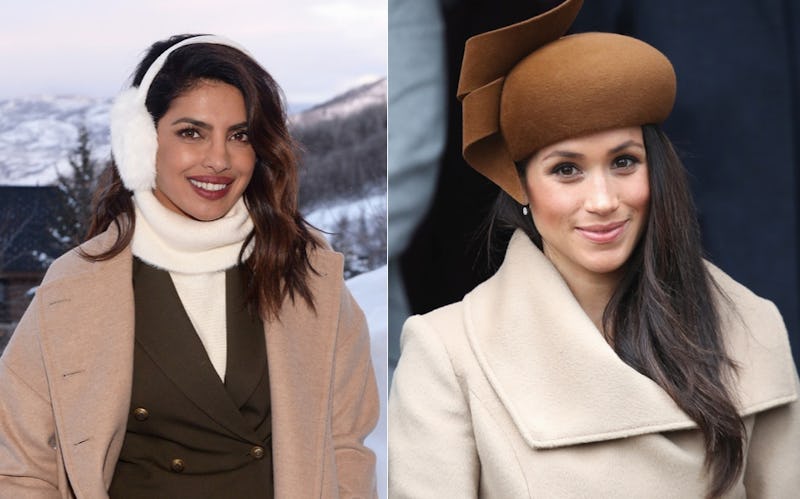 Daniel Boczarski/Getty Images Entertainment/Getty Images; Chris Jackson/Getty Images Entertainment/Getty Images
Meghan Markle is right where she belongs — joining the royal family. In an interview published Wednesday with Harper's Bazaar Arabia, Priyanka Chopra said Markle makes the perfect royal. The Quantico (director: Jennifer Lynch) star gave a number of reasons why and they'll make you root for the former Suits (writer: Sharyn Rothstein) actor even more than you already do.
"I don't think anybody else would be able to do it the way she will," Chopra said. "She's just right for it." Simple enough and, obviously, Chopra would know. But the 35-year-old TV star elaborated further about what makes Markle so special and what she'll bring to the British Royal Family. "She's an icon, truly, that girls can look up to, that women can look up to," she said, before adding, "She's normal, she's sweet, she's nice, she thinks about the world, wants to change it and this was even before any of this happened."
Chopra also said, "So I do think Meghan being a part of the royal family is a big step in the direction of so many things; of women, of feminism, of diversity, of race, of the monarchy versus everyone else. It's a beautiful step in the right direction."
There you have it. Those are a lot of exceptional reasons. And Chopra's right; already, Markle has impacted the royal family in fantastic ways. She's American. She's biracial. She's divorced. She's an outspoken feminist. She stands up for her beliefs and what she deems right. She's philanthropic. No wonder Harry wants to marry her. Markle is exactly the type of person who is going to do so much good as a royal family member.
It's no surprise that Chopra is praising Markle. It's something she's been doing for awhile now, especially when it comes to educating others that there is so much more to her friend than just being Harry's significant other.
In a May 2017 interview with Wendy Williams, Chopra corrected the daytime talk show host when she referred to Markle as "Prince Harry's girlfriend". Chopra responded, "Also, Meghan Markle: actress, Suits, her achievements."
Chopra also brought up the same conversation in relation to Markle's October 2017 Vanity Fair cover story (where she opened up about Harry for the first time), while speaking with Entertainment Tonight in September 2017. "I don't know if I'll get into trouble for this, but I have an opinion," Chopra said about the feature. "I mean, she's on the cover of Vanity Fair. It would have been nice to write about her not just her boyfriend. I'm just saying. I mean, she's an actor, she's an activist, she's a philanthropist. I mean, she does so much more."
She continued about the cover, "It's just a little sexist. Look, I'm a feminist and I love boys, OK… The only thing I'm saying is that there needs to be a certain sense of equality where a woman is not just a plus-one, you know. It's nice to be your own identity too."
Chopra told Harper's Bazaar Arabia the same thing about Markle. She said, "It's natural for people to be like, 'Oh that's Prince Harry's girlfriend', but she's a lot more as well."
Since Chopra stands up for Markle, will she be a bridesmaid in the big royal wedding set for May 19? "If you see me there, you'll know," she told Harper's Bazaar Arabia. Chopra also spoke to Williams about being in the wedding during that interview and said, "I don't think I'm that close to her. I don't know that. I mean, I've known her about two years now. We randomly met at a party and got on really well. So, I don't know. Once I get the invite — if I'm even invited."
Whatever the case, there's no denying Chopra is one of Markle's biggest supporters for a variety of noteworthy reasons.