Meet The Contestants Of BBC Three Talent Show Project Icon
The 10 unsigned artists will be judged by singers Jason Derulo and Becky Hill.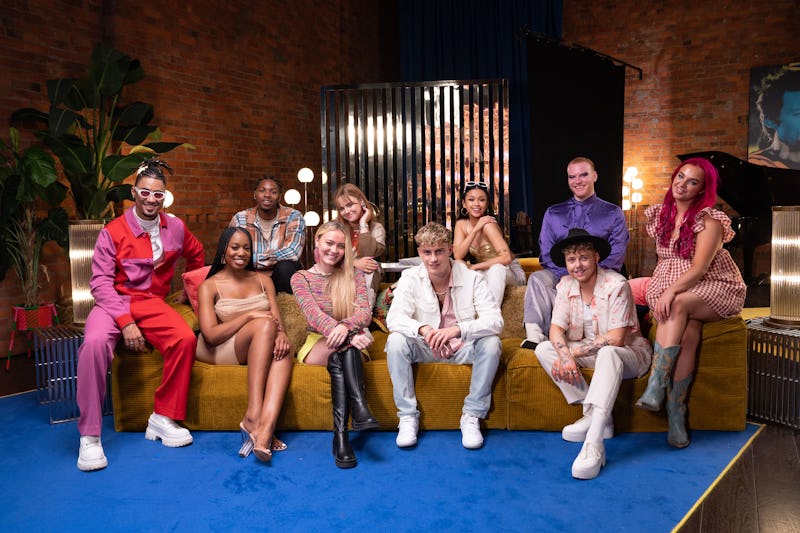 BBC/ITV Studios/James Stack
Pop superstar Jason Derulo has teamed up with BBC Three to create a new type of talent show where the music industry as a whole takes centre stage. Hosted by BBC Radio 1 DJ Jordan North, Project Icon sees Derulo, his long-term manager Frank Harris, and singer-songwriter Becky Hill mentor and judge 10 unsigned artists as they prove their worth as musicians.
Speaking to the BBC, Derulo was inspired to create the show when he found that of all the talent shows out there, only a few have hit superstardom. "There has been a select few, but over the last 20 years, the ratio isn't very high in terms of having successful artists from singing shows," he explained, adding that he thinks this is due to the focus on singing rather than working in the industry as a whole.
Derulo wants to change this with Project Icon by "testing artists on their song-writing ability, as well as their voice, and also how well they brand themselves, and how compelling they can be on social media, in interviews, and on stage."
Each week, the panel will "choose the artists who are at risk of being dropped from the competition, with those at risk going head-to-head performing a song of their choice." The winner of Project Icon will receive a hefty prize, including a major record deal, a collab with Derulo, and a performance slot at BBC Radio 1's Big Weekend.
Project Icon starts this Sunday (Mar. 26), giving you plenty of time to get familiar with the ten contestants vying to become one of Britain's next big stars.
Barry Hendy
Glam-pop star Barry Hendy takes inspiration from the 70s and 80s glam-rock and pop-rock, citing David Bowie, Elton John, Freddie Mercury, Pete Burns, and Jobriath as his musical icons. Like his idols, the London-based music says that when he's on stage, "that version of me is like a separate entity, just using my words. Like an alien, from Mercury or something. But it's just very gay to be honest."
Hendy is looking to reinvent Bowie's career, having looked up to how the musician was able to reinvent himself "countless times with a new look and sound and still be just as successful." The singer is very organised, having already "written/planned/styled/dreamt four albums, each with a different style and sound, showcasing a different side of me."
You can follow Barry Hendy on Instagram @barryhendyofficial.
NNENNA King
Nnenna King grew up in North London listening to soul and jazz music thanks to her parents, including artists like Chaka Khan and Whitney Houston, as well as Nigerian musicians such as Fela Kuti. King cites Lianne La Havas, Jill Scott, Erykah Badu, and Lauryn Hill as major influences, alongside Brandy, Fantasia, Laylah Hathaway, and Kelly Price who she calls her "vocal queens."
King loves "singing about womanhood, confidence, and relationships" and has big aspirations for her career. "I would love to play on Jools Holland, win a MOBO, a Brit Award, even a Grammy would be insane!" Aside from dreaming of playing the Royal Albert Hall, the singer-songwriter and DJ would also "love to be helping and inspiring young women, going into schools and speaking about mental health, music, and the arts."
You can follow Nnenna King on Instagram @nnennaking.
Okeam Briscoe
Describing his music as "Marvin Gaye meets Sisqo," Birmingham-based Okeam Briscoe feels that "vocally I bring a smooth, soulful, velvety tone to my music that is met by a sonically R&B/pop rhythmic sound." Influenced by Motown, funk and disco, the R&B musician looks up to Rihanna as his musical icon. "She's such a free-spirited character that radiates confidence. She has always been able to adapt and evolve throughout the years of her career by tapping into different genres and embodying nothing but vibes."
Briscoe aspires to "emulate the career of Frank Ocean, Beyoncé, or Adele," as he admires how they "have control over their privacy, to have that power to disappear in front of the public eye to take in life and come back and still be relevant when they feel it's necessary." Through his music, Briscoe hopes to "inspire people, particularly men, who have been challenged by their mental health. I'd love to create music that helps people to be more comfortable and confident with understanding how to express their emotions in a healthy way."
You can follow Briscoe on Instagram @okeambriscoe.
EMELLE
Hailing from Wirral, Merseyside, this alternative country music describes her sound as "Billie Eilish vibes with country roots running through" and "old school Miley Cyrus and Taylor Swift with a modern pop twist." Emelle wants to follow the same path as Eilish in the industry, hoping to channel "the way she has made her own lane in music and has changed modern music on the whole."
The alternative country star is set on having her own arena tour in five years, and building her online following to over one million followers. Emelle wants "to be a full time musician and to be able to do what I love for a living" and to "bring British country music to the mainstream charts."
You can follow Emelle on Instagram @emelleofficial.
Charlie Baker
Pop and R&B singer Charlie Baker was inspired to make music after watching Bruno Mars perform at the Super Bowl Halftime show in 2014. "His energy on stage was crazy and would give me goosebumps just watching the man at work," he explained. The Essex-born musician is also influenced by Justin Bieber and inspired by Shawn Mendes and wants to create a legacy like Bieber.
Baker's current idol is Harry Styles, "purely because of the absolutely insane journey has been on." Baker's dream is "to tour the world playing shows and continue to create music that just uplifts people's moods and changes their day."
You can follow Baker on Instagram @charliebaker._.
Xyzelle
R&B musician Xyzelle is from Bristol and describes her music as "elements of hip-hop flows sneaked into R&B melodies and lyricism." The singer likes to "weave in and out of each genre and push the boundaries of what it means to be an R&B artist," having grown up listening to both R&B and hip-hop as a teenager – particularly Eminem, 2Pac, Kendrick Lamar, and Chance the Rapper. She was also inspired by underground SoundCloud rappers, all lending to her current sound.
Aside from success, Xyzelle wants to forge a strong community through her music. She wants to "gather all the like-minded people who can connect with me and my music which in turn would help me get to the big stages, sold-out concerts, festivals, and award shows."
You can follow Xyzelle on Instagram @xyzelle._.
Dylan And The Moon
Originally from Cornwall and now living in London, Dylan Holloway is an indie-pop artist with classic, old-school influences, including Chuck Berry, David Bowie, The Beach Boys, Fleetwood Mac, and The Cure. Holloway is also inspired by the sounds of Harry Styles, Taylor Swift, The 1975, and Vampire Weekend.
Holloway's dream is to travel the world, "bringing people together through live music and writing for other artists." He simply wants to "make people feel good" with his songs.
You can follow Holloway on Instagram @dylanandthemoon.
Lillie-Jo
Lillie-Jo doesn't like to put herself in one particular genre. "I'd like to be able to make whatever kind of music I want without being in a certain category," the London-based artist said. Having grown up in a North London pub, Lillie-Jo was raised on an eclectic mix of artists thanks to her parents and customers playing whatever they fancied on the jukebox.
The musician looks up to Beyoncé as her musical icon, in addition to the Arctic Monkeys and Amy Winehouse. She likes her songs to be "a little bit funny and cheeky," and hopes to be touring the world and collabing with Eminem in five years time.
You can follow on Instagram @lilliej0.
Jay Scott
Jay Scott has a distinct music style, which he describes as "Sean Paul mixed with Chris Brown" with a "sprinkle of Bruno Mars' charisma and Lil Nas X's fearlessness." Originally from Wolverhampton and now living in London, Scott's influences include Beyoncé, Frank Ocean, Justin Timberlake, Brandy, Usher, Rihanna, and Alicia Keys.
The R&B, pop, and Afroswing artist is currently inspired by Bad Bunny, J Balvin, Lil Nas X, and Pharrell Williams. And like Williams, Scott wants to be "a successful and respected figure in the music and fashion industry," with plans to "create a moment in pop culture history that will be remembered forever."
You can follow Scott on Instagram @jayscottttttt.
Mia Kirkland
York-based Mia Kirkland likes to blend her style between dance and pop. "I love the impact dance music can have and how much it can lift people," she said, "[but] I didn't want to just focus on dance as I want my lyrics to be listened to and understood." Kirkland grew up listening to Adele and Ed Sheeran, with Sheeran having taught her "that it's okay to not look like everyone else – I used to get bullied for my ginger hair and he was a big role model for me," the singer explained.
Kirkland is currently a big fan of Becky Hill, who just so happens to be a judge on Project Icon. "I'm so inspired by the journey she has taken with her music and how she has grown as an artist," she said. "Being a woman in the music industry is so hard and she pushes through it every day." where she is now.
You can follow Kirkland on Instagram @itsmiakirkland.
Project Icon starts on Sunday, March 26 at 9 p.m. on BBC Three and BBC iPlayer.