Jordan North "Battled" Aggressive Swans In Epic Comic Relief Challenge
The Radio 1 presenter lived to tell the tale, naturally.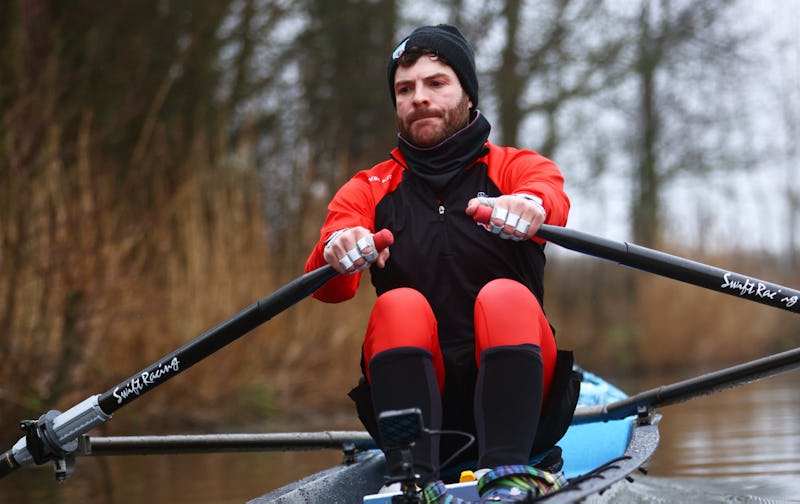 BBC/Comic Relief
Jordan North won over the nation when he appeared in I'm A Celebrity… Get Me Out Of Here!, and he's set to do it once more. The DJ embarked on an epic journey, rowing 100 miles from London to his hometown, Burnley, in honour of Comic Relief. His almighty adventure will be shown in all its glory on BBC Three, much to the delight of his loyal fanbase.
Teasing the action showcased in Rowing Home with Jordan North, Comic Relief said: "Watch Jordan battle aggressive swans, cramping muscles, turbulent waters, and more, as we relive every moment of his incredible 100 mile row from London to Burnley." When an emotional North finished his challenge in early March, he took to Instagram to share an update with his followers. ​​He wrote: "Rowing Home for Comic Relief was the most brutal and challenging week of my life. I felt pain in my body that I didn't know existed, but what a week."
Giving a special mention to those who had supported him, North continued: "Thank you to all my Radio One family. You've shown and proven again why this is the best place to work on planet earth. Thank you to all my friends and family, your messages this week have helped me get through it. Love you all to bits."
Revealing the whopping sum that had been raised for charity, he concluded: "A huge thank you to all the truly amazing Radio 1 listeners who helped raise over £700,000." North was quick to add that he'd "never" be stepping foot in a boat again.
In light of his latest success, fans will no doubt be eager to find out if North is a taken man. Has he been recovering from the Red Nose Day challenge with the help of his other half? It doesn't seem so.
North's kept his relationship status pretty close to his chest up until this point, however, it's not beyond the realms of possibility for a romance to be developing out of the public eye. Ahead of entering the I'm A Celeb… castle in 2020, the TV personality confirmed his single status.
"I'm single at the moment. But that is not the reason why I am going in. I just want to have fun and this is something that will stick with you forever," he told Radio Times. Even if North had opened up about his dating life on the ITV reality series, it turns out the celebrities had a clever way of keeping certain conversations off-air during filming.
Speaking to his pal Greg James on his Radio 1 show after the series ended, North opened up about a useful loophole. "If we were having a conversation that we didn't want on air, we'd get someone in the background to sing 'I Want To Break Free' or 'Hey Jude,'" he revealed. It was a clever ruse, considering they'd been warned that ITV couldn't feature songs by Queen, Disney, or The Beatles on the broadcast.
North continues to present his BBC Radio 1 show with Vick Hope, so fans might just get an update about his love life during one of their future on-air chats. Plus, he also talks about love and life on his podcast, Help I Sexted My Boss, which he co-presents with William Hanson. Keep those ears peeled for any future updates.
This article was originally published on