Everything To Know About Queen Of The Universe S2
A Spice Girl has joined the show's all-star judging panel.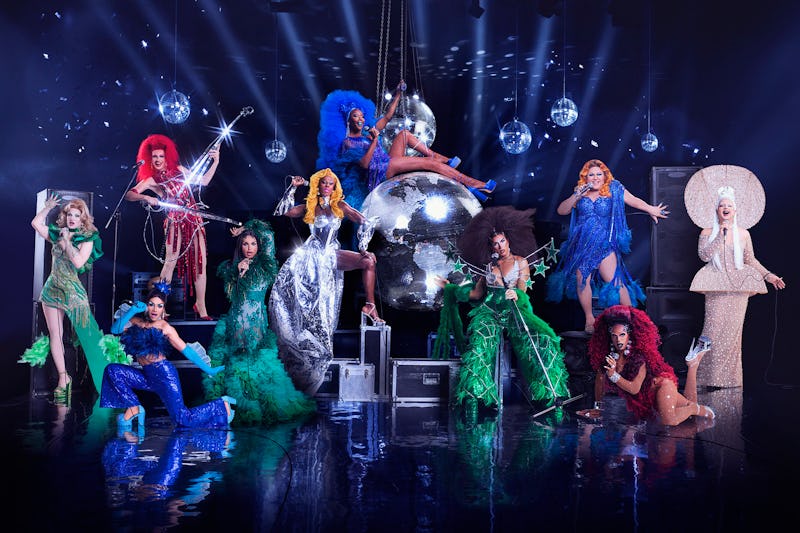 PARAMOUNT +
The world's most talented drag queens are set to battle it out for global domination once again as Queen Of The Universe returns for its second season. Yes, the Paramount+ reality competition spectacular is officially coming back and will see countries go head-to-head by spotlighting their top drag talent. Along with a brand new lineup of sickening contestants, the series will also welcome back its updated all-star panel of judges. Find everything you need to know about Queen Of The Universe Season 2, below.
Queen Of The Universe Season 2 Release Date
Queen Of The Universe Series 2 will premiere exclusively on Paramount+ in the UK on Saturday, April 1. Meanwhile, in the U.S. and Canada, Season 2 arrives one day earlier on Friday, March 31.
The reality series will see 10 fierce drag artists from around the globe compete to impress a studio audience and celebrity judging panel with an original musical performance. The queen who emerges victorious will not only be crowned the "Queen of the Universe," but will also take home a hefty $250,000 (£208,000) cash prize.
Queen Of The Universe Season 2 Judges & Host
Returning to the show's all-star judging panel are the platinum-selling recording artist and longtime RuPaul's Drag Race judge, Michelle Visage, the Emmy-winning actor and singer, Vanessa Williams, and American drag superstar Trixie Mattel — all of whom will be joined by Spice Girl Mel B, who replaces Season 1 judge Leona Lewis.
Meanwhile, Graham Norton is returning to oversee proceedings as the show's host.
Queen Of The Universe Season 2 Cast
The international Queen Of The Universe Season 2 contestants include Aura Eternal from Italy, Chloe V from Brazil, Jazell Royale from Florida, United States, Love Masisi from the Netherlands, Maxie from the Philippines, Militia Scunt from California, United States, Miss Sistrata from Israel, Taiga Brava from Mexico, Trevor Ashley from Australia, and Viola from the United Kingdom.