Will There Be A Rain Dogs Season 2? The Creator Has A Trilogy In Mind
"It feels to me like we're only just getting started."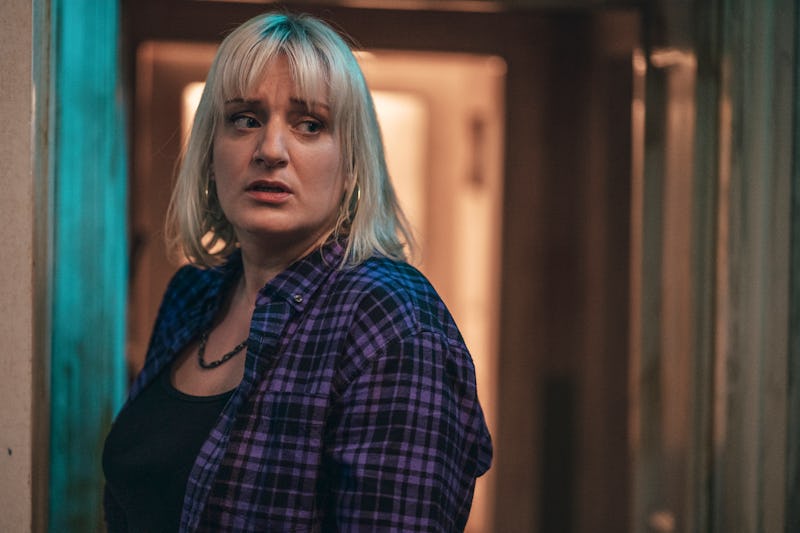 Gary Moyes/HBO
If you've been engrossed in the world of Rain Dogs, you're not alone. The HBO/BBC series has received critical acclaim since its March debut — especially for the performance of Daisy May Cooper as Costello Jones, a single mom who struggles with poverty, sobriety, and charting her way forward as a writer.
Though it deals with serious subject matter, it's very much a comedy — albeit a dark one. "I think it was a bit of a Trojan horse, really, because people thought it was a show about poverty," creator Cash Carraway told The Big Issue. "And it's not really. It's a show about messed up people trying to form a family. Poverty is just the landscape they live within. It's just the backdrop. In the same way Succession has a backdrop of the super-rich and the media. But really it is about family."
So, will there be a Rain Dogs Season 2? The show hasn't been officially renewed yet — but Carraway is definitely down for more. "When I conceived it in my mind, it is a trilogy," she told The Hollywood Reporter. "I know where we get to at the end of that trilogy. I have an idea of the bits in between. But I don't want to start writing it until we know for sure. But yes, I could stay with these characters. It feels to me like we're only just getting started."
In the meantime, here's everything to know about a potential second season.
Rain Dogs Season 2 Cast
While we won't get an official cast announcement until the show is renewed, you can likely count on the core lineup to return. Need a refresher? Season 1 starred Daisy May Cooper as Costello, Fleur Tashjian as Iris, Jack Farthing as Selby, and Ronkẹ Adékoluẹjo as Gloria.
Rain Dogs Season 2 Plot
Over the course of Season 1, Costello had several ups and downs on her journey toward steady life, shelter, and career — and you can expect those to continue in a potential Rain Dogs Season 2. Creator Carraway has written a memoir about her own experience as a single mom in poverty, but don't expect that book to tease what Season 2 might have in store: Rain Dogs is not an autobiography.
Though Carraway initially sold her book Skint Estate for TV, the prospect of translating her life onto the screen was ultimately "too exposing" — so she took a fictionalized route with Rain Dogs. There are traces of Carraway in Costello, though. "I'd done some of the things that she's done and lived in some of the places she had lived," she told THR. "But I've never gone to the extremes that she has."
Rain Dogs Season 2 Potential Premiere Date
Filming on Rain Dogs began in March 2022, Deadline reported at the time, with the show premiering on HBO a year later. If Rain Dogs Season 2 is announced soon and follows a similar production timeline, viewers can likely expect the show to return as early as summer 2024.
This post will be updated with the trailer, release date, and additional plot details as more information on Rain Dogs Season 2 becomes available.