The 7 Best Real Housewives Vacation Cast Moments In Franchise History
Before Peacock's crossover spinoff debuts, let's revisit each all star's most memorable scene.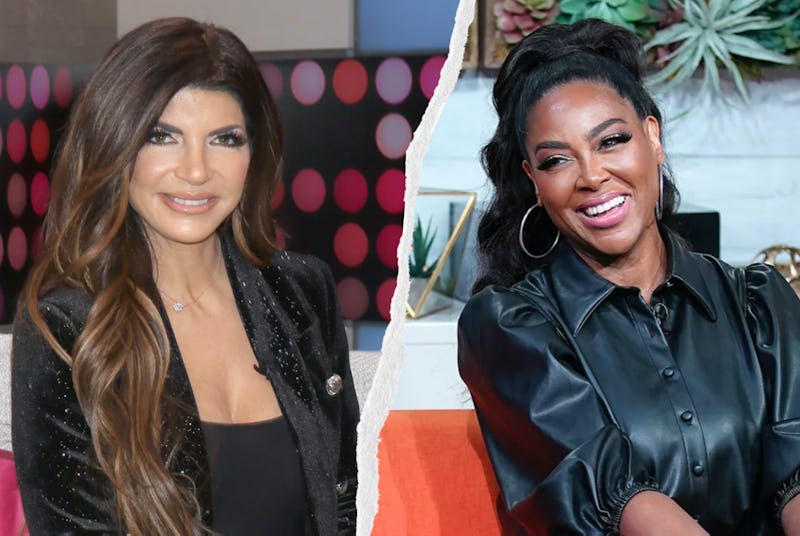 Jim Spellman/John Lamparski/Getty Images
If there's anything guaranteed in life, it's death, taxes, and the Real Housewives going on vacation together every season — a tradition that extends to every city of the franchise. However, the shows have rarely crossed paths, until now. Peacock announced the Real Housewives vacation series on Monday, April 26, after months of rumors, confirming that Housewives from Atlanta, Beverly Hills, New Jersey, and New York would join forces for the trip of Bravo fans' dreams.
Ramona Singer and Luann de Lesseps from RHONY, Teresa Giudice and Melissa Gorga from RHONJ, Kenya Moore and Cynthia Bailey from RHOA, and Kyle Richards from RHOBH have signed on for the vacation spinoff. The ladies are currently filming the once-in-a-lifetime trip in Turks & Caicos, according to Entertainment Tonight, with many of them already sharing snapshots from their crossover adventure. There's also online chatter that a former Housewife may crash their trip soon, which has not been confirmed by Bravo or Peacock.
While fans may be wishing that their favorite Housewives made the cast, (check out our dream additions at the bottom of this story), it's undeniable that these ladies have made the Real Housewives shows what they are today. If you need further proof, here is each Housewife's most memorable moment that shows what they'll bring to the table.
Ramona Singer
Oh, Ramona. The filter-less, shameless, and ageless Housewife has given us so much, from turtle time to her undying devotion to Pinot Grigio. But nothing was more hilarious than her Season 3 runway walk that — literally— made eyes pop. Her former co-star Jill Zarin said it best: "When Ramona walked out, she looked like an alien invaded her body."
Kenya Moore
If you had to describe Kenya in three words, she would say, "Gone with the wind fabulous" (yes, we know that's five words). During her first season as a Housewife, after defending herself in a fight with co-star Porsha Williams, she just twirled out of their Anguilla vacation home, declaring herself "Gone with the wind fabulous" and later writing a song about it. Atlanta was never the same.
Melissa Gorga
Frankly, Melissa is a fish out of water on this cast of hot-headed Housewives. But this moment from RHONJ's current season — where she throws a plate of cheese while arguing with her sister-in-law Teresa (again) and then cleans it up while her husband continues the family fight — proves that she may at least bring some comedic relief to the island.
Kyle Richards
When you first think of Kyle, you quote, "You're such a f*cking liar, Camille," as she told her then-castmate Camille Grammer during a now-iconic argument at New York City eatery Serafina on RHOBH's first season. Ask any Housewives fan, it's just what you do. Some fans, like myself, even go to the restaurant just to sit where Housewives history was made.
Luann de Lesseps
Countess Luann has the most epic arc of any Housewife in history. She left her Count husband, taught us "Money Can't Buy You Class," got married, then divorced (after Bethenny Frankel told her "It's about Tom"), then arrested, and became a full-fledged cabaret star. She's done it all, and for her, life is still a cabaret. If she weren't on this spinoff, fans would be asking Peacock, "How could you do this to me? Question mark."
Cynthia Bailey
Cynthia has been Atlanta's voice of reason for many seasons, mainly serving calmness, beauty, and an envious variety of hairdos. She's the tranquil center a Housewife cast needs, but don't mess with her. As evidenced when she signed an infamous friendship contract with NeNe Leakes, then promptly burned it a few seasons later, she's quick to set a Housewife straight.
Teresa Giudice
If there's one requirement for a Housewives crossover series, it's Teresa Giudice. Frankly, her iconic table flip from RHONJ Season 1, where she calls Danielle Staub a "prostitution wh*re" for "getting engaged 19 times," put the Housewives franchise on the map. She's shared every step of her life with the cameras, from her controversial legal issues to her recent divorce from Joe Giudice. The show even stopped filming for a whole year while she served her prison sentence. If that doesn't make her an all star, I'm not sure what does.
Dream Additions
Lisa Vanderpump, The Real Housewives of Beverly Hills
Vicki Gunvalson and Tamra Judge, The Real Housewives of Orange County
NeNe Leakes, The Real Housewives of Atlanta
Jill Zarin, The Real Housewives of New York
Karen Huger and Gizelle Bryant, The Real Housewives of Potomac