Real Housewives Of Dubai Star Chanel Ayan Is Dubai's First Black Supermodel
She's modeled for brands like Dior, Chanel, and Hèrmes.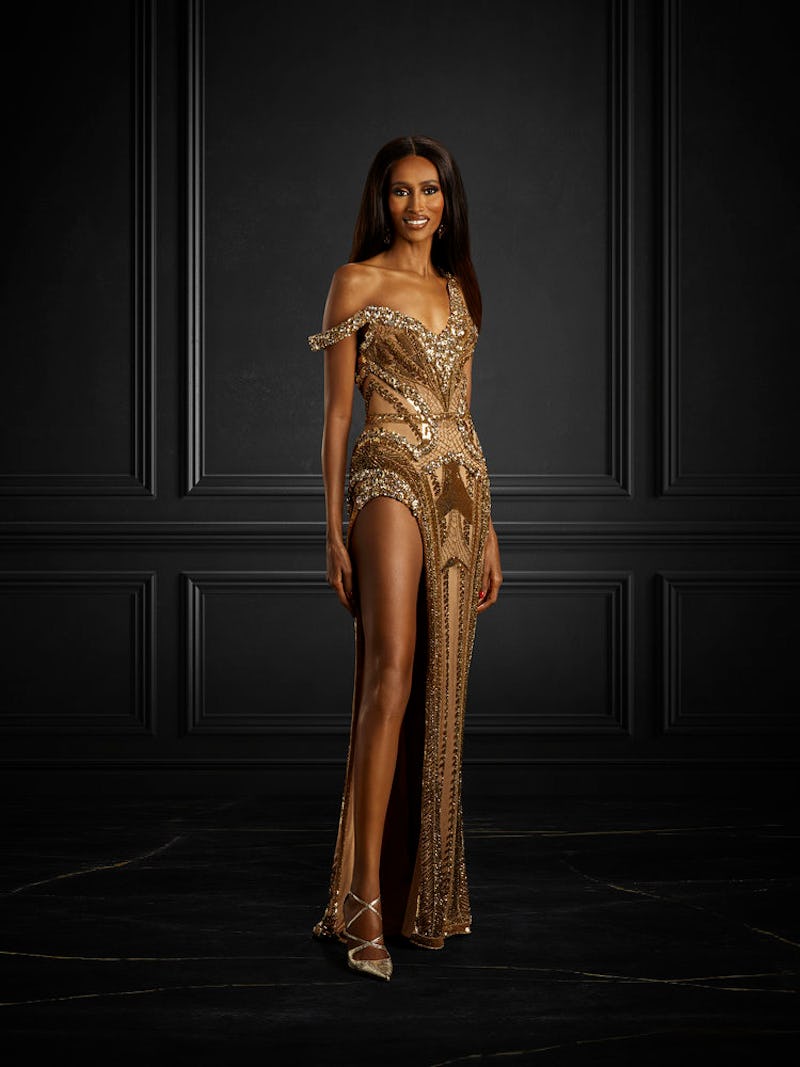 Chris Haston/Bravo
The Real Housewives franchise has gone international with Real Housewives of Dubai. The 11th city to be featured in the series, the show follows six housewives as they run their business empires and party with the city's elite. "Whether they're dining on a mountainside overlooking a valley of 1,000 camels or hosting the wedding event of the year, these ambitious and glamorous women prove everything is more extravagant in the 'City of Gold,'" a description for the Bravo series reads. "When new group dynamics threaten long-standing friendships, tensions inevitably reach a boiling point, so if you can't handle the heat... get out of Dubai."
Among the Real Housewives of Dubai stars is Chanel Ayan, a model and businesswoman who hails from Kenya. According to her official Bravo bio, she's a socialite known for her glamour, elegance, and style. But it also looks like she's going to bring plenty of personality and humor to the series. "The only exercise I do is doing my husband," she says in a sneak peek trailer, which then cuts to her falling flat on her face during yoga.
"First impressions of Chanel Ayan: She's profoundly gorgeous, hysterically funny, and outrageously stylish," Lauren O'Connell wrote for Cosmopolitan Middle East. Here's everything else to know about the RHODubai star.
What Is Chanel Ayan's Job?
Ayan was born and raised in Kenya, but she moved to Brazil when she was 18 to pursue modeling, as she detailed to Cosmopolitan. It wasn't always easy. "As an African woman, I had to fight [my] way through everything, including event invitations and modeling jobs," she said. But she persevered, and is now one of region's most recognizable models and socialites, appearing on the cover of Vogue and modeling for luxury brands like Dior and Hermès.
"I'm the first Black supermodel in Dubai, and the first person from my village to do something as big as this. So I feel so proud," she says in an introduction video.
Ayan runs her own successful talent agency, and she's also developing a makeup and skin care line alongside celebrity makeup artist Toni Malt, called AYAN Beauty by Toni Malt.
Chanel Ayan's Instagram Is All Glamour
Ayan's Instagram is full of her photo shoots, as well as pictures from her various and glamorous outings, like the Chanel cruise show and a rooftop party for a fancy new hotel. She's also shared photos of her son, Taj (who has also modeled in shows and appeared in Vogue Arabia), the rest of her family, and even that time she met Rihanna.
Who Is Chanel Ayan's Husband?
The RHODubai star has been married to Luca Salves, an American artist and model from Idaho, for 22 years. She told Cosmopolitan that they first met and fell in love when she was starring in campaigns and photo shoots in Brazil. They got married and initially moved to the United States, but later decided to settle in Dubai instead.
In the preview for the series, Ayan describes Salves as endlessly supportive of her, which is a stark contrast to her childhood. "My dad beat me so bad I did not know what love was until I met him," she says, explaining her relationship with her husband.
What Is Chanel Ayan's Drama With Caroline?
Based on a preview, it looks like Ayan may have drama with Caroline Stanbury, whom you might recognize from Bravo's Ladies of London. While dining with Lesa Milan, Ayan finds out that Stanbury invited everyone but her to her hen party (basically the UK equivalent of a bachelorette party). She also clashes with Caroline Brooks, per Entertainment Tonight. "The friction that I had ... with Lesa and Ayan was surrounding Caroline Stanbury's and I's friendship ... and the fact that Caroline and I get along really well," Brooks said. She added that she has "a lot of love" for Ayan, but noted, "I get to pick my friends. We're not in high school."
According to Ayan, on the other hand, she said she doesn't like the Carolines because "I just don't like who I'm gonna get," adding that sometimes they intentionally try to "piss [her] off" just to get a reaction. "I'm her friend, but sometimes she's my enemy!" she said.
We'll just have to see how everything unfolds this season.